January 9, 2009 - 10:00 pm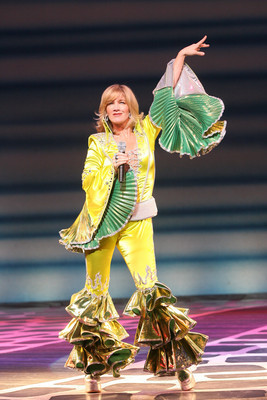 Life after "Mamma Mia!" began with a deep breath for Carol Linnea Johnson, followed by an emphatic "yes!"
After three years as the lead in the musical production that ended Sunday, and six years at Mandalay Bay, she's ready for her next adventure.
She and husband Don Burroughs, who was an understudy in the show, have fallen in love with Las Vegas and want to settle here.
"Our daughter (4-year-old Linnea) is so thrilled that we're at home every night and can put her to bed every night," said Johnson, who played Donna, a single mom who is preparing for her daughter's wedding on a Greek isle.
"Thank you 'Mamma Mia!' " she said. "From start to finish (the show) has been such a huge blessing in my life."
Her next move, she said, might involve full-time work with the gypsy jazz band she joined two years ago, after a meeting with the guitarist in the "Mamma Mia!" orchestra.
Founded by Mundo Juillerat, who moved to the orchestra at "Le Reve" at Wynn Las Vegas, the group, known as The Hot Club of Las Vegas, put out a CD featuring Johnson.
Also in the group: Chris Davis, upright bass, and Gabriel Santana Falcon on the cajón.
"It will be interesting to see how the band takes off from here. I think we'll continue to play once a month at Vox Wine Lounge in Henderson," she said.
Her daughter is named after Johnson's grandmother. The national flower of Sweden is called linnea.
"My entire father's family was Swedish, and everyone in my mother's family are Norwegian. So I'm 100 percent Scandinavian. I guess I was destined to sing ABBA."
REMEMBERING THE DUNES
Former Dunes Hotel & Casino employees will gather Jan. 21 to reflect on the glory years of the famed resort, the site of the first topless stage show in Las Vegas.
The 38-year-old property closed on Jan. 26, 1993, two months after Steve Wynn purchased it for $75 million to build the $1.6 billion Bellagio.
The 16th reunion will take place at the New York City Bar & Grill, 6168 W. Spring Mountain Road, from 5 p.m. until it shuts down.
"We've been doing it since the night of the (first) implosion in October 1993," said Pegg Wallace, who was the first female box person in the dice pit.
"We've been like family and stayed in touch all these years," she said.
One attendee showed up in his bellman suit each year, until last year, when he didn't make it.
She said everyone comes with a favorite story from the Dunes, one of the last mob-operated resorts on the Strip.
The hotel was absolutely abuzz, she said, after sightings of naked women roller skating down the corridor near the suite of high-roller Adnan Khashoggi, the Saudi arms dealer.
After opening on May 23, 1955, the Dunes had its struggles, in part because it was located at the southern-most point of the Strip.
Two years later, Dunes co-owner Major Riddle, desperate for business, created a social earthquake by becoming the state's first hotel/casino to offer a topless show, "Minsky's Follies." The uproar created so much interest that the show set a single-week record with 16,000 tickets.
That same year, headliner Frank Sinatra agreed to a promotional stunt that provided one of the iconic photographs of that era: He donned a Sultan-like costume from "A Thousand and One Arabian Nights" and arrived on a camel.
He was imitating the property's main attraction: an oversized turban-topped sultan that sat atop the main entrance.
COFFEE BREAK
The person I'd like to take to coffee soon would be … 1960s pop singer Sue Thompson.
On Jan. 13, 1962, her hit "Norman" debuted in Billboard's Top 40 and reached No. 3.
According to a number of Internet sites, Thompson, now in her 80s, has lived in Las Vegas for years.
For starters, I would like to tell her that I made the mistake of looking up "Norman" on YouTube last week and playing it for the Leggy Blonde, who missed that era.
She now uses (abuses?) the song to get my attention by singing the "oooo, oooo, oooo" lyrics. Apparently little else works.
At the time the song came out, I was dating the daughter of a local farmer. He was not impressed — and not many parents would be — that I was a college dropout with no focus and little future. The night he banned me from the farm, he gave me something to think about with his parting shot, "You aren't going to amount to nuthin'."
A year later, opportunity knocked when I was a 20-year-old grocery store delivery boy in a small Montana town. I dropped off an ad at the weekly newspaper and asked the editor if he was covering the upcoming basketball tournament.
He couldn't get away, he said, but knowing my interest in sports, he asked if I would like to freelance it.
He paid me the princely sum of $5 for covering a three-day tournament 80 miles away. But the money didn't matter. I had my break. Ten years later, I was covering sports out of the Cincinnati Associated Press bureau, and thankful for a swift kick in the right direction.
Norm Clarke can be reached at 702-383-0244 or norm@reviewjournal.com. Find additional sightings and more online at www.normclarke.com.