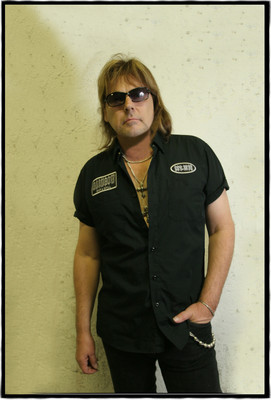 When guitarists were known as wizards and axmen (1988), a collective of traveling musicians roamed the land calling themselves the Monsters of Rock Tour — but the marks of these beasts were more dangerously known by their phylum shreddings: Metallica, Van Halen, Scorpions and Dokken.
As they staged their long-ago feasts of flesh and six-string solos, conquering highways of lust, teenaged girls headbanged in mullets. Don Dokken, the headbanger of Dokken, remembers well.
"It was great," he says, and "it was decadent," he says, because, "I mean, what guy doesn't want to have beautiful girls wanting to have him all the time?
"I'm too old for that now," the 55-year-old singer says. "It's like anything. If somebody's just throwing themselves at you every day, you kind of get burned out on it."
What is thine heresy, Don Dokken? Ye get "burned out" on young wenches throwing themselves at thine body parts?
"You burn out," he says adamantly. "It's fun the first couple of years. Then you get over it. I think by the Monsters of Rock, I was over it. I was, like, whatever. They'd say, 'Hey, look at my boobs. I'd go, 'Great, nice, whoopee.' "
Some men could think Dokken was being ungrateful. He says they are not alone with that thought.
"All these guys go, 'Dude, you should be going for that.' I'm like, 'Uh, whatever.' You just burn out. (Then), I was in a serious relationship. I wasn't screwing around anymore," he says. "And I was more into music and all that stuff, you know?"
Yes, the music. Dokken veered away from its heavy metal path for a few moons.
"I ventured off into Beatles phases and Zeppelin phases, and the fans just didn't follow with it. (Dokken) is like comfort food. They wanted to hear classic-sounding — classic guitar riffs, classic guitar solo — songs."
When Dokken broke away from their established and expected sound, they weren't just trying to piss off the followers of their kingdom.
"For me, for a long time," Dokken says, "I just thought I was writing the same old thing, over and over again. I was bored. But then I said, 'OK, I get it.' "
So he delivered the goods last year, when Dokken put out a new, old-sounding, '80s retro album, "Lightning Strikes Again," which was like giving a product to consumers, he says, in calling Dokken's sound the Cheerios of heavy metal.
"If we're Cheerios, you're gonna get Cheerios. So I gave it to them," he says, "and everybody loves the record."
Dokken embraces this battle plan.
"If your brand is Cheerios, and people eat Cheerios their whole lives, they don't want to buy Cheerios, take them home and find walnuts and raisins in it. They just want their Cheerios. And if they want Metallica and that's raisin bran, they don't want to open up the box and find jalapeno peppers in it.
"Music is a brand. I'm the same way. When a new Scorpions album comes out, I expect to hear the Scorpions."
And now, they who are known as Dokken reap the fruits of their looms, when Dokken plays in concert. He gets a "spiritual rush" when "people smile."
"They're singing along to a song I wrote 27 years ago. It's pretty cool," Dokken says.
There is yet more to knowing Don Dokken. First, he doesn't own an iPod. Second, he's a registered black belt in the martial arts. Third, he listens almost exclusively to classical music at home.
"If you make pizza, you don't want to come home and eat pizza," he says.
Fourth, there's much to be done.
"I'm in the studio a lot writing songs, working on a new greatest hits album, working on a DVD box set. I'm always writing songs for movie soundtracks. I've got two kids in college. My life's pretty busy," he says.
He finds pleasure in working.
"It's either that, or you just sit around and watch TV," he says. "I can only ride my motorcycle so much. I work on my house a lot. I garden a lot on my property.
"I'm just a regular guy. I like to putter. I'm a nester. The party thing, I'm just way over it."
Don Dokken likes to putter. Strange to ponder.
He doesn't travel much in his off time, because he still sees the world while wandering the Earth, still on tour.
"When we want to go somewhere, we go, 'Hey, let's go to Paris.' We'll make it our last show, and we'll stay for four or five days and hang out. That makes it fun," he says.
Last year, Dokken stationed itself for a week in Venice. This year, the band will invade Japan.
"So it's kind of like a big vacation" — touring.
"When you're home, you want to chill. It works. I have no complaints. I've been very blessed. Everybody says, 'When are you going to stop?' I say, 'It's like the old story: When you throw a party and nobody comes, then you know it's over. But so far, people are going to the party, so you keep the party going."
So let it be written. So let it be done.
What do you think about all this? Write your thoughts on my blog (reviewjournal.com/elfman) or e-mail me (delfman@reviewjournal.com), and I'll post them. My column runs Sundays, Mondays, Tuesdays and Fridays. See you then.
Preview
Dokken
8 p.m. Saturday
Chrome Showroom at Santa Fe Station, 4949 N. Rancho Drive
$22 (547-5300)