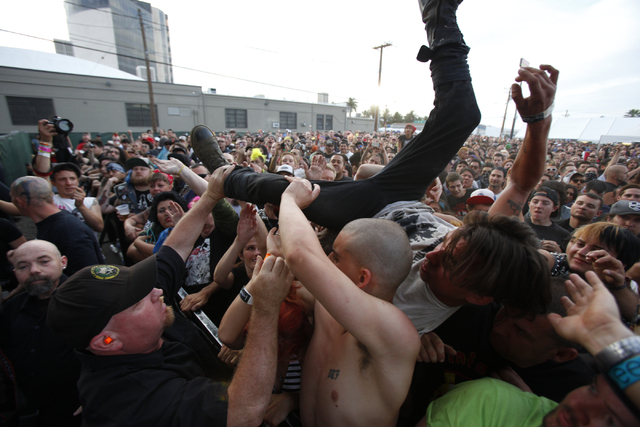 Last time he was in town, he rebuilt "The Wall," brick by brick, a symbol of detachment that brought together a room of 10,000.
Yes, the songs remained the same when Roger Waters wowed with a command performance of Pink Floyd's "The Wall" in its entirety at the MGM Grand Garden in November 2010. But this was no nostalgia trip: That seminal concept album's central themes of alienation and emotional disaffection were broadened into indictments of war, the military-industrial complex, needless consumerism and organized religion.
The show's production values were stunning, with garish, menacing 30-foot-high puppets and cartoonist Gerald Scarfe's libidinous illustrations bringing the album to life.
At the end of the show, Waters brought down the wall — and the house along with it.
This summer, Waters returns to the road on his highly anticipated "Us + Them" tour, a mix of old and new material that Waters promises will be among his most cutting-edge productions yet, which is truly saying something.
Waters' stop at T-Mobile Arena on June 16 ranks high among the most anticipated concerts of 2017.
Here are 10 more:
Green Day, April 7, MGM Grand Garden
For the first time, Green Day returns to the scene of frontman Billie Joe Armstrong's infamous meltdown at the 2012 iHeart Radio Music Festival, where he went on a profanity-laced tirade over the band's abbreviated set time, dissed Justin Bieber and then promptly entered rehab. If a sober Armstrong is feeling rejuvenated these days, so is his band: Green Day's latest record, "Revolution Radio," seethes with the kind of energy that the trio seems to tap into most vigorously when a right-winger is elected president.
Electric Daisy Carnival, June 16-18, Las Vegas Motor Speedway
Ho-hum, another year, another 400,000 or so revelers colorful as human crayons coming together for the world's largest dance party enhanced by flame-belching stages the size of airport runways and a slew of big-name DJs whose combined annual income rivals the GDP of Uganda.
Twenty One Pilots, Feb. 18, Mandalay Bay Events Center
Remember a few years back when Twenty One Pilots was an up-and-coming buzz band mid-billed at the inaugural Life Is Beautiful? Well over a billion Spotify streams later, the electro-rock/hip-hop hybridists have broken big and now headline arenas instead of festival side stages. If you didn't see 'em back then, you may be out of luck: This show is already sold out.
Neon Reverb, March 9-12, downtown Las Vegas
Here's some math even your cat Admiral Mittens can do, even when he's been drinking (again): four days + seven venues + 75 bands = way more fun than any of you are legally qualified to handle. And yet, with Neon Reverb returning for its second, post-hiatus installment, that's what you're getting. The full lineup will be released Jan. 19. Bet on it being pretty sweet.
Punk Rock Bowling 2017, May 26-29, downtown Las Vegas
Save for a performance by a hologram Ramones, this annual punk rock bacchanalia, now in its 19th year, has had just about every genre forebear grace its stage at some point. And now, it's landed Iggy Pop, perhaps the grandfather of them all (literally — dude will be 70 when he headlines the fest). Pennywise, Cock Sparrer, Discharge and dozens more round out a loaded (literally and figuratively) PRB 2017.
Bon Jovi, Feb. 25, T-Mobile Arena
Jon Bon Jovi's been feeling a little cheesed off of late. First, he tried and failed to buy the Buffalo Bills, and then there was a split from his band's record label of 33 years. As such, Bon Jovi is kind of chippy on its latest album, "This House Is Not For Sale," said house serving as a metaphor for the band and its refusal to capitulate to the corporate powers that be. We'll see if this edge remains as sharp when the group tours in support of the album. Though, seriously, things could be worse for its frontman: His bid for the Bills could have been successful.
Blake Shelton, March 4, MGM Grand Garden
If we're honest, unraveling the spaghetti bowl of emotion that is Blake Shelton's latest record, "If I'm Honest," doesn't always feel like the most inviting of chores. Shelton may consider himself a country traditionalist and have the record collection to prove it, but you'd scarcely know it from his slickly produced, pop-leaning latest effort. The feelings that inspired this record may be deep in the wake of the things that went down in his personal life — namely, divorce; love fading and blossoming anew — but here, we get only a surface read. Maybe this will change when Shelton hits the stage, where he's an open book whose pages are penned in something more than cliches.
Ariana Grande, Feb. 4, MGM Grand Garden
Ariana Grande possesses a huge — nay, yuge! — voice, but occasionally it gets away from her like a balloon slipping from a kid's fingers — a balloon the size of a Macy's parade blow-up SpongeBob. If she can control the thing, she can stun. But that's a big if — big as the pipes in question.
AFI, Feb. 18, The Joint at the Hard Rock
These fashion-forward goth punks have long worn their hearts on their well-tailored sleeves, their appearance as tidy as their feelings are messy. The band's new self-titled record, due out Jan. 20, has colloquially become known as "the blood album" because of the three drops of blood that adorn the album cover. But rest assured, any bloodletting is of the emotional variety when it comes to this bunch.
Viva Las Vegas Rockabilly Weekend, April 13-16, The Orleans
Guaranteed, the best-dressed fest this year — or any year — will be this four-day time warp back to the days when rock 'n' roll was being midwifed by pompadoured dudes getting all those gingham skirts flying on the dance floor. The threads here are vintage, and so are the sounds, with performances by Brenda Lee, Wanda Jackson, Freddy Cannon and hordes more. Even the rides are old school: The Weekend's annual Saturday car show features some of the most bitchin' hot rods you'll see this side of "American Graffiti."
Read more from Jason Bracelin at reviewjournal.com. Contact him at jbracelin@reviewjournal.com and follow @JasonBracelin on Twitter.