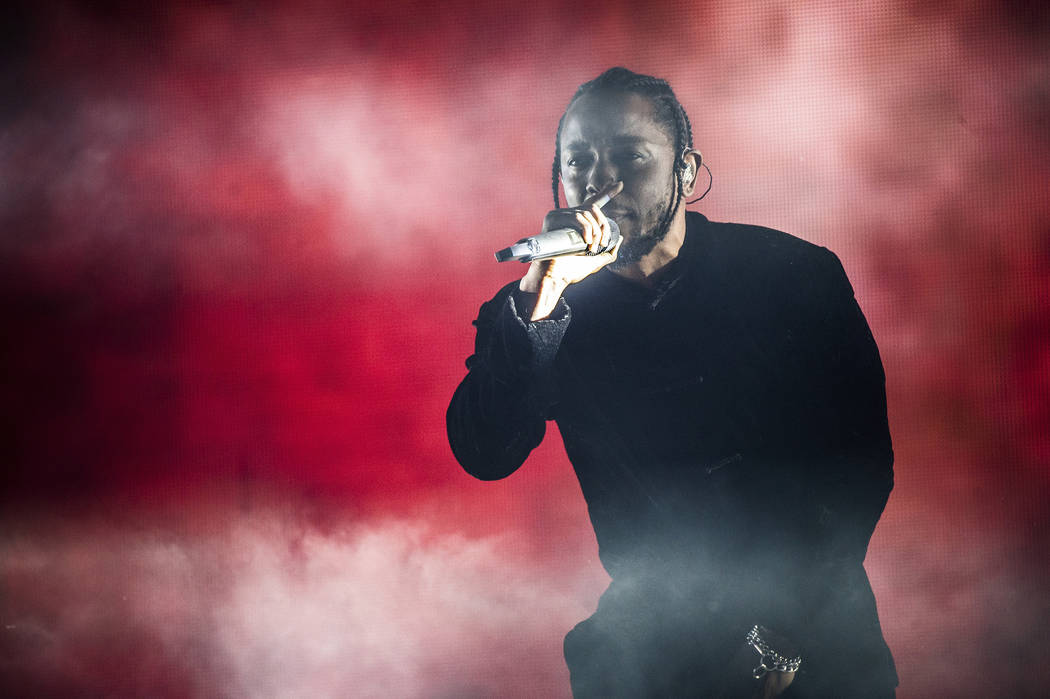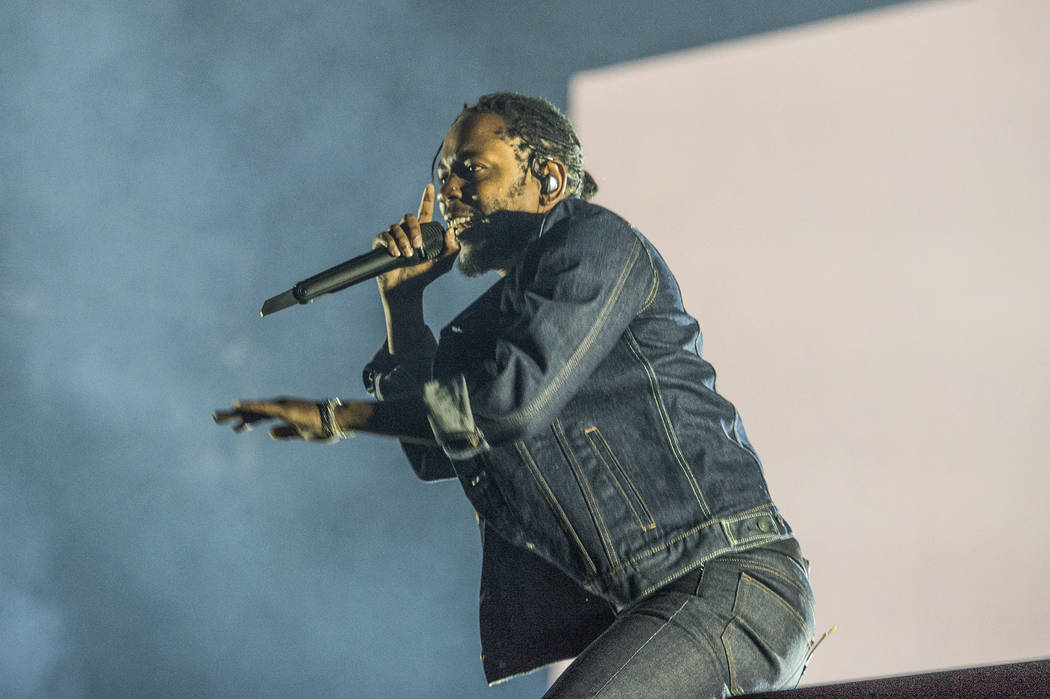 The torch gets passed during a conversation with a dead man.
Kendrick Lamar is talking with Tupac Shakur.
It's all a bit of studio magic: Shakur's words come from a 1994 interview with a Swedish radio program.
"In my opinion, only hope that we kinda have left is music and vibrations, lotta people don't understand how important it is," Lamar says, his dialogue interspersed with Shakur's in a discussion of faith, art and revolution, one of hip-hop's most resonant voices of the past co-mingling with one of the present.
The back-and-forth serves as the coda for "Mortal Man," the last song on Lamar's third record, 2015's "To Pimp A Butterfly," a sometimes combative, always contemplative search for meaning, peace of mind, understanding and other slippery intangibles of the human condition prone to sliding free from even the firmest of grasps.
This "conversation," as it were, is loaded with symbolic weight: Lamar is both pupil and teacher here, a Shakur disciple now leading his own large, growing flock.
This exchange encapsulates Lamar himself: humble yet audacious, pious yet self-possessed, talented yet troubled by the world around him.
In the six years since the release of his 2011 debut studio album, "Section.80," Lamar has rocketed to commercial and critical acclaim, already frequently mentioned alongside the likes of Shakur as one of the greatest MCs of all time. He's won seven Grammys, made Time's list of "100 most influential people in the world" and dropped the top-selling album of 2017, "DAMN."
So, what makes Kendrick Lamar so special?
Cue up this introductory playlist and find out. (Album titles in parentheses.)
"King Kunta" ("To Pimp A Butterfly")
"Do you want the funk?" a deep, disembodied voice asks near song's end. Rhetorical question, that. Voice bouncing hard atop an especially robust beat like a basketball being dribbled on concrete, Lamar asserts his place atop the hip-hop hierarchy, having gone from a "peasant to a prince to the king." Heavy is the head that wears the crowd. Heavier still is the groove that powers this one.
"DNA." ("DAMN.")
Displaying the lung capacity and breath control of an Olympic sprinter charging up a mountainside, Lamar huffs and puffs and blows down his detractors (namely Fox News' Geraldo Rivera, whose critique of Lamar's performance at the 2015 BET Awards is sampled here). His voice sharp, his rhymes metronomically precise, Lamar practically self-immolates from the fire of his words. This one's good for burning out the motor on your treadmill.
"Peer Pressure" ("good kid, m.A.A.d. city")
In a narrative detailed down to the scent of his basketball shorts, Lamar takes us back to his teenage years, where he documents how the pull of the streets can rival the pull of gravity. Chronicling a robbery, Lamar rhymes in a low cadence over soundscapes suggestive of something off Nine Inch Nails' "Ghosts I-IV." Ultimately, Lamar escapes the cops — and the fate of so many of the kids he grew up with.
"The Blacker the Berry" ("Pimp")
"I'm the biggest hypocrite of 2015" Lamar growls at the onset of every verse, his words akin to the act of punching a mirror. Why does he anoint himself as such? Because after cataloging a series of racial stereotypes early in the song, he then struggles to avoid seeking violent revenge following the murder of a friend, hence the threat of succumbing to gangsta cliches. Equally cutting and confessional, Lamar's voice is as raw as his emotions here.
"untitled 01 8.19.2014" ("Untitled Unmastered")
Foreseeing the end of days any day now, Lamar goes apocalyptic on the mic in this heated call for humankind to change its self-destructive ways. The production is as stark as Lamar's dire warnings, propelled by stand-up bass grooves and plinking strings. Call this one an umbrella for brimstone showers.
"Alright" ("Pimp")
This 2016 double Grammy winner, for best rap song and best rap performance, became an anthem for the Black Lives Matter masses for its message of hope amid struggle. Pharrell sings the hook — "We gon' be alright" — his voice joined by thousands in the summer of 2015 as the song became a rallying cry, its refrain the motto of a movement.
"FEAR." ("DAMN.")
As its title suggests, this song palpably, powerfully distills the intense anxiety Lamar has felt at three different points in his life: as a child with a disciplinary mother, as a teenager who fears for his life on the streets of his native Compton, California, and as a grown man worried about slipping from his artistic perch. The grooves here are lazy, laid-back. The man on the mic, the opposite.
"FEEL." ("DAMN.")
Over a jazzy beat and warped samples suggestive of voices melting like candle wax, Lamar exudes desperation here, sounding as if he's being chased by something he can't outpace. And in a way he is: the demands of his own success. Songs about the perils of fame have become a hip-hop staple (Drake's made a cottage industry out of as much in recent years), but Lamar is far more worked-up than woe-is-me. "I feel like I'm boxin' demons," he says, firing off one verbal uppercut after the next.
"How Much A Dollar Cost" ("Pimp")
With biblical overtones and a beat that resounds like the crack of a bullwhip, this tale of Lamar's encounter with a homeless man is an emotionally charged reflection on the ills of being hard on those whose lives have already been hard enough. Initially, Lamar chronicles his mounting frustration over the man's request for a dollar, but by song's end, his annoyance turns to repentance on a tune that President Barack Obama named his favorite of 2015.
"Swimming Pools (Drank)" ("kid")
With its slurry, singsongy hook —"Pool full of liquor, then you d-i-i-i-i-ve in" — this one has the veneer of the kind of club anthem that leads to bar tabs hefty enough to necessitate the black market sale of one's internal organs. But by the third verse, Lamar reveals his true intentions on a song that's far more cautionary than celebratory. "Makin' excuse that your relief / Is in the bottom of the bottle and the greenest indo leaf / As the window open I release / Everything that corrode inside of me." Your liver approves. Your bartender? Not so much.
Contact Jason Bracelin at jbracelin@reviewjournal.com or 702-383-0476. Follow @JasonBracelin on Twitter.