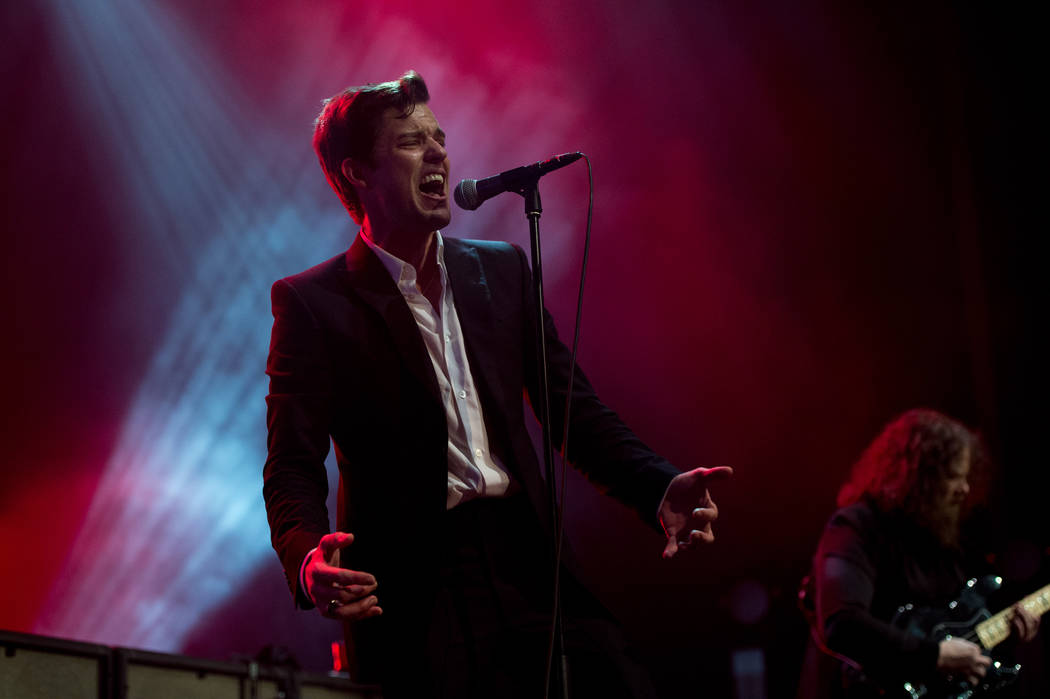 Here are few takeaways from The Killers' headlining set at Holiday Havoc Night 2 at The Pearl at the Palms on Monday:
Time for some home state love
The stage was blanketed in confetti after the first tune, looking like an unraked yard after autumn has stripped the trees of their leaves. Streamers rained down from the rafters upon the conclusion of the show-opening hip thrust of "The Man," setting a suitably festive tone.
"It's good to be here, good to be home," suited-up singer Brandon Flowers announced early in the show, and he meant it: A dozen tunes into their 19-song set, The Killers played Nevada's state song, "Home Means Nevada."
"There is the land that I love the best / Fairer than all I can see," Flowers sang. "Deep in the heart of the golden West / Home means Nevada to me."
Well, he lives in Utah now, but you get the point.
There was something fresh and plenty of the familiar
He sang of pulling himself out of a hole, his voice rising along with the spirits of the song's protagonist.
"I'll climb and I'll climb," Flowers promised during new tune "Rut," a rock-and-roll hymnal of sorts, which got its Vegas debut Monday. "Oh, but don't you give up on me."
That was one of three numbers the band played from its latest record, the grandiose "Wonderful Wonderful," in addition to "The Man" and foot-on-the-gas rocker "Run for Cover."
The Killer performed with their current touring lineup, with guitarist/keyboardist Ted Sablay and bassist Jake Blanton filling in for Dave Keuning and Mark Stoermer, respectively.
They mostly stuck to fan favorites at this show, ostensibly saving much of their new material for their forthcoming North American tour, which launches next month and stops at the MGM Grand Garden on Feb. 3.
They did dust off B-side "Under the Gun" during their encore, however, a bit of a twist during a night mostly given to straightforward, crowd-pleasing thrills.
It was a hello and a goodbye at once
The Killers' first show at The Pearl was the last for the venue in its current incarnation. As of Monday, the room is closed for renovations until March. The sound system and capacity will remain the same, but there will be cosmetic improvements for 2,500-seater, which opened with a sold-out Evanescence show in March 2007.
It's been a memorable run for The Pearl thus far.
"Did you forget all about those golden nights?" Flowers asked in song during "The Way It Was."
Nope.
Here are my five favorite shows at The Pearl over the past decade:
5. Slayer/Anthrax/Megadeth (October 2010)
4. Nine Inch Nails/Jane's Addiction (May 2009)
3. Jay-Z (March 2010)
2. Tool (December 2007)
1. Matador at 21 Weekend (October 2010)
Contact Jason Bracelin at jbracelin@reviewjournal.com or 702-383-0476. Follow @JasonBracelin on Twitter.