4 rock 'n' roll mysteries that still need solving
November 23, 2015 - 2:12 pm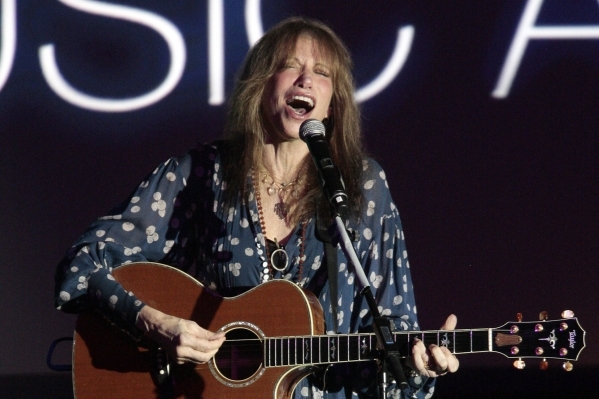 It's been one of rock 'n' roll's biggest mysteries for more than four decades. But Carly Simon finally spilled last week.
It was, she confirms, Warren Beatty whom she was referring to in her 1972 hit "You're So Vain."
More precisely, Simon says in her upcoming memoir, "Boys in the Trees," that the second verse of her now-classic musical diss was aimed at the actor, director and former Hollywood Lothario:
"You had me several years ago when I was still quite naive / Well you said that we made such a pretty pair / And that you would never leave … "
Still unknown are the identifies of the men alluded to in the first verse (the apricot scarf-wearing guy who walked into a party like he was walking to a yacht) and third verse (the guy who won at Saratoga and flew his Lear jet to Nova Scotia who you'd want to keep away from your wife).
Why not come completely clean? Simon told USA Today that she hasn't yet told either guy (a clue!) about their musical infamy, "so it would be too much of a shock, too much of a cold, calculated thing, to put it in the book without them knowing."
Granted, nobody's particularly surprised that it turned out to be Beatty who, by all accounts, has been happily married since 1992 to actress Annette Bening.
Also granted, the news loses a bit of its impact 43 years later. As actor/comedian Patton Oswalt tweeted: "For those keeping score — we learned the identity of Watergate's "Deep Throat" before the identity of the subject of "You're So Vain."
But consider it at least one rock 'n' roll mystery solved. Here, we offer a few other musical mysteries that, we believe, await definitive resolution. (Feel free to add your own.)
What did Billie Joe McAllister throw off the Tallahatchie Bridge?
The 1967 hit "Ode to Billie Joe," by Bobbie Gentry, tells the story of a doomed adolescent named Billie Joe McAllister in ominous, discomfiting tones, the details about his jarring death related by a family at dinner who make his suicide nothing more than idle dinnertime chatter.
The lyrics offer no clues, just snippets of rumor and observation. Even weirder, the song hints at a relationship between the young female narrator and Billie Joe and notes that he and someone who looked just like her were seen throwing something off the bridge not long before Billie Joe apparently made his own leap.
Gentry, who also wrote the song, never explained the details of the plot and reportedly has said that the most common question she receives from fans is what exactly was being thrown off of the bridge.
A 1975 movie based on the song (called "Ode to Billy Joe," with a different spelling of the protagonist's name) attempted to answer the questions, although those answers came not from Gentry, but from screenwriter Herman Raucher (who also wrote "Summer of '42."). But for music fans who consider the film noncanonical, the mystery of Billie Joe lives on.
Is Lola a guy or a girl?
The Kinks' 1970 hit "Lola" chronicles a romantic meeting at a Soho club of a man and a woman named "Lola."
From there, the details become a bit ambiguous because of lyrics that seem to hint at what really might be going on (Lola "walked like a woman and talked like a man") and can be read in more than one way ("I'm not the world's most masculine man, but I know what I am and I'm glad I'm a man and so is Lola").
Because songwriter and Kinks frontman Ray Davies was, and remains, one of rock's most literate songwriters, the linguistic confusion he creates surely is intentional. Davies has said the song is about exactly what it sounds like and, not surprisingly, controversy surrounded its release and it even was banned in Australia.
Given Davies' comments, feel free to consider "Lola" a mystery solved, but give "Lola" credit for being one of rock's wittiest mysteries.
Who is who and what is what in 'American Pie'?
It didn't take long after Don McLean's personal ode to rock 'n' roll was released in 1971 for DJs, musicologists and just regular music fans to turn into whatever the rock 'n' roll equivalent of a Talmudic scholar might be.
Fans tried to discern the real-life characters represented by the Jester and the King and figure out whether the verse about Satan referred to the Rolling Stones' ill-fated concert at Altamont Speedway in 1969 and, above all, tried to pinpoint "the day the music died."
Earlier this year, McLean revealed a bit when his original "American Pie" manuscript was sold at auction. But the hit song and its cryptic lyrics remain even today a sort of Rorschach test for fans who are free to impose their own rock 'n' roll history upon it.
Why do people insist on playing 'I Will Always Love You' at wedding receptions?
Sure, you know the song was sung by Whitney Houston's character to Kevin Costner's character in the 1992 movie "The Bodyguard." And maybe you know that it was written by Dolly Parton, who released her own version of it in 1974.
But you might not know, or might not have realized, that it's actually a song about ending a relationship, not beginning one.
Seriously, it's right there in the lyrics:
"If I should stay / I would only be in your way / So I'll go but I know / I'll think of you every step of the way … / Bittersweet memories, that is all I'm taking with me / So goodbye / Please don't cry / We both know I'm not what you, you need."
Sure, it's a beautiful, heartfelt song because you'd expect nothing else from Dolly Parton (who wrote it as a sort of goodbye to longtime performing partner Porter Wagoner).
But when you and your newly betrothed are kicking off your new life together, maybe it'd be better to find something a bit more, well, optimistic.
— Contact reporter John Przybys at jprzybys@reviewjournal.com or 702-383-0280 or follow @JJPrzybys on Twitter.
Like Neon Las Vegas on Facebook: