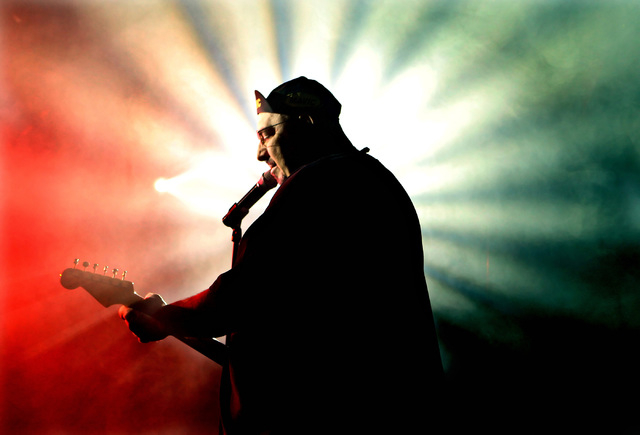 It's a tour of '80s bands, but is it really "an '80s tour"?
"It's not an oldies show by any stretch of the imagination," Smithereens frontman Pat DiNizio says of the packaged tour "Rock of the '80s," which plays the Eastside Cannery on Friday.
Unlike the same night's Retro Futura at Mandalay Bay and its focus on vintage MTV pop, DiNizio says more of a garage-band aesthetic unites The Smithereens, The Romantics, Marshall Crenshaw and Tommy Tutone.
"We love to do all the hits we were fortunate enough to have, and everyone is doing their hits. But the music seems timeless to me, and that comes from someone who has weathered the storm for the past 34 years," DiNizio says.
Of his own band, DiNizio adds, "Our intent was always to create records that sound as good 30 years after they were released as when they were originally released. That was a definite choice on our part, to go for real drum sounds, real guitar sounds. And it did work."
When he was writing The Smithereens' 1986 debut album "Especially for You," DiNizio says, "I was listening to several albums all the time, and one was 'Downtown' by Marshall Crenshaw."
And the Romantics' signature hit "What I Like About You" had "all the right influences, all the great '60s garage-band influences," DiNizio says. "It's got an amazing sound to it and they're still getting all those great guitar sounds on stage."
Add Tommy Tutone — synonymous with singer Tommy Heath and "867-5309/Jenny" — and you get what DiNizio describes as a happy backstage atmosphere with "a bunch of guys who never wanted to do anything but play rock 'n' roll."
Contact reporter Mike Weatherford at mweatherford@reviewjournal.com or 702-383-0288.
Preview
"Rock of the '80s" with The Romantics, The Smithereens, Marshall Crenshaw and Tommy Tutone
8:30 p.m. Friday
Eastside Cannery, 5255 Boulder Highway
$14.95-$34.95 (702-856-5470)