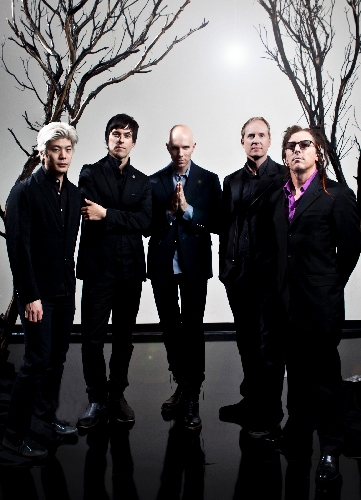 Maynard James Keenan, idiosyncrasy incarnate, is explaining the value of being true to yourself by way of people who play other people for a living.
"Let's take, for example, actors," Keenan begins. "Some of the most successful actors are the ones who, early on in their studies, realize who they are and what their limitations are. And as soon as Chris Farley can get over the fact that he's not going to be Brad Pitt, the world is his oyster, because now he's going to be what he's going to be, and he's going to take it as far as he can take it because he knows who he is."
Then he pauses to make his point explicit, speaking in the kind of whisper-soft tones normally reserved for sharing deep secrets.
"You've got to be who you are."
As frontman for prog-metal head-spinners Tool, anything-goes experimental electro troupe Puscifer and dusky, recently reconvened alt-rockers A Perfect Circle, Keenan knows that of which he speaks.
All those acts have found an audience by mapping the topography of a given genre's outer fringe, from driving hard rock to beat-driven dance music.
"Tool is definitely a big rock band, and Puscifer has more theatrics involved. The challenge is to figure out, where does Perfect Circle fit in that?" Keenan says. "Is it a live band? Is it a recording project? How do we differentiate?"
These questions have been on Keenan's mind of late, as the members of A Perfect Circle have gotten back together for their first tour since going on hiatus in 2004.
The band is performing multigig stands in five cities, where they will be playing each of their three albums (1999's brooding, brusque "Mer De Noms," 2003's more atmospheric and textured "13th Step" and 2004's cover collection "Emotive") in their entirety, one disc per night. (The Las Vegas stint will feature just the band's first two records).
A Perfect Circle's moody repertoire consists of art rock as an overcast day, with songs colored black by frequent allusions to addiction and mortality.
The band debuted with the shadowy and muscular "Mer De Noms," with Keenan's distinct, equally malleable and sonorous vocals soaring over a bed of cresting guitars, before returning with the more moody, subdued "13th Step," with tensions bubbling beneath the surface but seldom getting their release, which only adds to the melodrama.
"Emotive" bristled with songs posited on a more pronounced social commentary, its release timed with the 2004 presidential election.
Now, Keenan is revisiting the records, still making up his mind about them.
"As a kid, you like an album and then a couple decades later, you go to download it off of iTunes to see if it still holds up and — I don't know about you — but it's generally 50/50 for me. 'Ahh, that wasn't quite what I thought it was,' " Keenan says. "The jury's out on these early APC albums. We'll see. I know how they go, I know how they're supposed to be, and I know what I have to do to make them work. I just don't know where they fit in the scope of what's current and what's not. Hell, it's been 10 years."
Keenan and his bandmates are still figuring out how to approach the material, trying to develop a fresh approach to familiar songs.
"The trick is to leave yourself enough time to really digest what you're experiencing and not just fall back into the old patterns," Keenan says. "We could just regurgitate these songs as we've played them before or we could take a minute and try and reinvent them a little bit. But if we're reinventing all the songs, now we might as well be Puscifer, because that's what Puscifer does."
And so what A Perfect Circle does, now and in the future, is still to be determined.
The band no longer has a record label and is completely independent, managing themselves. There was a time, not too long ago, when Keenan expressed doubts about whether APC would even continue.
But Keenan's not big on downtime, and no circle could be perfect if it wasn't completed.
"It's just a challenge," Keenan says of A Perfect Circle's return. "I had a few things that I wanted to record, so rather than get into full swing, we just wanted to get together and see if our energies vibe together and we still want to do it.
"I don't do autopilot. I do stuff," he continues. "I start a winery, I plant vineyards, I start bands. If my hands are idle for any length of time, something's going to happen."
Contact reporter Jason Bracelin at jbracelin@ reviewjournal.com or 702-383-0476.
Preview
A Perfect Circle
8:30 p.m. Saturday and Sunday
The Pearl at the Palms,
4321 W. Flamingo Road
$39-$49 (944-3200)