American Country Awards, Merle Haggard, Garth Brooks, more hit town for National Finals Rodeo
December 2, 2011 - 1:55 am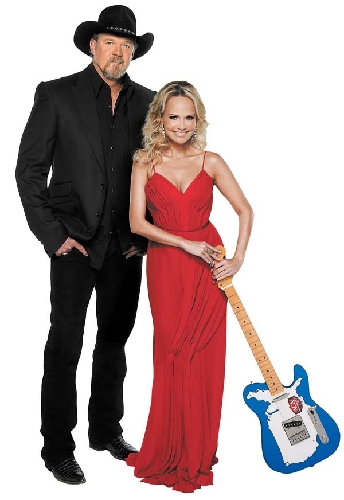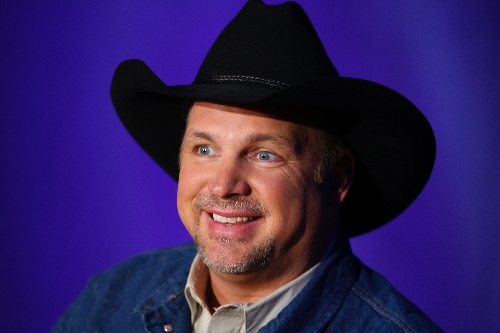 Country music has long been defined by a denim-clad, working-class populism that fancies itself a bullhorn for the voice of the people.
And so it's fitting then, that the American Country Awards would be posited on the collective response of the country faithful.
The show, which is hosted by telephone-pole tall country badass Trace Adkins and singer/actress Kristin Chenoweth, returns to the MGM Grand Garden arena on Monday for its second go-round and will be predicated on fan voting throughout its 19 categories.
It's this focus on fan feedback that distinguishes the ACAs from the numerous other productions of this ilk, such as the Country Music Awards, the CMT Awards and the Academy of Country Music Awards, which also took place at the MGM Grand in April.
This being said, the awards felt a little secondary during the ACAs inaugural run last December, which leaned heavily on live performances, a dozen in all over the course of the two-hour show.
"Last year, what we really tried to do was make a very music heavy show," says ACA producer Fletcher Foster. "We may be tweaking this a bit and making it a little more awards driven, because we definitely want to recognize the efforts that the fans put into voting and supporting their artists. We'll probably give a few more awards away, but it's still going to be very music driven."
To wit, scheduled performers include Blake Shelton, Pistol Annies, Thompson Square, Eli Young Band and The Band Perry, among others.
In addition, iconic country vocal group Alabama will receive this year's "Greatest Hits."
For its debut, the show had a loose, freewheeling feel to it, with winners receiving guitars instead of traditional awards in front of a loud, feisty crowd, who were almost as much a part of the show as the acts onstage.
"It truly is a reflection of the fans at every level," Foster says. "It's nothing that we sit down and create."
The ACAs are but one of the many country music attractions that will take place over the next week as the National Finals Rodeo hits town. Here are some other options:
■ He's the genre's greatest living artist, a man who's turned hard time into timeless songs, an outlaw and a gatekeeper, the life's blood that flows through country western's veins.
Merle Haggard, 74, is still making records and waves in the same singular motion, with his latest album, "Working in Tennessee," an equally wizened and winsome affair.
Haggard completes a full week of country traditionalism (at least by today's standards) at the Golden Nugget Stage, 129 E. Fremont St. All shows are at 10 p.m. Call 385-7111 for tickets.
The lineup: Clint Black, today and Saturday. Tickets start at $64.90.
Travis Tritt, Sunday and Monday. Tickets are $64.90.
Clay Walker, Tuesday. Tickets start at $53.90.
Tanya Tucker, Wednesday. Tickets start at $42.90.
Merle Haggard, Thursday and Dec. 9. Tickets start at $86.90.
■ With the Dixie Chicks chilling out — at least in terms of tour dates, if not temperament — country music could use a fiery female trio who cradle their shotguns as lovingly as newborns.
Enter the Pistol Annies.
Exit two-timing dudes — if they value a hide free of buckshot.
Featuring the volcano of sass that is Miranda Lambert, along with fellow singer-songwriters Ashley Monroe and Angeleena Presley, the group promises "Hell on High Heels" with their debut, and mostly deliver with an album of harmony-heavy honky tonk that's equally free spirited and fierce.
The Pistol Annies get cocked and loaded at 11 p.m. Saturday at the House of Blues at Mandalay Bay, 3950 Las Vegas Blvd. South. Tickets start at $32.50; call 632-7600.
Also at the House of Blues: Burly country cuss Colt Ford at 9 p.m. today through Monday and former "Nashville Star" winner Chris Young at 11 p.m. Tuesday through Thursday. Tickets are $20 for all shows.
■ "Everybody Wants to be me," John Rich brags in song on his latest solo disc, "Son of a Preacher," but seeing as how notable online music compendium Allmusic.com describes Rich as a "blank, colorless singer" in its review of said album, that boast remains open to debate.
One thing that can't be argued, however: Rich really, really loves Jesus, America and booze, although not necessarily in that order.
See John Rich at 9 p.m. Saturday at the Eastside Event Center at the Eastside Cannery, 5255 Boulder Highway. Tickets are $54.95, $64.95 and $74.95; call 856-5300.
■ Dwight Yoakam's one of country music's greatest outliers, a man who introduced an old sound to new crowds.
The clip for his take on Johnny Horton's "Honky Tonk Man" was the first country video that MTV ever played, and when Yoakam was first making a name for himself, he played punk clubs in L.A. more than speakeasies in Nashville.
As such, Yoakum was one of the genre's first true gateway acts, taking his self-described "hillbilly music" to rock crowds who couldn't distinguish between Georges Jones and Strait.
See Dwight Yoakam at 10 p.m. Tuesday and Wednesday at the Las Vegas Hilton Theater, 3000 Paradise Road. Tickets are $59-$89; call 800-222-5361.
■ He's country music's Quarter Pounder with Cheese, the big daddy of them all: Garth frickin' Brooks.
The dude can sell out arenas anywhere there's electricity and beer vendors.
And yet, in one of the best, most inimitable shows in Vegas, Brooks performs in an intimate, largely acoustic setting at the cozy Encore Theater, where he tells the stories behind his many hits and even takes questions from the crowd.
So, what are you going to ask Brooks?
For a loan, maybe? (You'll need one after springing for tickets to this show.)
See Garth Brooks at 7:30 p.m. and 10:30 p.m. today and Saturday at the Encore Theater at Wynn, 3131 Las Vegas Blvd. South. Tickets are $253; call 770-1000.
Contact reporter Jason Bracelin at jbracelin@ reviewjournal.com or 702-383-0476.
Preview
American Country Awards
5 p.m. Monday
MGM Grand Garden arena, 3799 Las Vegas Blvd. South
$41.55, $74.05, $106.15 (891-7777)