Andrea Bocelli: Las Vegas is 'an old friend'
December 2, 2013 - 8:18 am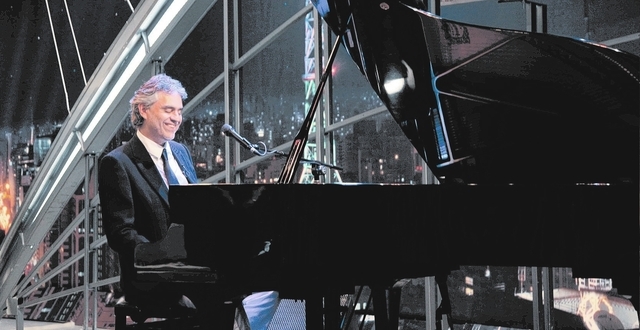 Master tenor Andrea Bocelli describes Vegas the way other people describe mountains and Superman.
"Sometimes, I think Las Vegas is the tangible expression of the strength of man, of his incredible potential," Bocelli tells me.
"I love the contrasts of this city, its dazzling modernity that is made even more evident by the surroundings, wilderness."
Vegas is like "an old friend," he says in an interview we did by email (because his English is better than my Italian).
Bocelli's popular opera voice has been intertwined with Vegas for years. His duet with Sarah Brightman, "Time To Say Goodbye," is a signature song of the Bellagio fountains.
In 2006, Bocelli recorded his live album and DVD, "Under the Desert Sky," on a floating stage at Lake Las Vegas Resort.
Bocelli is back in Vegas to sing Saturday at MGM Grand Garden. He's not fooling around.
"Before the concerts, I do not indulge in any distraction," he says. "Conversely, I have the need to concentrate, relax and study."
His family loves coming here, because "Las Vegas is, among other things, the shopper's paradise," he says.
Bocelli's daughter Virginia is 21 months old and is always on tour with Bocelli and his love/manager, Veronica Berti.
"She has been, therefore, absorbing music since she was born."
His two musical sons Amos, 18, and Matteo, 16, play piano. Amos sometimes accompanies Bocelli on piano, most recently at Bocelli's annual concert in the Tuscan countryside where Bocelli was raised.
Bocelli says we should all visit Tuscany for its "sounds, smells and the silences of the open countryside," architectural wonders, paintings, sculptures and inspirational landscapes.
"Tuscany is not only a land of hills of olive trees and vineyards. It is also the sea. The Tuscan archipelago is a paradise on Earth."
Bocelli even shares specific travel advice: Find a hotel on Capraia island, as it has "few cars, many miles you can go on foot, skirting the woods overlooking the sea, among pines, poplars, cork trees and wild oleanders."
I love it when stars give me traveling tips. So where else should we go?
"At the risk of sounding parochial, I must admit the place I love most in the world is my peaceful place in the hills of my childhood, Lajatico in Valdera," he says.
"The main quality of this part of Tuscany is a simple beauty, a true one, an unadulterated charm, not showy and yet dazzling, thanks to its authenticity to its own vitality.
"The splendor of Valdera is the result of a co-existence between man and nature, based on respect and hard work."
"Here, the echo of tractors mixes with the rustling of the trees; the colors of plowed fields, of vineyards, of primroses, of clover and of olive trees are shaped in the bizarre geometrical order of the boundaries of the small properties.
"Thus, the smell of hay is mingled with the one of grilled meat coming from some farmhouses confused among the dancing cypresses, and the natural contours of the hills are broken by the contours of a medieval village, or by a church, or by the ruins of an old abandoned farm house."
And that's why Andrea Bocelli makes me feel as if he's my own personal Frommer's guide.
Doug Elfman's column appears Mondays, Tuesdays, Thursdays and Saturdays. He also writes for Neon on Fridays. Email him at delfman@reviewjournal.com. He blogs at reviewjournal.com/elfman.