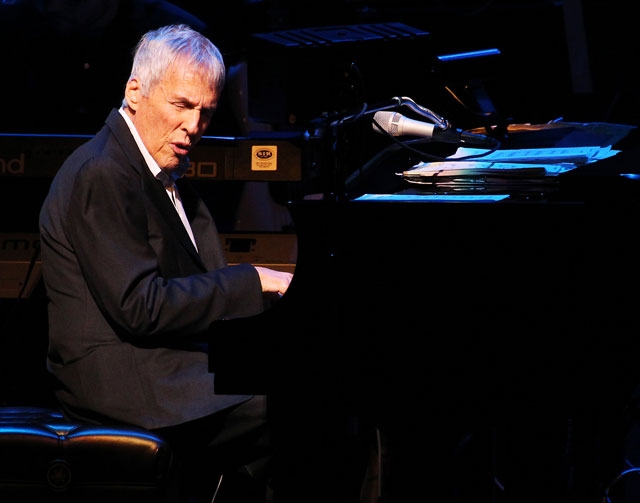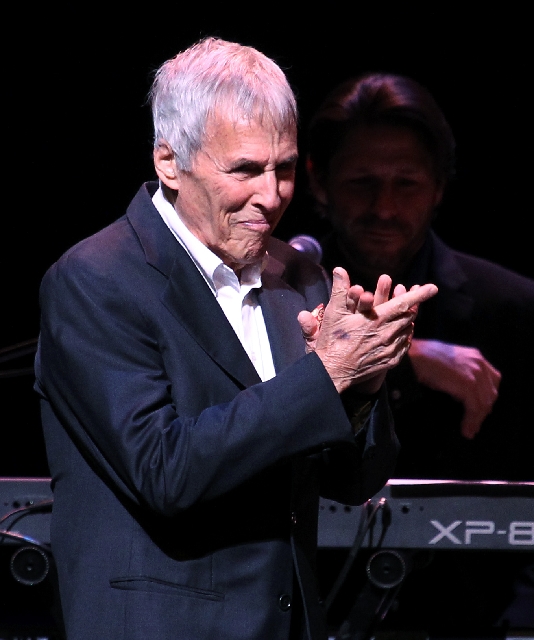 Always something there to remind you.
"(There's) Always Something There to Remind Me" is far from Burt Bacharach's biggest hit.
But it serves as an ideal theme song for Bacharach's Thursday visit to The Smith Center's Reynolds Hall, a reel-in'-in-the-years survey of songs that, collectively, comprise a big part of the soundtrack for anyone who survived the 1960s, '70s and beyond.
Come to think of it, soundtrack seems an appropriate term, given Bacharach's long and successful cinematic ride, which includes Oscars for "Raindrops Keep Fallin' on My Head" (from "Butch Cassidy and the Sundance Kid") and "Arthur's Theme."
But Thursday's concert also touched on remember-when movie hits from "What's New, Pussycat?" to "The Man Who Shot Liberty Valance" — "touched on" being Bacharach's approach for much of the medley-heavy, 90-minute concert, which was clearly designed to highlight as many favorites as possible. (Not, alas, Bacharach's bouncy horror-movie hit of 1958, "Beware of the Blob.")
But it's hard to argue with the inclusion of such pop classics as "Walk on By."? Or "Close to You" or "That's What Friends Are For."
To say nothing of "Do You Know the Way to San Jose?" and "I Say a Little Prayer" and "One Less Bell to Answer" and "Wishin' and Hopin' " and "The Look of Love" and, inevitably, "What the World Needs Now," which opened and closed Thursday's concert.
Bacharach encored with a sing-along version of "Raindrops" — "Do this one song and then you're all outta here," he told the cheering audience, thereby inviting all those who'd been doing the sotto-voce singalong thing to surrender to the near-irresistible impulse gripping them all evening.
Bacharach wrote most of those songs with longtime lyricist Hal David (who died last year at 91), who's "very much missed by me — and in this world," Bacharach said.
Bacharach's now 84, and there were times when his age definitely showed — notably in his wavering, quavery singing voice, which he deployed to sporadic but poignant effect. Particularly during a solo rendition of "Alfie," as Bacharach quietly pondered "What's it all about?" with a lifetime's worth of rueful grace.
Most of the time, a trio of singers — sultry Josie James, smooth John Pagano and soulful Donna Taylor — handled the vocals with aplomb, delivering distinctive interpretations without straying too far from the versions forever playing in our heads.
The same held true of Bacharach's backing band, which expertly preserved his signature sound, notably in the burnished brass-reed harmonies of trumpeter Tom Ehlen and saxophonist Dennis Wilson , both longtime locals. Keyboardists Bill Canto (who also contributed vocals on, among other numbers, "This Guy's in Love With You") and David Joyce joined drummer John Ferraro in expertly negotiating the buoyant, try-and-catch-me rhythmic shifts that rank as another Bacharach trademark.
Sitting at the piano (except when rising to cue his musicians or bow to the audience), Bacharach remained an ingratiating presence, linking the melodic medleys with the delicate precision of his piano accompaniment — and his casual but unmistakably enthusiastic conducting.
Bacharach even dared to stray from his jukebox of hits to introduce two songs from the musical "Some Lovers," a collaboration with "Spring Awakening" Tony-winner Steve Sater that premiered at San Diego's Old Globe Theatre in 2011.
Both songs proved he's still got it.
Then again, Bacharach's always had it — that knack of writing tunes, such as "I Just Don't Know What to Do With Myself," that work just as well for the White Stripes as they did for Dionne Warwick and Dusty Springfield.
Or whoever comes along, years from now, to remind us of their shimmering musical appeal.
To paraphrase one of Hal David's ever-apt lyrics: "Forever and ever, you'll stay in our hearts and we will love you … " And so will your music.
Contact reporter Carol Cling at ccling@reviewjournal.com or 702-383-0272.
REVIEW
What: "An Evening With Burt Bacharach"
When: 7:30 p.m. Thursday
Where: Reynolds Hall, The Smith Center for the Performing Arts
Grade: A-