Bad Moon Booking founder books fests in Vegas, Boulder City
September 12, 2017 - 11:04 am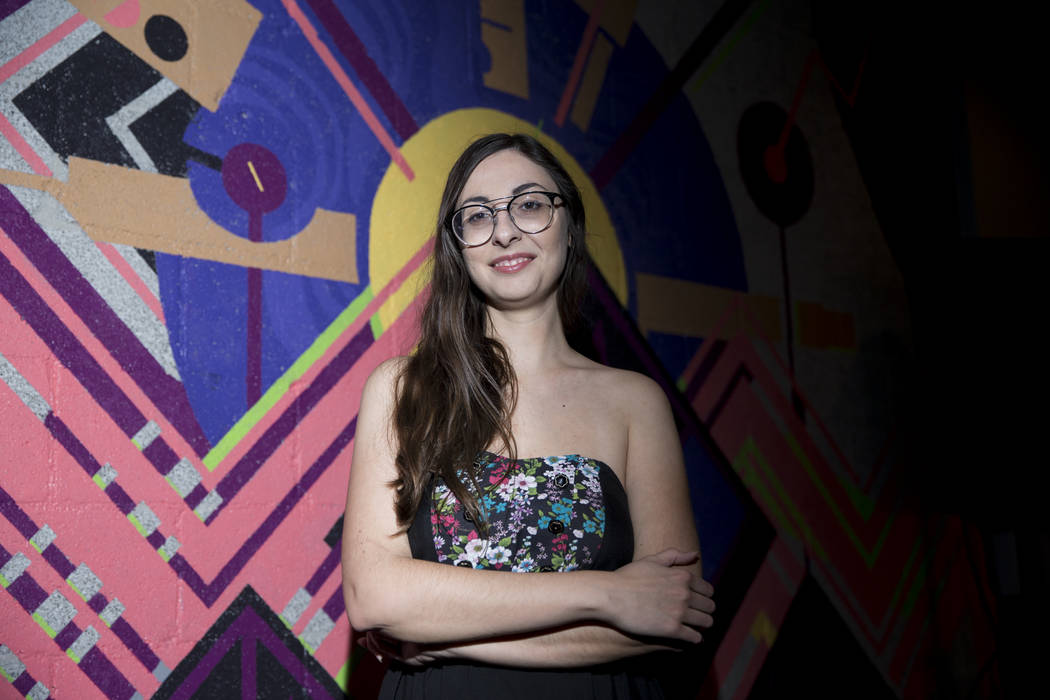 The splintered piece of wood resting atop a picture frame signals the return of the rock to Boulder City.
"That's the first drum stick that was broken in here," Tsvetelina Stefanova says from the dining room at new Boulder City pub, restaurant and burgeoning music venue The Tap, where said stick sits atop a silk-screen poster for her band, local indie rock favorites Same Sex Mary.
OK, so the rock never totally left Boulder City — thanks in large part to Stefanova, who's booked shows at The Dillinger and also recruits the bands for that local eatery's popular annual block party.
But while The Dillinger is a cozy spot just big enough to host singer-songwriter acts or musical duos, The Tap can host full-fledged touring acts and adds another dimension to live music in Boulder City.
Stefanova just started hosting bands in this wood-grained room in June, where the tables and chairs are removed for shows.
Stefanova doesn't just brings acts here: as founder of Bad Moon Booking, she books groups at a variety of venues across Vegas, helps curate a number of festivals, including the upcoming Life is (expletive) fest at the Dive Bar on Sept. 23, and also serves on the Dam Short Film Festival board of directors, where she oversees sponsorships.
On a recent weekday afternoon, Stefanova took a break from it all to catch us up on her multiple musical endeavors:
Review-Journal: You're bringing the rock back to Boulder City. You've booked acts at The Dillinger, but do you see The Tap being more suited to serve as a music venue?
Stefanova: I absolutely do. With The Dillinger, we have no room. It's in a tiny space or on the patio where we have to worry about noise complaints. This space was somewhere we could go as late as we want, we could have music that's not just your typical blues rock covers, drawing a more eclectic mix of musicians and touring bands. We've had a handful of shows back there and the vibe is amazing.
Is your mindset any different in booking this place as opposed to some of the other venues you work with?
When I put the Bad Moon Booking brand on something, I'm trying to curate something I believe in, bands who I think are worth listening to, whatever the genre is. We may go toward garage rock or psych rock bands in most cases, but really, the genre doesn't matter as long as it's good. Booking in Boulder City, I do have to consider that there is more of an older crowd that might stumble in and I have to cater to them in a place like this. But it doesn't all have to be one thing. I do like to have variety there.
Was your entree into booking just a natural offshoot of lining up shows for your own band?
The way Bad Moon developed was through touring and networking, bands helping bands and friends helping friends, because in the music community — in the whole world, really — the only way to make it work is through each other's help because there's not really a whole lot of money in it. A lot of times these bands coming through town are looking for a DIY spot because that's where they know that people will take care of them. I kind of have that DIY aesthetic even when I work with venues. I just want to make sure that it's fair for everybody.
Did you have to evolve your thinking when you're taking something that started as a labor of love and shifting into something more formalized?
Learning how to say no is still something I'm working on. But I try to help everyone when I can. Even if a band hits me up and I'm not interested in putting on their show, I still want to at least send them a list of contacts, something to help them. It has really grown to delving into so much more than just booking shows, but running festivals and realizing how much I love all that.
Right now, my main focus is really the festivals that we're working on. We're working on Submerge Festival. That's going to be at Starboard Tack (2601 Atlantic St.), which is a really cool spot. It's like a neighborhood bar, built in like the '60s. Inside, it's all nautical themed. It just seemed like the perfect spot for this, because Submerge is going to be like a yacht party basically. We're going to have talks. There's going to be speakers and bands. It's going to be really awesome.
You're also launching another new festival on Oct. 13 at the Boulder City Library.
I always wanted to do a Bad Moon Fest, where it's just strictly what I want to do, not catering to anything else. Bad Moon Fest would just be showcasing all the bands that I want to showcase. We're probably going to wait next year to launch that, but this Friday the 13th is going to be the only Friday the 13th in October for I don't know how many years, so we thought, 'We need to do something.' The library has this beautiful amphitheater. On October 13th, we're going to test it out, do four bands or so. I just keep wanting to keep showing my friends and people in Vegas how awesome Boulder City really is.
Getting to know Tsvetelina Stefanova
Newest Vegas discovery
$4 dollar movies on Tuesdays at the Cinedome 12 (Henderson).
Favorite indulgence
Sushi
Hobbies
We play Magic: The Gathering every Monday night with some friends, usually. Bad Moon is named after a Magic: The Gathering card.
Favorite vacation destination
Bulgaria, when I can afford to go.
Where would you live if not in Boulder City
Probably Tucson, Arizona.
What alternate occupation would you have pursued
Oh, that's easy. I have a degree in botany and a minor in chemistry. I went to NAU (Northern Arizona University) in Flagstaff, Arizona. I wanted to go to UBC (University of British Columbia) in Canada right out of college, but I was like, 'Now's my chance to be a rock star. I'll try this music thing for a while.'
Contact Jason Bracelin at jbracelin@reviewjournal.com or 702-383-0476. Follow @JasonBracelin on Twitter.