Beats Antique bringing unique sound to Cosmopolitan's Bond
December 17, 2010 - 12:00 am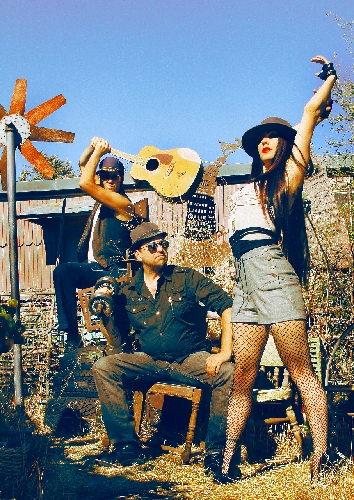 The Cosmopolitan of Las Vegas has been lining up marquee names as big as Jay-Z, Coldplay and Brandon Flowers. But the music act I've been looking forward to hearing is a lounge act — the crazy San Francisco trio Beats Antique.
The appeal of this very talented trio isn't just the eye-popping, pop-and-lock, break dancing belly dancer Zoe Jakes, who moves her body like an angelic snake trying to snap her shoulder back in place.
The appeal isn't just that the other two members sometimes wear latex and giraffe heads, which, granted, sounds erotic and/or creepy.
Leave aside those funsie gimmicks, and listen to the excellent music — it's a beautiful, raw yet smooth Middle Eastern electronic dub that is animalistic but also … cosmopolitan. (I really, really apologize for that horrid wordplay, but they seriously do sound cosmopolitan, sorry again.)
This music is fun, pretty and easy on the ears, yet if you're a real musician, you can actually hear the skill inside. They may be the first band of their kind to cite Danny Elfman as an influence.
It's significant The Cosmopolitan picked Beats Antique to be one of the opening-week acts, because the trio fits the resort's slinky marketing motto.
The resort produced the best Vegas TV ad in 10 years, featuring the tagline motto, "Just the Right Amount Of Wrong," with visuals flashing sexualized models, sugar grandmamas and kittens (kittens!) set to a mix of rock guitar and lounge music.
"That fun-ness goes along with our show," producer/drummer Tommy Cappel says. "We're just enough right but really wrong.
"The vibe of our music is sort of what they're looking for … highly stylized but not super pretentious."
Beats Antique does some "funny things" onstage, he says.
"We're known to wear animal heads at our shows and create mayhem," says the music-schooled multi-instrumentalist David Satori.
They wear latex rubber masks styled like horses, giraffes, frogs, chickens, hippopotamuses and bunnies.
"It's about getting back to our roots as animals, getting back to your animal instincts. Don't forget: You're just a little animal," Satori says.
The Cosmopolitan is showing eclectic taste to hire Beats Antique.
"I definitely think they're looking outside the box to bring in different cultural elements, instead of just mainstream, straight-up safe (music)," he says.
"It's not just a house DJ spinning Top 40 remixes, you know?" he says.
Not only that, but the trio has only occasionally let a singer join them.
"For the most part, we don't have a ton of vocals," Jakes says, even though "the mainstream really likes their vocals."
They eschew singers largely to keep ears focused on the vibe, melody and beat.
The few times they've used singers, those vocalists were "amazing," Jakes says, but their voices were treated more as instruments than as bringers of lyrics.
"It's just a texture. It doesn't draw attention away from all the other textures you've created," Jakes says of the rare vocals.
For the Vegas shows, Jakes — a trained dancer with more than a decade's worth of pro work — has brought three extra performers from her dance company.
"They will be performing," she says, in "crazy ass costumes!"
But do they want people to show up in latex? Satori stops to think about this and decides:
"We aren't necessarily requesting it, but if they have any animal heads, they're welcome to bring them."
YES, THAT IS 'EXTREME'
Members of Beats Antique have performed in Vegas before, in a different group. Zoe Jakes and Tommy Cappel used to be in the Extra Action Marching Band. Some years ago, they played the Double Down with Extreme Elvis. It went a little something like this, Cappel says.
"We covered the whole first album of Black Sabbath with a 350-pound Elvis impersonator as Ozzy.
"Within the first seconds of the show, he's completely naked.
"If you can imagine a 350-pound Elvis drinking his own pee and running up against things — I mean, he's extreme.
"It was a pretty disturbing moment in time."
Cappel played drums. There were 35 people in the marching band, all crammed into the boutique Double Down.
"We just took that place by storm. The place was already packed. It was such a sweaty mess in there, he says.
"The real details — I'll have to leave out. We were having a good time. Let's just leave it at that."
Doug Elfman's column appears Sundays, Mondays, Tuesdays and Fridays. E-mail him at delfman@ reviewjournal.com. He blogs at reviewjournal.com/elfman.
Preview
Beats Antique
10 p.m. today and Saturday
Bond at The Cosmopolitan of Las Vegas, 3708 Las Vegas Blvd. South
Free (698-7000)