Beauty Bar's new talent booker is expanding Downtown's music scene
January 17, 2017 - 7:18 pm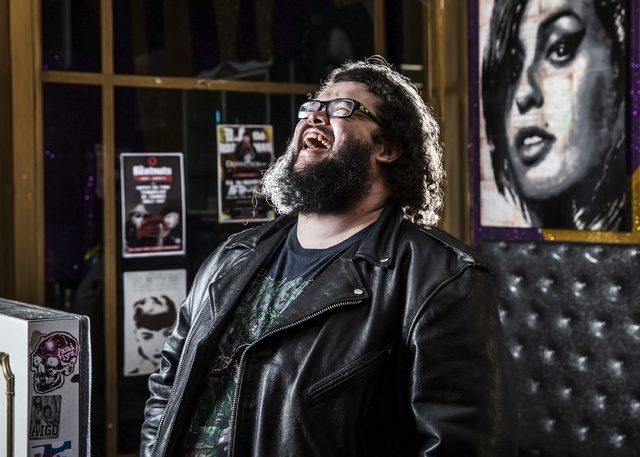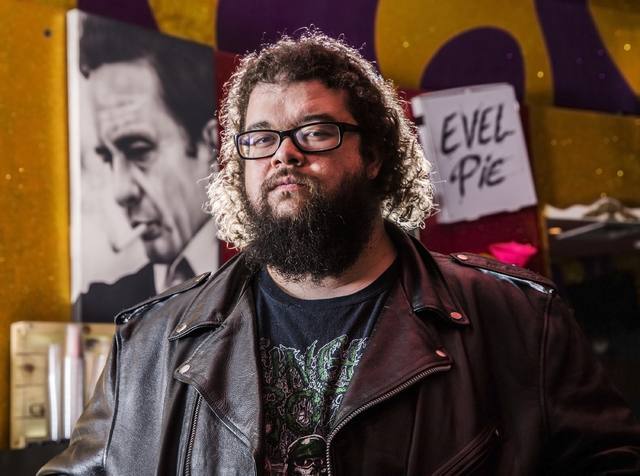 Vegas Voices is a weekly question-and-answer series featuring notable Las Vegans.
The hirsute, fullback-sized dude leaning into the soft, golden edge of the bar is talking about taking the ATM walk of shame, a tough trek he's had to make before, but one that's ultimately led him to where he currently sits.
Patrick "Pulsar" Trout has been booking shows in Vegas since he was a kid just out of high school, when he brought coed rockers The Start to now-shuttered, all-ages music venue/coffee spot Rock N Java over 10 years ago.
Since then, he's hosted more than 500 gigs at venues all over the city, most recently as part-time booker for the Dive Bar, learning in trial-by-fire fashion the ups and downs of being an independent concert promoter, where nothing is a given — hence, the occasional trip to the ATM to pay bands out of his own pocket if a show didn't draw as expected.
"It's like, 'Yeah, this was a great show; I'm going to go clear out my savings account,' " Trout chuckles knowingly.
Still, Trout's had many more hits than misses, becoming one of Vegas' go-to guys for booking shows around town, especially of the punk and metal variety.
All this has led him to the Beauty Bar, where he was recently hired as the talent buyer.
The Beauty Bar has played a central role in anchoring the downtown music scene for over a decade now, and with Trout now at the helm of its live music schedule, the venue will be entering a new phase of its run.
Recently, we caught up with Trout at his new digs to talk about what we can expect from the Beauty Bar moving forward.
R-J: You're pretty well established when it comes to booking shows at various venues across town, why decide to focus solely on the Beauty Bar now?
Trout: I got to a point where if I was going to keep doing shows freelance, it was basically going to be a second job or just a hobby, because financially, it just wasn't really feasible anymore. When you're doing it without any sort of backup and taking all the risk on the shows, it's really hard to do, because you're competing with all the in-house bookers at different clubs, it's a lot harder to get sponsorships and things like that. When I got this opportunity to go back to booking full time and focus on this 100 percent, I decided to run with it.
R-J: In what direction would you like to take the venue?
Trout: "I remember going to shows as a kid at places like Tremors, the Castle and the Huntridge (Theater) where sometimes I wouldn't even know who was playing, I would just show up because I knew there was going to be bands and, odds were, I was going to like at least one of them. Ideally, I would like this to be a place where people show up simply because they know there's going to be something going on and it's probably going to be something really cool. That means bringing in a wide variety of stuff.
If you already liked the way things were going here as far as the kind of events that were coming, you've got nothing to worry about, because you're going to keep getting those things. If you maybe haven't been here in a while or haven't been here before because you didn't really think there was something on the calendar that appealed to you, that's going to change. I don't think anyone has to worry about me trying to flip the script as far as what kind of music and programming has been happening. At the same time, if you're looking for some different stuff that maybe wouldn't have come here before, you're definitely going to get that.
R-J: Beauty Bar has a pretty diffuse identity in terms of what types of acts play here.
Trout:Beauty Bar is an interesting case in that its identity has really evolved over time. What Beauty Bar was in 2005, what Beauty Bar was in 2010 and what Beauty Bar is now, it would almost be like walking into three different places, in terms of demographics, what the regulars want to see, what the regulars want to listen to. For example, the Beauty Bar has this really great, established foothold in the urban market and in the hip-hop scene. The thing is, that crowd tends to show up after midnight. So a lot of what I'm doing is focusing on really good rock shows that can run from 8 p.m. to midnight so that we've got those two crowds coming in consecutively.
R-J: You've worked with enough booking agents from around the country to get a sense of how the perception of Vegas has evolved over the years. It seems like we get some shows now that we didn't a decade ago. Has there been a shift in how Vegas is viewed nationally?
Trout: I think there has been, to an extent. I think Vegas has been viewed by some agents as being a somewhat shaky market, especially in the metal scene. There hasn't been a level of consistency that would you get in other cities — and that's not a knock on the city, it's just the way the city's been. On the other hand, there are agents who know for a fact that when they come to Vegas, they're going to get a solid show. I've been arguing for years that the strongest sub-faction of the music scene is the punk scene. Vegas has one of the strongest punk scenes in the country, in my opinion, not just for really good local bands, which we have plenty of, but just in terms of the turnouts to shows.
R-J: What have you learned from your experiences booking shows that you could maybe apply to Beauty Bar?
Trout: There are no real tastemakers in this. Basically, you go where the audience goes. I'm not necessarily booking the same acts that I would have been booking five years ago, or even two years ago — I have to move with what the audience wants. The audience evolves. I want to make sure that people who are paying to see shows feel like they're getting what they paid for, like they're getting their money's worth. I want to make sure it's worth your time.
Read more from Jason Bracelin at reviewjournal.com. Contact him at jbracelin@reviewjournal.com and follow @JasonBracelin on Twitter.
Getting to know:
Patrick "Pulsar" Trout
The ultimate booking for you, in any venue
If money was no object, venue size was no object, the ultimate bookings for me would be Rammstein, Babymetal, Maximum the Hormone from Japan, which is one of my favorite bands and never, ever tours here, Death, from Detroit. Boris would be another one on my shortlist. Bad Brains — everyone's health permitting. Misfits with Danzig would be an awesome one.
Currently obsessed with
I gotta say "Westworld." That show completely blew my mind, and the fact that we have to wait an entire year for another season is an absolute travesty.
Favorite sport
Baseball, easy.
Team
Cubs.
Pets
I have two kittens and they're both little terrors right now.
Special, unusual talent
Because I deal with dates all the time, I'm really good at remembering dates on specific stuff. If you mention a show, I can remember what date it happened, what club it was at, how many people were there, all that stuff.
Phobia
I hate bugs
Hobbies/collections
I am a huge giantic anime nerd. I've got a pretty good collection of anime DVDs, starting to build a pretty solid collection of figurines.