Blink-182 among a handful of bands to change singers without missing a beat
December 2, 2016 - 7:51 pm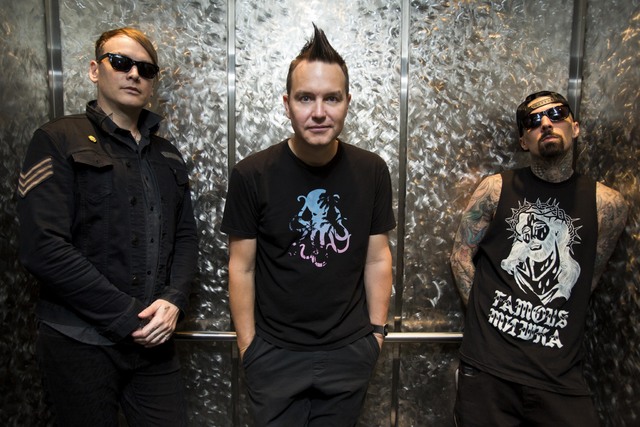 He's gone, but not the naked dude jokes.
When pop punks Blink-182 split with singer-guitarist Tom DeLonge last year, it stripped the band of one of the genre's most consummate craftsmen of the wiener one-liner.
Sure, Blink has done plenty of growing up since back in the day when they were penning tunes about soiling bus seats and fornicating with dogs, Grandpa and your mom.
Their last two records with DeLonge, 2003's "Blink-182" and 2011 comeback disc "Neighborhoods," were decidedly more mature affairs, meaning there were far fewer diarrhea references.
But with DeLonge out, the band recruited an ideal replacement in Alkaline Trio frontman Matt Skiba, who joined the group on latest album "California."
Not only do Skiba's vocals mesh well with those of singer-bassist Mark Hoppus, keeping Blink's melodic bona fides intact, but with him in the fold, the band also loosens up a bit in places, re-embracing their playful, lighthearted and puerile instincts on a pair of tongue-in-cheek tracks, one of which revolves around building a pool in order to see one's buddies in their birthday suits.
Few things are trickier for a well-known band than replacing a popular vocalist, but Blink did it right: They picked a guy who could convincingly pull off all of Blink's previous material and also bring a fresh energy to the band.
With Blink-182 hitting town to headline the first night of X107.5's annual Holiday Havoc festivities, let's take a look at some other rockers who also lost a frontman but gained momentum.
Cannibal Corpse
It was like going from Satan to Satan-with-a-stubbed-toe-standing-in-line-at-Taco-Bell-while-the-dude-in-front-of-him-can't-figure-out-his-damn-order-already. Sure, ex-Cannibal Corpse singer Chris Barnes remains a death metal icon for his righteously enraged vocal vomiting on the group's first four albums. But when he and the band parted ways in 1996, Cannibal Corpse recruited an even more powerful and pissed-off-sounding singer in George "Corpsegrinder" Fisher, a dude with the lung capacity of a blue whale who's capable of spitting out his words the way a Gatling gun does bullets. What's more, after Barnes left the fold, the band largely ditched the psychosexual lyrics that frequently got them branded as misogynists when he was in the group (tunes like "Stripped, Raped and Strangled" tend to have that effect). You see, children, regardless of gender, everyone deserves to suffer and die equally.
Dropkick Murphys
Original Dropkick Murphys frontman Mike McColgan is such a pure embodiment of the blue-collar Bostonian street tough, he could pass for a character from a Dennis Lehane novel, one who would surely be played by Maaahhhk Wahlberg in its requisite big-screen adaptation. But when he left the Murphys in '98, it was the best move for both parties: McColgan was free to focus on his dream of becoming a firefighter, while the Murphys were able to begin expanding upon their Celtic bar punk bombast with new singer Al Barr, who possesses sufficiently gruff pipes, but whose voice is much more suited to conveying the longing and wistfulness that has since become a staple of the band's repertoire. Besides, McColgan would later surface in his own band, the Street Dogs, who are wicked pissah, kid.
Black Sabbath
Look, some things can't get better — namely, beer and the time spent reading this story. So to say that the greatest metal band of all time somehow got better upon replacing one of the greatest metal frontmen of all time would be a bit of an overstatement. But when Black Sabbath fired a then-drug-addled Ozzy Osbourne in 1979 and replaced him with Ronnie James Dio, it just may have saved the careers of both Sabbath and Ozzy. The band's original lineup was fresh off their two most middling records, 1976's "Technical Ecstasy" and 1978's "Never Say Die!," both of which have their moments, but the hellfire that once burned within this bunch had become the quavering flame of a flicked Bic in a windstorm. With Dio, Sabbath crafted some of their most epic and hard-driving compositions ever, enabled by his far greater range and more refined melodic sensibilities. Of course, the band would later get back with Osbourne, but if it wasn't for the artistically rejuvenating Dio era, there might not have been a band to get back to.
Iron Maiden
When British metallers Iron Maiden ditched Paul Di'Anno for Bruce Dickinson in 1981, it was like dropping the loud, angry dude at the end of the bar yelling at strangers for making eye contact and replacing him with Luciano Pavarotti — you know, if Pavarotti was a long-haired renaissance dude who enjoys fencing and giving voice to epic yarns inspired by Samuel Taylor Coleridge poems. As much as Maiden's first two records with Di'Anno are classics in their own right, Dickinson took Maiden in a completely new direction, his much more operatic vocals and heady demeanor helping to spur Maiden forward as they crafted one of heavy metal's most ambitious discographies that totally compensates for all those times you skipped history class.
Faith No More
They swapped a singer who couldn't sing with a frontman whose six-octave range is the greatest in contemporary rock. Upgrade, much? Look, former Faith No More vocalist Chuck Mosley has his charms and his rap-sung delivery was somewhat inventive back in 1987, but the dude couldn't hold a note if it came with handles. Contrast this with his replacement, Mike Patton, a vocal wunderkind capable of recording albums of vintage Italian pop tunes, wrapping his elastic voice around the maniacal sax playing of John Zorn and throwing down with spastic metallers Dillinger Escape Plan. With Patton taking over for Mosley in 1989, Faith No More became one of the most consistently inventive hard-edged alt-rock bands in an era full of them. Their catalog truly knows no bounds. Kind of like Patton's voice.
Read more from Jason Bracelin at reviewjournal.com. Contact him at jbracelin@reviewjournal.com and follow @JasonBracelin on Twitter.
Preview
What: Holiday Havoc 2016, with Blink-182, Jimmy Eats World and others
When: 6 p.m. Thursday
Where: The Pearl at the Palms, 4321 W. Flamingo Road
Tickets: $69.73-$143.12 (702-944-3200)