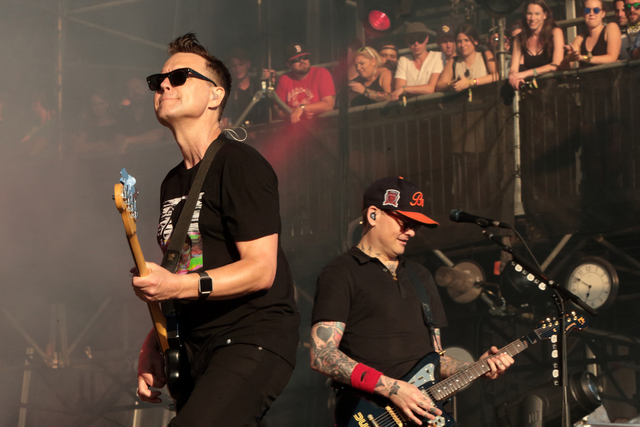 Because you just can't get enough of "Dysentery Gary" and/or "Dookie," two paragons of '90s pop-punk (or poo-punk, as the case may be) are headed back to Vegas.
First up, Blink-182 headlines the first night of X 107.5's annual Holiday Havoc festivities on Dec. 8 at The Pearl, joined by Jimmy Eat World, who went over big at Life Is Beautiful last month, Pierce the Veil, Weathers and The Hunna.
Holiday Havoc's second night, on Dec. 9, features Weezer, Grouplove, Saint Motel, The Moth & The Flame and 888.
Tickets for both shows go on sale Friday.
Not to be outdone, Green Day returns to the MGM Grand on April 7 for their first Vegas gig since frontman Billie Joe Armstrong's infamous, profanity-laced meltdown at the iHeartRadio Music Festival in September 2012. Green Day will be supporting their just-released new record "Revolution Radio" with Against Me! opening the show.
It'll be the just the third concert Green Day's played here over the past decade and their first headlining performance since they sold out the Mandalay Bay Events Center in August 2009.
Tickets go on sale Friday.
Read more from Jason Bracelin at reviewjournal.com. Contact him at jbracelin@reviewjournal.com and follow @JasonBracelin on Twitter.