Bloc Party, playing Cosmo, exorcising demons after two-year break
August 10, 2012 - 1:26 am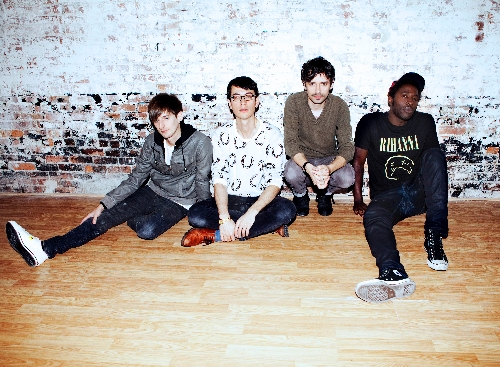 Five songs in, the thing just detonates, spraying guitar shrapnel and frayed nerves every which way.
"We dropped the lighter into the gas," Bloc Party singer/guitarist Kele Okereke announces on "Kettling" from the British band's forthcoming new disc "Four," giving voice to the explosiveness contained therein.
"We can feel it in our bones," he adds on the chorus, a sentiment that quickly becomes palpable upon taking this record in.
Though Bloc Party initially won favor with critics and indie rockers alike with tense, yet danceable tunes that underscored slashing guitars with an electronic throb, "Four" is cathartic and cinder block-heavy, with some of the band's most dense, tightly wound jams.
There's "Coliseum," which begins with an acoustic strum before working itself into a lather of overdriven, cast iron riffs, the punk heart palpitation "We're Not Good People" and the frantic whelp of "3×3."
It's not all gnashed teeth and bloody knuckles; first single "Octopus" is limber and loose hipped, but for the most part, "Four" is an intense, harrowing listen.
Prior to making the album, Bloc Party took a two-year break where various band members worked on side projects.
If the future of the band was ever in doubt, "Four" feels like an extended expulsion of frustration and uncertainty.
"I think it was a way of exorcising certain demons," drummer Matt Tong says. "We realized that, despite everything, we were still a band, there was still a desire for us to all play together. Finding our feet again as a rock band gave rise to these incredibly heavy songs for some reason. There was an abundance of energy and aggression that we hadn't really tapped into for a long time, and I think that contributed to the parts of the record that are loud and heavy."
The album's more brusque sonics were abetted by producer Alex Newport, who is best known for fronting Brit noise metallers Fudge Tunnel in the '90s.
Newport favored a raw, crisp, cutting sound for "Four."
"He's known for his loud productions, but he didn't force that on us at all," Tong says. "I think we were already showing a willingness to make some songs that were very heavy and he helped facilitate that.
"He's someone who has a lot of respect for older recording techniques," he continues. "We did quite a lot of tracking onto tape. That was something that we were looking for in a way. We had gotten so into producing our records and making things that sounded really inorganic. It seemed like a good step to move away from that and try something else for a while."
Making a break with the past seems like a necessary move for Bloc Party at this point, as Tong acknowledges that the grind of being in an ascendant band, one that sold more than 2 million copies of their three previous records, beginning with 2005's "Silent Alarm," took its toll on the group, hence their hiatus.
"The band had almost become like a separate entity, and it was ruling us as opposed to the other way around," Tong says. "I think having a few years away helped us all to see that we had worked so hard, that it wasn't just going to be taken from us. I think sometimes you get locked into that recording-touring-recording cycle that you start to forget that the world carries on regardless. Having a few years away was invaluable really, removing us from all the things that were making the band a negative environment at the time."
To hear Tong tell it, Bloc Party's success was largely unanticipated by the band. He remembers the first time he started to realize that things were beginning to happen for the group, at their first gig in Paris before "Silent Alarm" had even been released.
"The whole room was going crazy," he recalls, still sounding a bit taken aback. "I was kind of like, 'Oh, we don't have any control over this any more. This doesn't belong to us,' but that's fine, because it's not our place to dictate how other people digest what it is you do. It was like, 'Wow.' You kind of feel like it's not you playing, somehow, because there's a roomful of strangers and they're all going nuts. It's wise not to spend too much time thinking about that."
As such, Tong was unprepared for the trappings of semi-celebrity.
He didn't know what to expect from that which he never expected.
"Personally, I had this really infantile notion of what being successful in a band meant, because as a young person, that seemed so intangible to me, the idea of being a rock star or whatnot," he says. "It just seemed so absurd and almost abstract that I started having funny ideas about what that would actually entail, like flying around on private jets with supermodels and suddenly, like, the gates are thrown open and you can go in there and pillage whatever you want. That actually doesn't happen, really."
Thanks for ruining the dream, guy.
"Sorry," he chuckles. "We're not that kind of band anyways."
Contact reporter Jason Bracelin at jbracelin@ reviewjournal.com or 702-383-0476.
Preview
Bloc Party
8 p.m. Saturday
Boulevard Pool at The Cosmopolitan of Las Vegas, 3708 Las Vegas Blvd. South
$41.75 (800-745-3000)