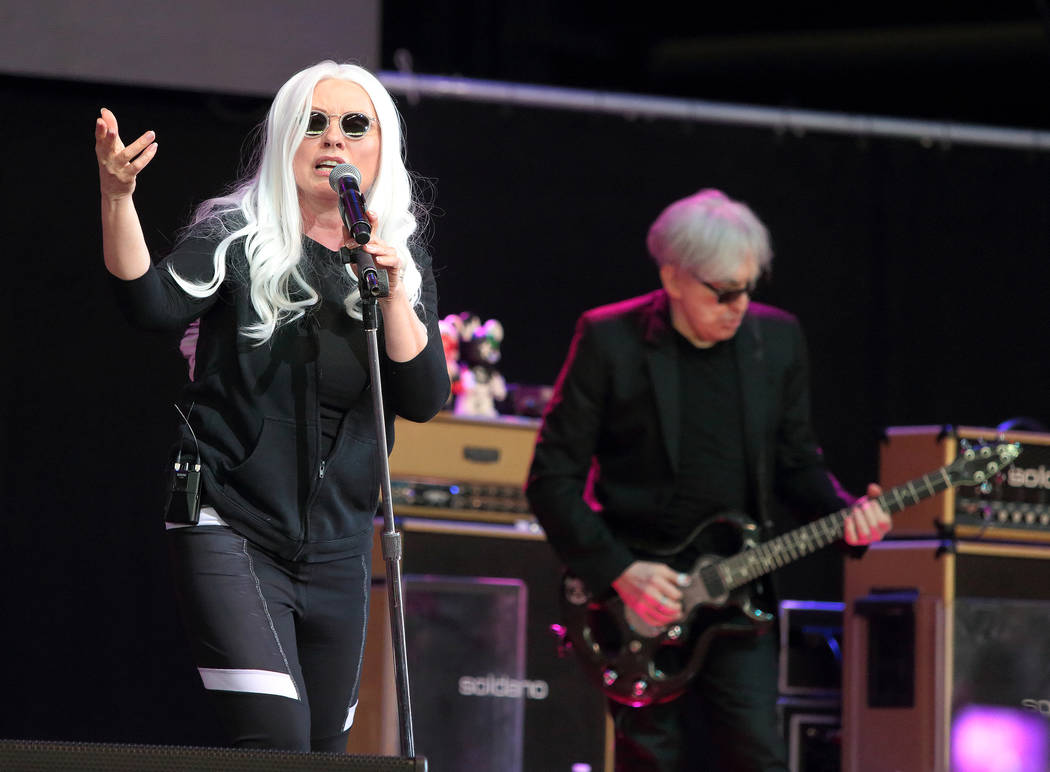 Forty-seven years separate the woman on the mic and the woman whose pen is as sharp as the former's tongue.
"My pretty mouth is open," Debbie Harry sings in an upper-register lilt, her voice hopscotching atop a bass line that buzzes like a felled power line. "My words keep on flowing."
Those words aren't her own.
Instead, they belong to 24-year old Charlotte Aitchison (better known as British "Boom Clap" pop tart Charli XCX), who wrote the song in question, "Gravity," one of numerous punchy, turn-back-the-clock jams on Blondie's 11th studio album, "Pollinator," released in May.
Forty-three years into a career that's spanned the birth of punk rock, hip-hop, new wave and myriad strains of electronic dance music — all of which have manifested themselves in Blondie's songbook to varying degrees, sometimes as footnotes, sometimes as full-fledged chapters — the band has done something new, recruiting a slew of collaborators to write the bulk of "Pollinator."
A couple of the band's peers drop by, veteran lip curler Joan Jett and the always-out-there Laurie Anderson, but for the most part, Blondie worked with a diverse array of songwriters, producers and musicians who were either in diapers or had yet to be born when the band formed in 1974.
Among them: Dave Sitek, guitarist and producer for NYC's alt-everything TV on the Radio, electropop square peg Sia, The Strokes guitarist Nick Valensi, soul changeling Dev Haynes (aka Blood Orange), former Smiths six-stringer Johnny Marr and Swedish singer Erik Hassle.
"Pollinator" follows Blondie's more computer-indebted previous record, "Ghosts of Download," released in 2014. This time, the band was looking for a flesh-and-blood-based album.
"The only master plan going into it was to have a band situation and get back to a little more of a rock and roll-roots type of recording," says Blondie guitarist Chris Stein. "Then we gradually started deciding to get more songs from other people, feeling around. Debbie named the record, and that idea of cross-pollination, the circular nature of pop referencing each other, which is always going on."
"Pollinator" ranges from the Fleetwood Mac-y "When I Gave Up You," penned by viral music video sensations The Gregory Brothers, to brusque rocker "Death or Destiny," one of two songs here that Harry and Stein wrote together, to abundant dance-floor bliss. Speaking to the latter is the title-says-it-all "Fun," the near-disco shimmer of "Long Time" and the beach-ball-buoyant "Too Much."
These are songs of love and perseverance, of moving on, moving forward.
They form an invigorated-sounding record, one where the band doesn't overthink things. They just do what feels right in the moment, their various collaborators playing to Blondie's strengths.
Just about everything here was done on a gut level, right down to how they chose what material to work with.
"We approached the Gregory Brothers and Sia, but then most of the other stuff was from people we came in contact with, were familiar with or talked to about giving us something," Stein says. "Most of the stuff was just submissions, really. A lot of stuff is really different than what the demos were. It did all come from one session, where everyone was in the room playing together. Then we worked it up from there."
What they got in the end was an album that encapsulates the range inherent in Blondie's entire discography.
When Blondie formed in the mid-'70s, there was little precedence for a band this creatively scattershot.
Because the goalposts were so wide on Blondie's sound, it was as if they could do almost anything, musically speaking.
And they did.
This is a band that became successful by being oblivious to success.
"It was much more of an outsider thing back then," Stein says of the band early days. "Like, everyone's in a band now. It's just what you do. The model for a rock star has changed so much, with branding, sponsors and all that stuff.
"Back then, I certainly never thought about getting a lot of money so I could have a Bentley. I thought if I got a little money I'd have a recording studio and more guitars, you know?"
Contact Jason Bracelin at jbracelin @reviewjournal.com or 702-383-0476. Follow @JasonBracelin on Twitter.