Blue Man pranksters, ex-Cirque players join Electric Daisy surreality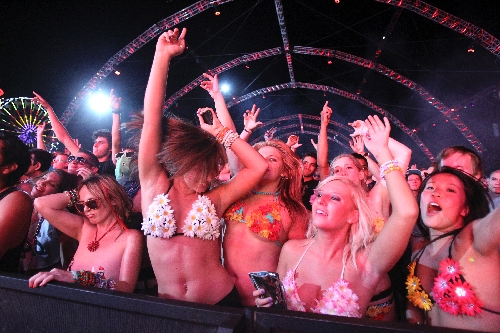 Last year's Electric Daisy Carnival seemed a world away from Las Vegas – which is exactly what people usually say about Las Vegas versus the rest of the world.
But after last year's apprehensive first date, the two worlds nudge up a little cozier this year. The otherworldly environment at EDC will be enhanced by performers once affiliated with Cirque du Soleil and a main-stage performance by the Blue Man Group.
When it all came together last year at the Las Vegas Motor Speedway, with pulsating stages and midway rides, "it seemed to me like a proper Las Vegas theme park," says Jila, who uses no last name as entertainment director for the producer, Insomniac Events.
"It really seems like it's hitting a groove this year. I just think Electric Daisy and Vegas are going to start becoming synonymous. Because it's so Vegas," says Michael "Puck" Quinn, creative director for the Blue Man Group, which shares the main stage Saturday in a set with superstar DJ-producer Steve Aoki.
"The whole thing, it's such spectacle, it's such madness. Of course. Where else would it be?"
Last year, Jila and her staff had only about three months to plan the Las Vegas event. But they do these festivals across the country, so they still managed to round up 350 to 380 costumed characters and "ambient" performers.
With the daily capacity bumped up this year from about 80,000 to about 115,000 per day, the number of fire dancers, luminescent Mad Hatters, serpentine creatures and blossoming flower-women also grows by 100.
EDC is primarily a music festival ruled by top DJs, but it's also "an immersive experience on all levels," Jila says, and about "being able to experience something different and out of this world."
"You're going to a different place where you get to be free of any societal norms and anything that keeps you in a box," she adds. "People all come together just to live together for that one week, enjoying each other's art."
Jila is no stranger to netherworlds, having performed as half of a two-woman fire act in the original cast of Cirque du Soleil's "Zumanity."
One of the people she has been using in her festivals is former "Zumanity" castmate and stilt athlete Jesus Villa, whose moniker Half Animal is based on his horned, Pan-like character from that show.
"She's got a really major job, and I don't think a lot of people realize the amount of work she puts in behind the scenes," Villa says of Jila, the friend he remembers from 2003 as "artistic and always pushing the envelope."
A Cirque background is one of the few resume credits that could prepare one for the Insomniac festivals, though performers such as Villa give up a bit of the personal spotlight. He performed mostly in a robot costume last year.
With Cirque, "you sit down but you never know what to expect," he says. Likewise, the Insomniac events are "like walking into the dream. It shines brighter than any stars at night."
Jila says the trick to the festival is "layering," creating a roaming effect where one could easily be distracted on the way from one performance stage to the next.
The focus is "not any one thing at any different time, it's being able to have all those things come and go," she says. "Nothing's in your face so much all the time. … It's not like going to a concert where you have a headlining band."
The Blue Man Group's Quinn agrees the DJ-centric event is different from outdoor festivals focusing on traditional bands, but it's "equal in terms of its power and its impact. They are all having that group experience. That is a tribal experience if there ever was one."
The trippy Blue Man Group seems a natural fit with the flower people. Insomniac felt likewise when it arranged the introduction of Blue Man Group to Aoki, whose response was said to be, "I've been waiting for this to happen."
The trio of bald, blue performers and their "percussi-pede" – a mobile percussion rig carrying a "drum army" – will pop up at strategic times during Aoki's 90-minute set on Saturday.
In a larger sense, the collaboration represents a symbolic detente, as nightclubs with headline DJs such as Aoki have siphoned customers from the later performances of traditional shows on the Strip, Blue Man included.
But the silent blue pranksters and their PVC-pipe instruments are equally adaptable to the Hollywood Bowl, a cruise ship or working with Tiesto, Quinn says. The promoters wanted "crazy, memorable and fun stuff to happen onstage. We can do that. That's what we do."
Still, he owns up to a bit of culture clash.
"They're all very loose. Their style is, 'Hang loose and it will all work out.' We're so buttoned up. It is really funny, the contrast between the two. We are not improvisers at all," Quinn says.
While DJs are in "complete control of the show," they do it in the moment, reacting to the crowd. "We're like, what about calling the cues?"
Contact reporter Mike Weatherford at mweatherford@reviewjournal.com or 702-383-0288.
Electric Daisy Carnival