Bon Jovi brings down the 'House' at T-Mobile Arena — PHOTOS
February 26, 2017 - 2:09 pm
Updated February 26, 2017 - 10:40 pm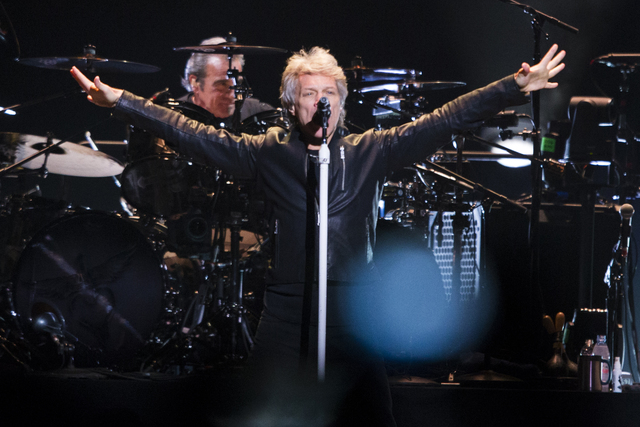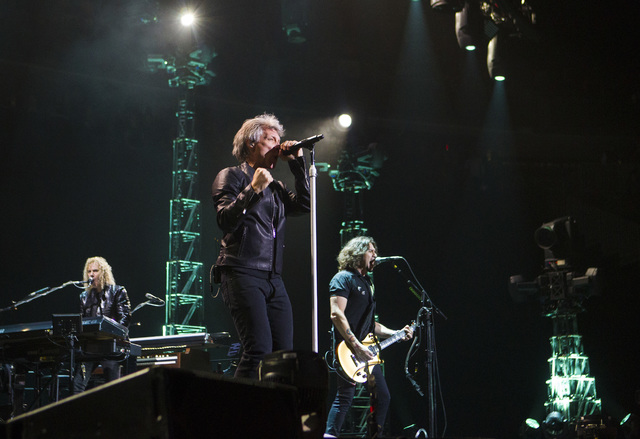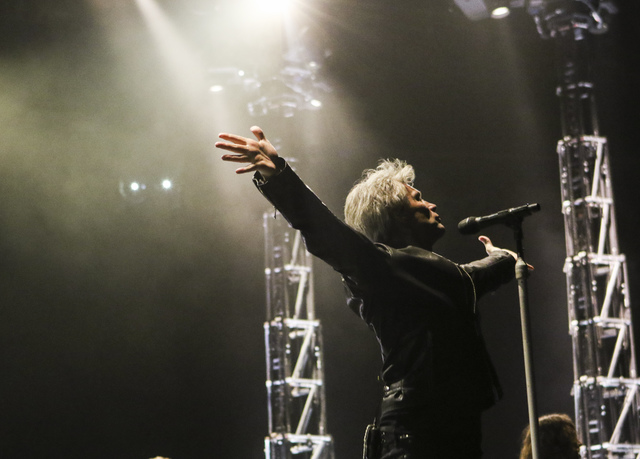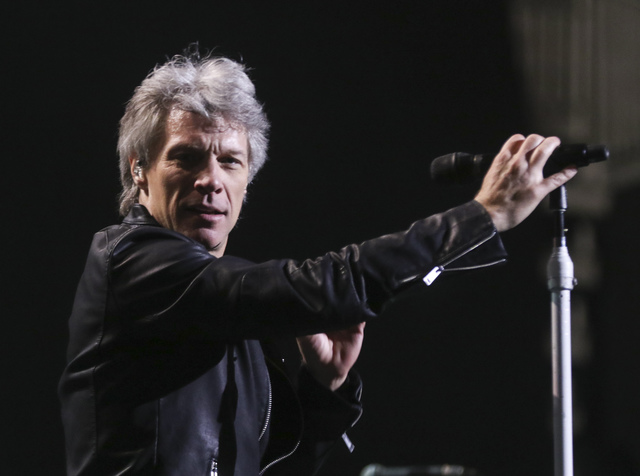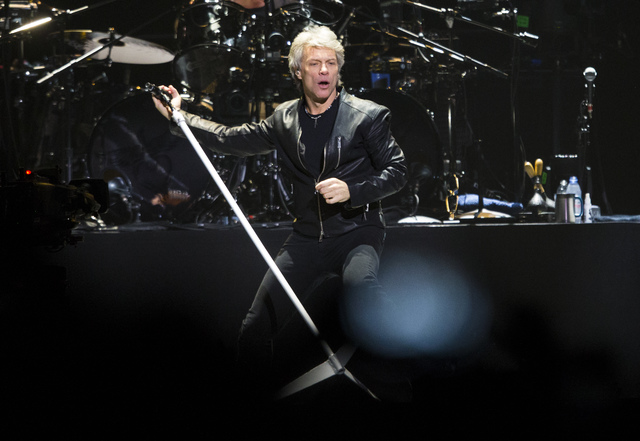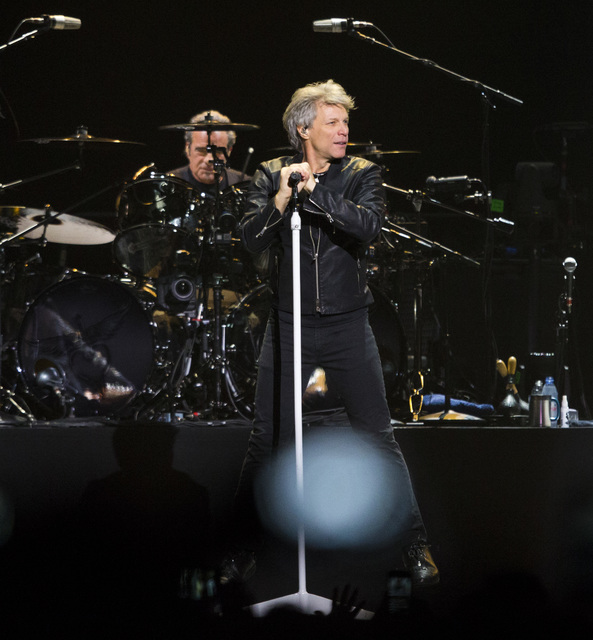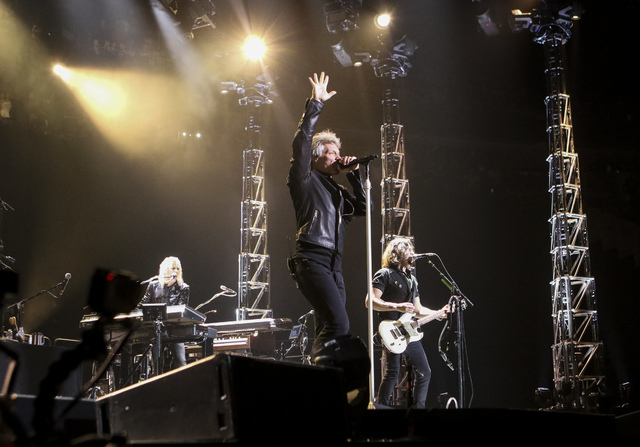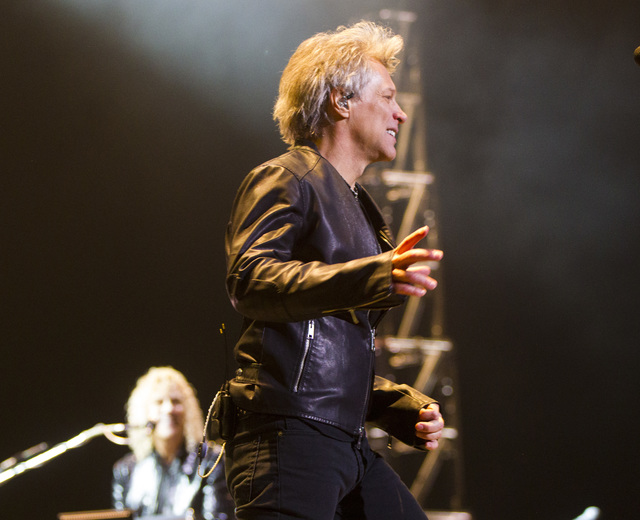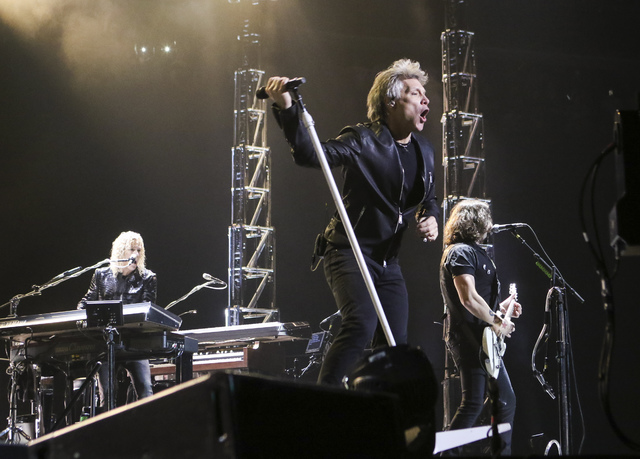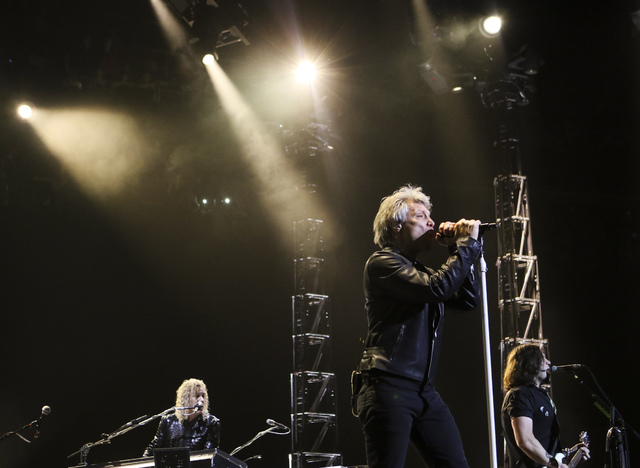 Jazz hands incarnate, Jon Bon Jovi shook a pair of maracas and his butt with equal vehemence.
"Lawd, you gotta keep faith," he bawled over a Santana-worthy percussive slink and wah-wah guitar suggestive of '70s skin flick soundtracks.
Oh, that faith was kept, clutched hard by a packed house of true believers reciting the gospel according to a 54-year-old New Jerseyite zipped into a black leather jacket.
"We're going to church!" he informed his flock earlier in the evening, all of them gathered to celebrate the twin sacraments of Budweiser and Bon Jovi.
And with that, the band broke into sexed-up sermon "Lay Your Hands On Me."
"I'm a fighter, I'm a poet, I'm a preacher," Bon Jovi sang on the song in question. "I've been to school and, baby, I've been the teacher."
So, what lessons were learned at a sold-out T-Mobile Arena on this evening?
Well, there is no fountain of youth — but there's beer.
There are no time machines — but there's Bon Jovi.
And so while the band on stage and the crowd that stood before it have all gotten up there in years, in each other's presence, they're both freed from acting like it — at least for nearly 2½ hours on a Saturday night.
This is no small thing, which is a main reason why Bon Jovi still attracts such big crowds, far more than any of its peers who first came to prominence in the Aquanet-abetted '80s hard rock ranks.
Like many acts of that era, Bon Jovi was all about the larger-than-life in terms of presentation, with ostentatious, high-watt stage shows, an unhealthy preoccupation with cheetah-print fabrics and hair teased to heights capable of imperiling low-flying aircraft.
The difference with this bunch was that, lyrically speaking, they were all about the down-to-the-earth, real life, at least a working-class approximation of as much, their look glammy look contrasted with gritty narratives of 9-to-5ers struggling to make ends meet.
And yet, the characters in their songs always seemed to make it in the end somehow, mainly by sticking to their convictions. "When life is a bitter pill to swallow / You gotta hold on to what you believe," Bon Jovi instructed on "We Weren't Born To Follow," one of numerous self-assured anthems of inclusiveness ("We Don't Run," "We Got It Goin' On," etc.), where Bon Jovi served as the impeccably coiffed life coach perched on your shoulder, delivering arena rock pep talks about kicking life square in the groin.
These are songs for underdogs — self-anointed as they may be — something Bon Jovi has once again positioned itself as on its latest record, "This House Is Not For Sale." The album, which the band played from liberally, is the group's first without longtime guitarist Richie Sambora, whose absence Bon Jovi compensated for himself at times Saturday, ripping the lead to "I'll Sleep When I'm Dead," an R&B-tinged, triple-guitar fusillade.
It's also Bon Jovi's first release since the band's departure from longtime label Mercury Records, both acrimonious splits palpable in the heightened intensity of the hard-driving "House."
During new cut "God Bless This Mess," newspaper headlines questioning whether the band had lost its mojo were projected on screens behind the stage, providing a visual component to the chippiness the song conveyed. A similar sentiment powered tunes such as the title cut to "House" and the free-swinging "Knockout," during which Bon Jovi literally threw uppercuts as he sang, in case you missed the point somehow.
"I got some blood under my nails, I got some mud on my face," Bon Jovi sang on "Mess." "My voice is shot, I'm going gray, these muscles all ache."
This was a relatable sentiment, considering the demographic he was performing in front of.
But wait, there was more.
"Don't cry for me," he added. "I'm the life of the party."
True to his command, there wasn't a beer in the house salty with tears.
Read more from Jason Bracelin at reviewjournal.com. Contact him at jbracelin@reviewjournal.com and follow @JasonBracelin on Twitter.
Review
Who: Bon Jovi
When: Saturday
Where: T-Mobile Arena
Grade: B+