BTS Army explores Vegas ahead of show's opening night
Updated April 8, 2022 - 5:48 pm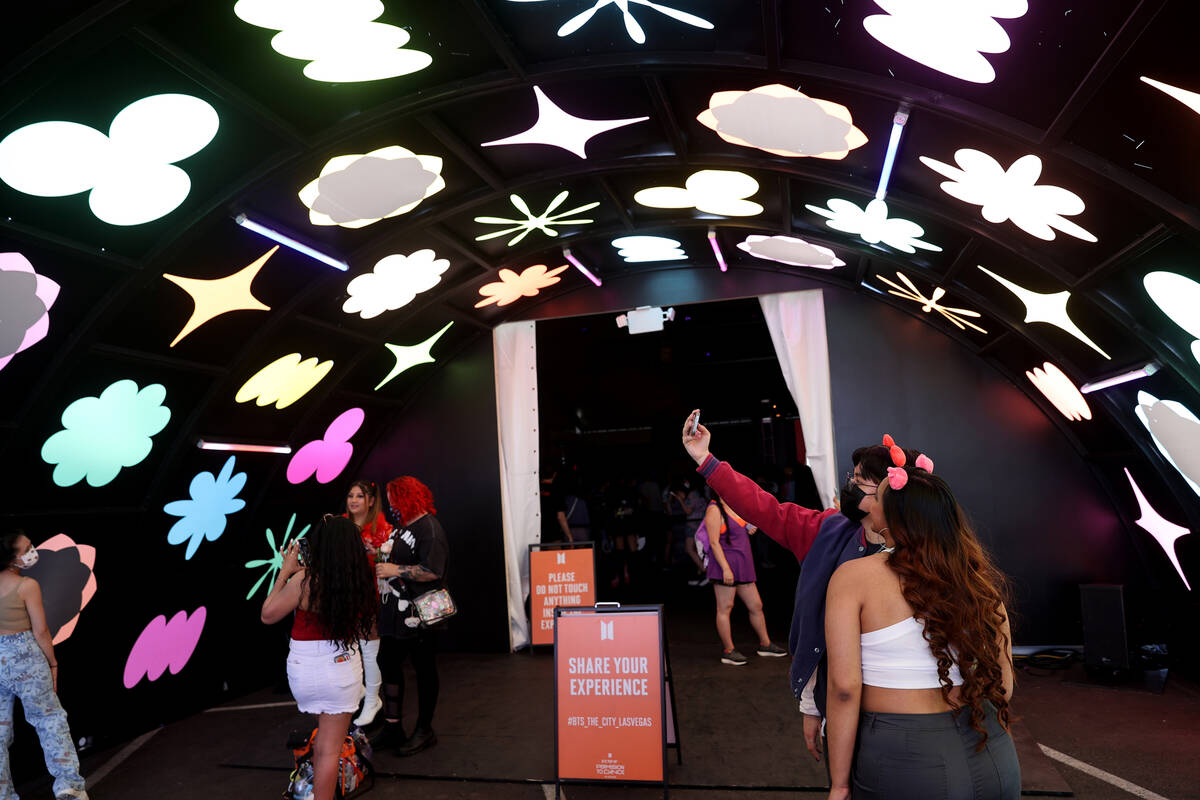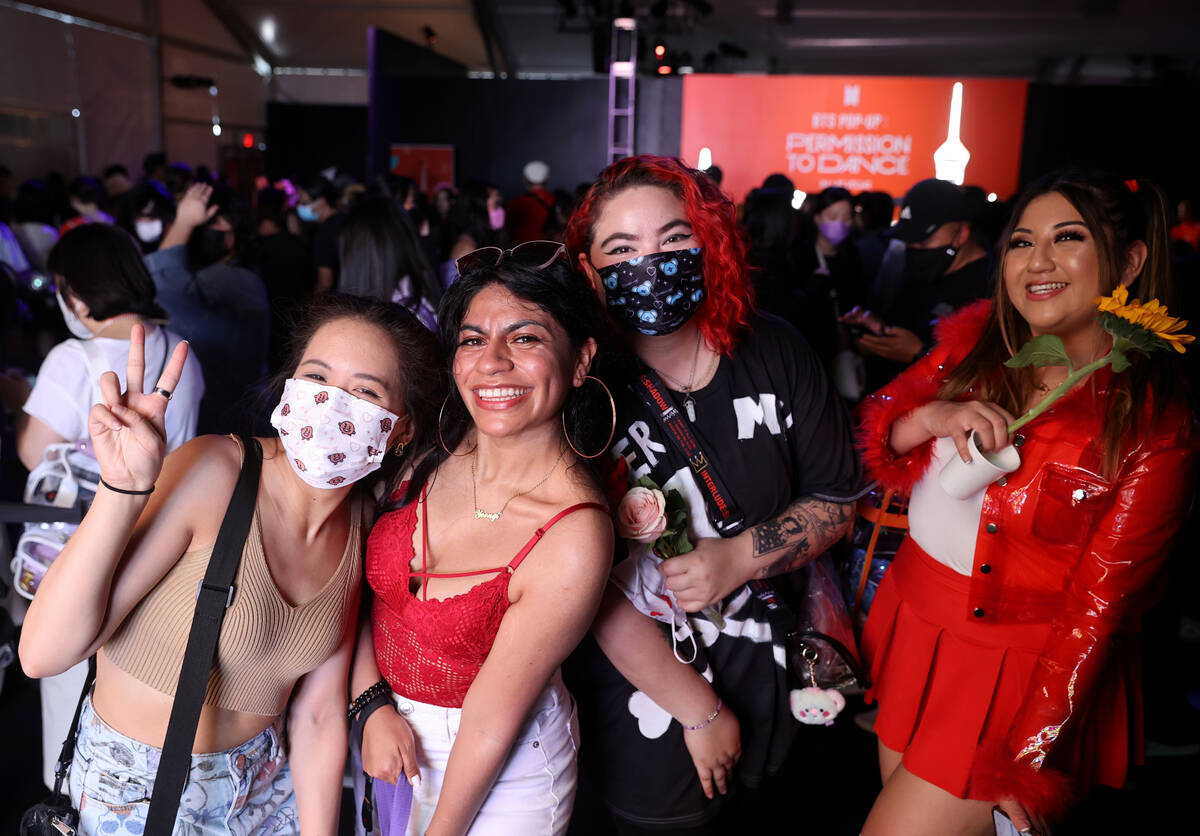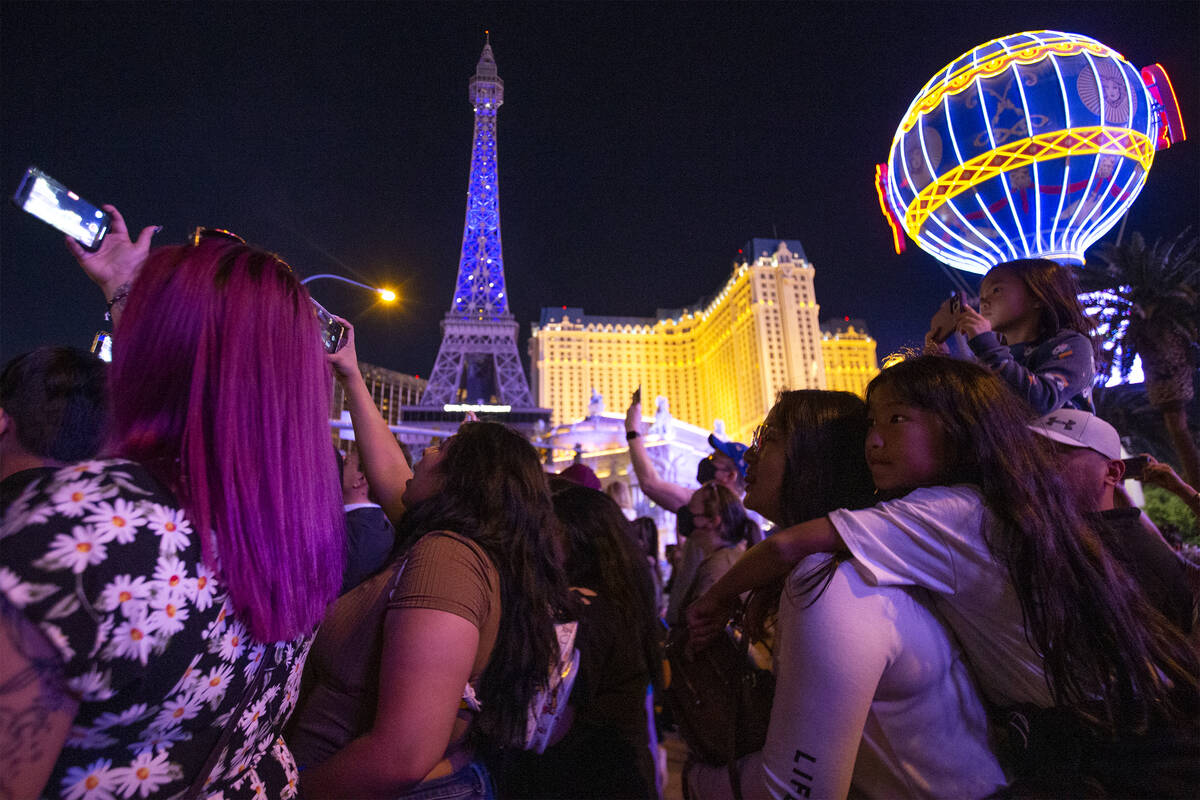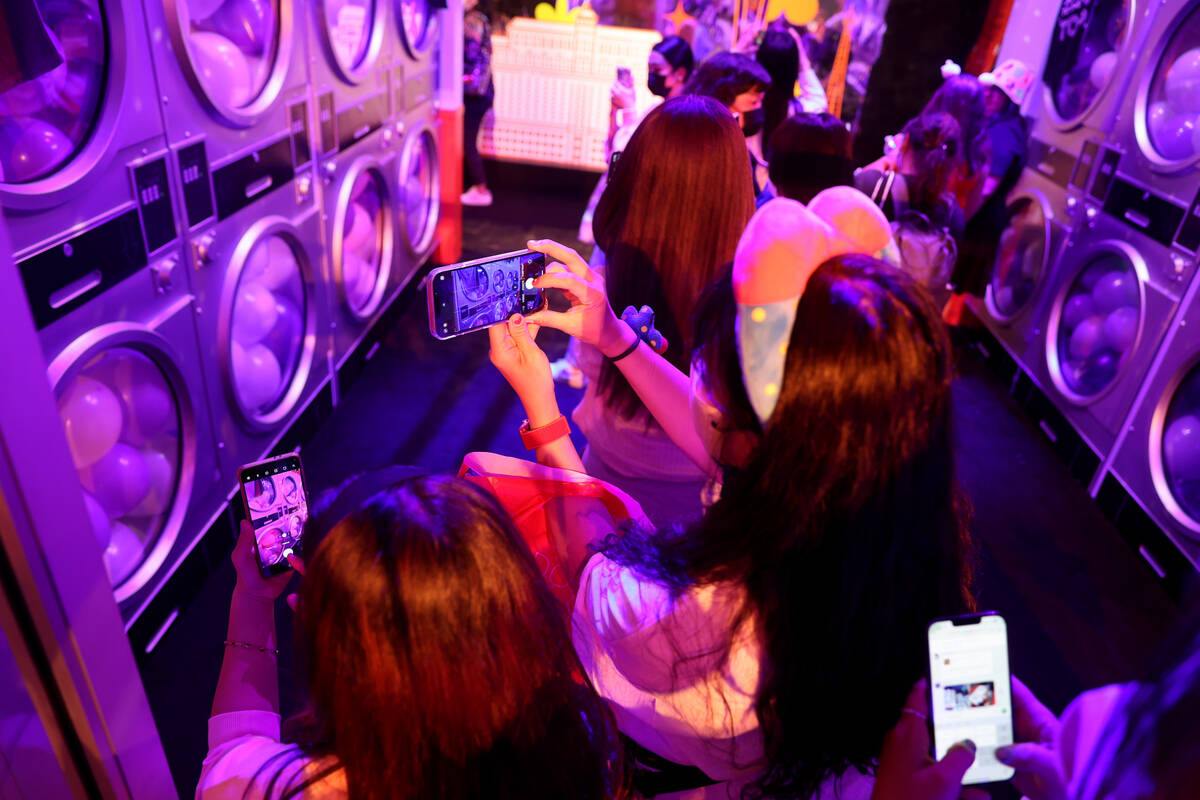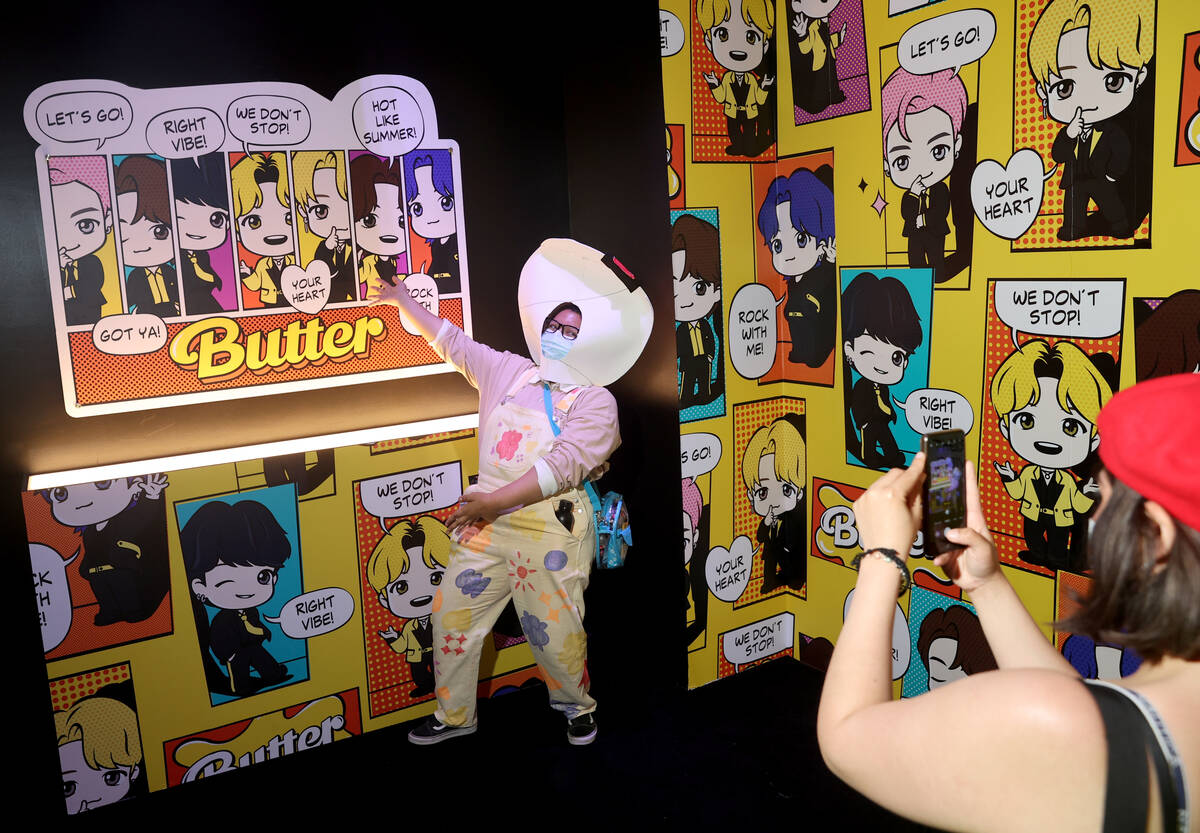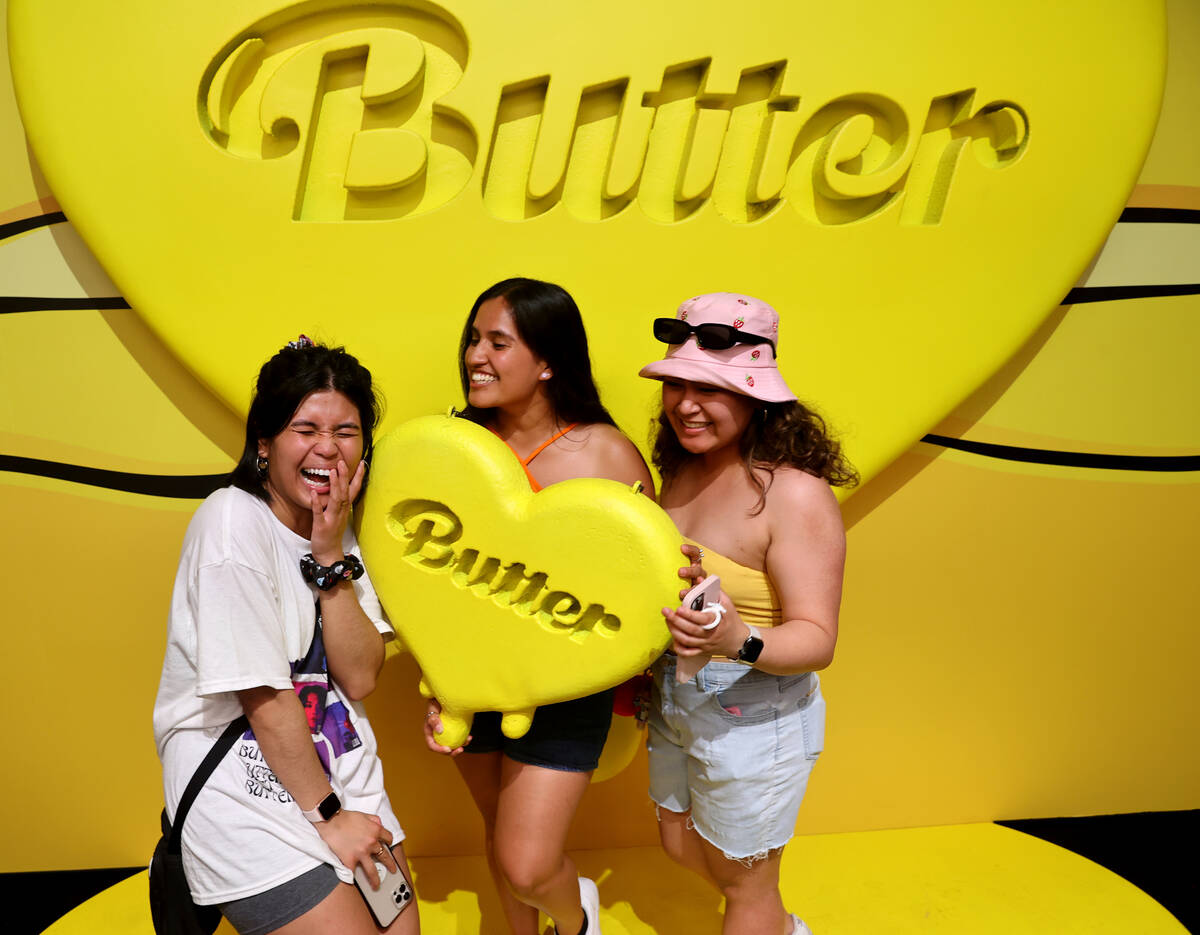 It seems the BTS Army's fatigues are bright colors, headbands topped with cartoon animal plushes and wide smiles. Their fight song is "Butter," "Dynamite," or any other Billboard hit by the globally popular K-Pop group.
Thousands of fans – the army's "soldiers" – have flocked to Las Vegas this weekend as BTS prepares for its first concert at Allegiant Stadium on Friday night. Their excited energy and vibrant style can be easily spotted near the Bellagio Fountains – where BTS hits will play during a special aquatic show running during the next two weeks – Area 15, near stadium grounds and more. Concertgoers came as groups of close friends, mother-daughter duos, co-workers and friends made online, and all were ready to immerse themselves in fandom.
BTS sold out four shows — Friday and Saturday, April 15 and 16 — at Allegiant Stadium through fan club pre-sales alone. While the shows are sold out, tickets this week could still be had on the secondary market, and they might not cost quite as much as you think.
Simultaneous viewing events of "Permission to Dance On Stage — Las Vegas" are also scheduled at the MGM Grand Garden.
Now in Vegas, fans are excited to be exploring the city's makeover for them. Some restaurants promote specialty items, marquees along the Strip have turned purple, a favorite color of BTS, and a pop-up event near Area 15 takes fans through set pieces modeled after BTS music videos. Outside Allegiant Stadium, fans queued up to buy T-shirts and other BTS merchandise.
Portland resident Charmaine Marl, 27, arrived on Thursday night with her husband and two friends for Friday night's concert. They're pulling an all-nighter, they said, to attend the post-show afterparty at Aria's JEWEL Nightclub before hopping on a flight back to Oregon.
The group attributed the band's widespread success to the members' personalities.
"They're honest and humble about their success, too, which I feel like not a lot of artists are like that these days," Marl, a wedding photographer, said.
It's a common theme among the army. Amanda Pace, 31, and Rim Al-Iali, 28, have tickets for all four shows and said their excitement comes from the connection BTS makes with its fans — and the connection fans make with each other.
"There's a real difference with BTS," Pace, a flight attendant from Swartz Creek, Michigan, said. "You can be fans of artists, but with BTS, they make a concentrated effort to return that love and make sure we feel as appreciated as they do. I've never really felt that with any other artist before."
Fans even pushed back on the notion that the K-pop band is for teens, popular because of their looks.
Diana Carreon, a 32-year-old from Chicago, said many fans want to know more about the band's music-making process, how they write their songs and what their inspirations are. Carreon, who will attend all four shows and stay in Las Vegas for more than a week, pointed out that many fans had a spending power unusual for teens.
"The reality is that most of these people are staying at the most expensive hotels — do you think a teenager can afford that?" she said. "These are mature people that can afford it and that tells you it's not just teenagers. We're not selling out small venues. It's stadiums. That's the scale."
The shows and surrounding activities are a price worth paying, Eli Valle said. The 25-year-old from Salt Lake City estimated she's spent more than $2,000 on her travels so far, including hundreds on merchandise. She became a fan when watching videos online during COVID-19 lockdowns but knew them before from her work in the entertainment industry.
"I had them literally feet away from me in 2017 when I was working for an event in L.A.," Valle said. "I didn't know who they were. Now I paid thousands of dollars to see them."
McKenna Ross is a corps member with Report for America, a national service program that places journalists into local newsrooms. Contact her at mross@reviewjournal.com. Follow@mckenna_ross_ on Twitter.