Cee Lo Green, Ting Tings to face off in Red Bull Soundclash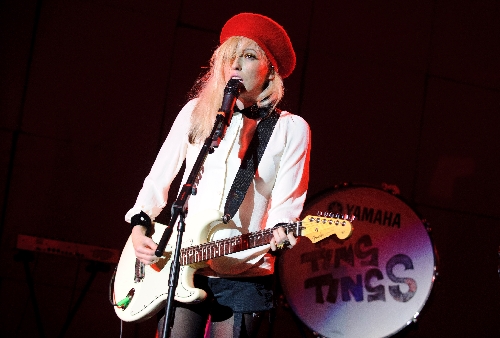 Two Grammy-nominated artists will pit their musical styles against each other on a local stage Saturday in what organizers call a new way to experience live music.
The Red Bull Soundclash concert at the MGM Resorts International property, 3860 Las Vegas Blvd. South, across from Luxor, features hip-hop artist Cee Lo Green facing off against the Ting Tings, an indie electronic band. The two-hour collaboration should result in a unique musical performance, says Red Bull Soundclash producer Oren Avineri.
A sound clash is a Jamaican musical competition in which reggae bands challenge each other to test their skills.
"Red Bull Soundclash took that concept and decided it could be done with live bands," Avineri says. "Our concept is to bring together bands from different musical worlds."
The concerts started in Europe in 2004. In 2009, it was rolled out nationwide and has
featured a variety of musical artists. Saturday's concert marks the 15th Soundclash in the country and the first one in Las Vegas, Avineri says. Organizers expect it to draw their biggest crowd ever, around 10,000 people.
The show is divided into four rounds. In the first, the warm-up round, both bands will do a mini-set of three of their songs. That is followed by the takeover round in which each band will play a song and, at a pre-determined cue, the other band will take it over.
Round three is the clash. Each band delves into its own repertoire, picks three songs and must remix them in three different musical styles not their own.
"That round is kind of cool because the fans get to see the versatility of the bands," Avineri says.
Wild card is the final round; Cee Lo and the Ting Tings will both invite a mystery musical guest to join them for a performance.
Other surprises will be sprinkled throughout the show, Avineri says.
The concert is part of a larger spring break program hosted by MGM Resorts International.
"Red Bull brought the idea to us for this particular weekend," says Brad Goldberg, vice president of marketing for Luxor and Excalibur. "They're expecting 10,000 to 12,000 people at the event itself. We thought it would be a great way to kick off spring break season."
The whole weekend is filled with activities. Morea beach at Mandalay Bay will open with a beach party while the Brooklyn bridge in front of New York-New York is the site of a bridge party. The Monte Carlo, Luxor and Excalibur will all host events.
Resorts are starting to view spring break as a new opportunity to attract guests, Goldberg says. Last year, they tried something on a smaller scale and it was so successful that they drew additional properties into plans for this year, he adds.
"We're just really excited about giving this a shot this year," Goldberg says. "Spring break is a great business driver for the city and our properties. If it's successful we may do it again."
Contact reporter Sonya Padgett at spadgett@reviewjournal.com or 702-380-4564.
Preview
What: Red Bull Soundclash
When: 8 p.m. Saturday, doors open at 7 p.m.
Where: Outdoors at the MGM Resorts International property, 3860 Las Vegas Blvd. South, across from Luxor
Price: $10 in advance, $15 at the door (redbullusa.com/ soundclash)PVT