Chesney to sing about 'Noise' and then make some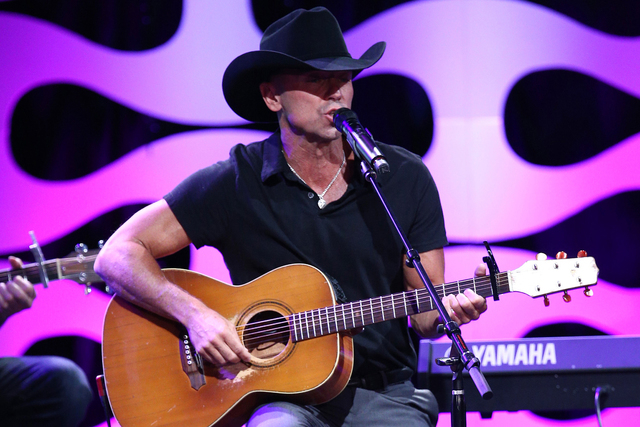 Kenny Chesney's new single "Noise" talks about how loud the world has become, and how tough it is to unplug and step back from information overload.
"Creativity … is inspiration, not the white noise of rushing," he says.
But Sunday isn't going to be his day to slow down.
Chesney will perform early in the broadcast of the Academy of Country Music Awards (it starts at 5 p.m. Pacific time to air live in the East), then jump in a limo and head three miles north to be the closing-night headliner of Party for a Cause, the outdoor benefit concert at the Las Vegas Festival Grounds.
The country superstar managed to celebrate his 48th birthday March 26 while gearing up for his "Spread the Love" tour, which kicks off April 23 with two other Party performers, Old Dominion and Sam Hunt, also on the bill.
"If you take the time and really think things through, you can do things that seem insane on the surface," Chesney wrote in a recent email interview.
"The only part that's really going to be crazy is getting through Vegas traffic!" he added. "So many people come to your city, the main roads around the Strip get pretty congested. But if I know (producers) Bob Romeo and Rac Clark, they've got it figured out. All I have to do is sing my song, get off the stage and get in the car … . Once I get to the festival, getting up on that stage, seeing those people? That part's what we live for."
Chesney shared some other thoughts on his busy weekend:
■ Fans imagine stars gathering in the ACM green room to be more Nashville Rat Pack fun than it usually turns out to be.
"We're all so busy with rehearsals, press, meetings, events, you're lucky if you get to wave passing someone in the hall. It's a lot of rush, rush, rush … or wait, wait, wait. But you can't really go out and visit with people, because the second you do, that's when they come to get you for something.
​"Awards shows are really for the fans. And that's what it's always been about for me. It's their chance to get together and see every act they love, root for their favorite, argue about who won. It's kinda like football for music lovers! And maybe, you know, get turned on to some new stuff, too."
■ Magic moments do occur on stage, such as Chris Stapleton teaming up with Justin Timberlake at November's Country Music Association Awards.
"Chris Stapleton at the CMAs hit a lot of people's radars in the general public. People in Nashville had known him for years. I cut 'Never Wanted Nothing More" (which was co-written by Stapleton) in 2007. It was a several-week No. 1 record — and you should've heard him sing the demo.
​"When that happens at the awards shows, that's magic. People tune in for that spark, where they discover something — even if it's only how a song makes them feel or remember something special, or they remember how powerful a great artist like Justin Timberlake and Chris Stapleton can be. I think we've got a pretty interesting way we're going to do "Noise." Not that kind of magic, but a little different for us.
■ Speaking of "Noise," the single released last month talks about the overwhelming volume of society and includes the heretical observation that we are "trapped in our phones and we can't make it stop." Does Chesney feel like he's competing with Facebook and selfies when he's up there on stage?
"​I see it more than anyone. When you're standing on a stage, you're higher up, so you see everything. That's what people who pay money to go to shows don't realize: It's not just you doing it! And it's a sea of cellphones being held up, people looking into the camera — and not at the people playing.
​"It's one of the things that inspired the song, actually. People are so busy trying to 'capture' the moment, they actually miss the moment! You can't rock and worry about the angle of your cellphone. And it's everywhere.
"You go to dinner with people, they're texting or checking their email. We're so lost in our phones or captured by the screaming sound bites on TV… and it's everywhere: bars, airports, doctors offices, the car wash. Everywhere you go, there's your phone and there's television sets. It's like we're hypnotized. And it just gets louder and louder, fighting to be heard.
"​What's sad is all the incredible experiences people miss out on … . You get out of your phone, out of your addiction to information and actually be in the moment with people, you'd be shocked. All these really great, interesting people and you miss them because of a click-bait headline about someone who doesn't care about you, only the money that click means to them got you to react.
"I don't want to react. I want to be present and in the moment."
Read more from Mike Weatherford at reviewjournal.com. Contact him at mweatherford@reviewjournal.com and follow @Mikeweatherford on Twitter.