Counting down 10 of the year's best sounds
December 10, 2014 - 9:52 pm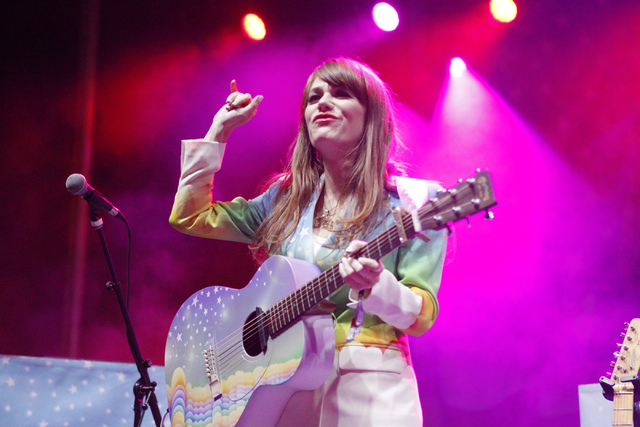 These may or may not be the greatest records of the past year — who's to say? — but they are my favorites.
My top 10 albums of 2014, in no particular order:
■ Jenny Lewis, "The Voyager": "I'm not the same woman / That you were used to," Lewis announces at the outset of her equally life-affirming and life-hardened third solo record, which charts her journey from shiftless teen to what she's grown into today, one of pop's most radiant, reassuring voices.
■ The War on Drugs, "Lost in the Dream": The titular dream is more of a nightmare on this beatific, transportive album posited on overcoming loneliness and loss. Here, stirring heartland rock 'n' roll becomes a cure-all for whatever ails frontman Adam Granduciel's battered heart.
■ Electric Wizard, "Time to Die": These Brit doom stalwarts continue to soundtrack the greatest '70s occult flick never made, a midnight movie that unspools in their warped minds only, on this, their eighth pillar of stoner mysticism and the most monolithic riffs that resin-sticky fingers could ever create.
■ Beck, "Morning Phase": Yeah, you could say that this backward-looking folk mood piece is a study in form, but Beck makes for an apt pupil, throwing off the curve for every other '60s AM radio revivalist.
■ Dwarves, "The Dwarves Invented Rock and Roll": A guilty pleasure in the most literal sense: These veteran punk rock hedonists most assuredly violated innumerable public indecency statutes en route to yet another debauched classic.
■ Jessica Lea Mayfield, "Make My Head Sing": Mayfield's voice can have a hypnotic quality to it, especially when paired with sludgy, pulse-slowing grunge guitars as is often the case here. This album is like a reverie inside a tar pit.
■ Young and in the Way, "When Life Comes to Death": The album cover photo of a tattooed fist clenching a wicked-looking bowie knife pretty much says it all: This is supremely nasty, punk-informed black metal with lethal intent.
■ Lee Bains III and the Glory Fires, "Dereconstructed": Hey, roots rockers can crank their amps to 11 right up there with all those heavy metal hair farmers as this garage country blowout ably demonstrates.
■ Behemoth, "The Satanist": Ten albums in, these Bible-bashing Poles have dropped the quarter-pounder with cheese of blackened death metal, a grand, sweeping monument to malevolence.
■ Lana Del Rey, "Ultraviolence": Del Rey's performance at The Cosmopolitan of Las Vegas in April was among the year's worst and her latest album is among the year's best for the very same reason: The icy-veined chanteuse has made detachment an art form, something that works perfectly when haunting your headphones if not so much in the flesh.
Contact reporter Jason Bracelin at jbracelin@reviewjournal.com or 702-383-0476. Follow on Twitter @JasonBracelin.