Country music has caught up to Dee Jay Silver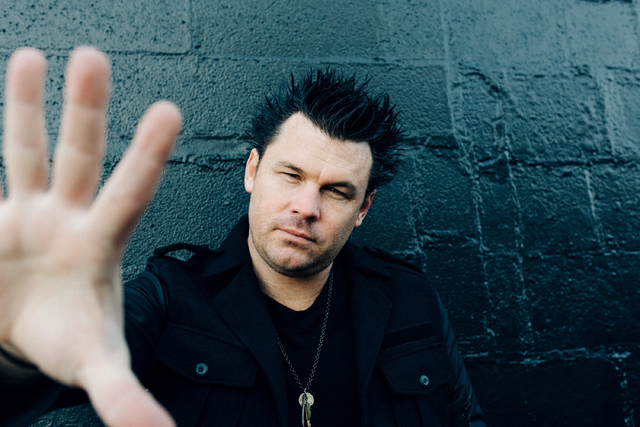 When one of the biggest stars in country music says you should move to Nashville, you change your plans, even if you're in the middle of moving somewhere else.
"I was actually on the way moving out to Las Vegas when I got the contract to tour with Jason Aldean," recalls John Perdue, a veteran Vegas DJ who now makes a living warming up Aldean's stadium crowds as Dee Jay Silver.
"I was on my way to sign a lease for a place in Henderson," he adds. "When I'm talking 'on the way,' I was in the airport in Austin."
You'd think that sort of decision makes itself, yet Perdue wasn't positive at first.
"I was like, 'Dude, if this thing doesn't work out with you, I've got nothing in Nashville,' " he recalls. "He goes, 'I've got a feeling, buddy. You just come on.' So I literally got on Craigslist, got a condo in Franklin, Tennessee, and the rest is history."
After seeing him spin in Vegas one night, Aldean was sold. Perdue caught his ear with one of his trademark Dee Jay Silver country mash-ups, in which he mixes country with other styles of music. That night, he married Aldean's "She's Country" with Nelly's "Country Grammar."
At some point during the set, the country heartthrob was so hyped he was standing on his table at Tabu. The night ended with an invite for Perdue to join him on tour.
By then, Perdue had made a name for himself and a healthy living in Vegas. Trekking back and forth from Texas, he perfected his style playing places like Studio 54, Tabu, Wet Republic, Rehab and Ghostbar.
Aldean didn't make an offer just because Perdue knew how to move a crowd. Plenty of people can do that. Perdue had tapped directly into country music's current crossover trends — where the lines between genres have all but been erased — and reflected its future.
If there's a pop parallel to Dee Jay Silver, it's DJ Z-Trip, the pioneering DJ whose career got a boost from spinning records on tour with Linkin Park.
He's the master of all mash-up artists. He didn't invent the style, but he popularized it and perfected it. The innovative DJ inspired Perdue from the very first time he saw him perform in college while working as a doorman at a club.
"That guy changed the game," Perdue says. "I was so blown away with this dude. I remember asking him, 'I don't want to be you, but tell me how a nobody gets out of a little town and does something different.' He goes, 'I'm a rock, '80s guy. Who are you?' I was like, 'Well, I like country music and house music.' He was like, 'Good luck with that,' you know."
Perdue chuckles at the memory now, but that brief encounter set the tone for his career.
"So I've always kind of lived and died by that," he says. "I've always been known as the guy that would play the biggest clubs in the world and throw country music right in the middle of it."
While party crowds clearly dug this sort of thing, the industry wasn't as quick to embrace it. Perdue remembers meeting with a record executive several years back, before touring with Aldean, about working with some of the label's artists.
When Perdue explained his specialty, the exec pulled out a disc, put it in the player and said, 'You mean something like this?' Hilariously, it was a bootleg copy of a mix that Perdue had made. The bemused exec said country music wasn't ready for him yet.
Now it clearly is. With her latest record, Taylor Swift pushed the paradigm to the point that crossing over no longer seems counterintuitive. That paved the way for more modern production that features programmed, pop-style beats, as heard on songs like Aldean's "Burnin' It Down."
Perhaps this shift is best summed up in the lyrics of Luke Bryan's "That's My Kind of Night," in which he sings about rocking a mix tape with a little Conway Twitty and a little T-Pain.
Perdue now has a record deal of his own as Dee Jay Silver, the first DJ to be picked up by a major label in Nashville (RCA Nashville).
His first single, "Just Got Paid," from his forthcoming album has huge crossover appeal. He's tested out the tune on tour and says the crowd loves it — and so does the act they all came to see.
"I played it for Aldean," Perdue says, "and he's like, 'I love you buddy, but you'll never write another one of these the rest of your life.' "
The new album is still a few weeks away from dropping. While he awaits its release, Perdue is coming back to perform in the place where it all began.
Perdue has one weekend a month when he's not touring with Aldean or playing festivals, and he spends it in Vegas, where he still holds down three residencies.
That he returns here isn't at all surprising. Perdue is fiercely loyal. This past year, for instance, he received offers to perform at Stagecoach and Coachella, and he turned them both down to honor his commitment to Aldean.
Looks like the move to Nashville paid off.
Read more from Dave Herrera at reviewjournal.com. Contact him at dherrera@reviewjournal.com and follow @rjmusicdh on Twitter.
Preview
Who: Dee Jay Silver
When: 11 a.m. Friday
Where: Rehab at Hard Rock Hotel, 4455 Paradise Road
Tickets: $10 for women, $20 for men (702-693-5222)