'Danceformers' add spark to Electric Daisy Carnival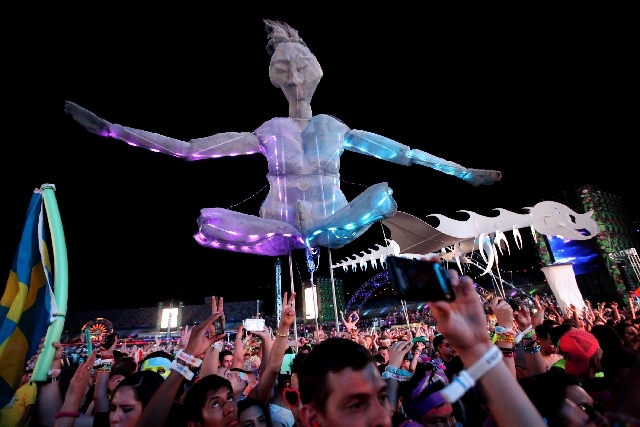 Heart-racing music isn't the only thing that sends jolts of energy through Electric Daisy Carnival attendees.
The sights and performances from non-DJ entertainers electrify the crowd of more than 100,000 just as much.
Onstage next to leading-edge DJs, scantily clad go-go dancers vibe to head-throbbing music as confetti falls .
Roaming in between stages, stilt walkers camouflaged with stuffed animals pose for pictures with bystanders.
Elsewhere, a larger-than-life, inflatable, potato-shaped costume laced with spikes turns heads as it walks down the crowded speedway.
Those performers are among almost 500 hired by Insomniac Productions for the sole purpose of giving attendees a second-to-none experience at the three-day extravaganza.
"We make the experience more rounded and give them something a little bit different," said Jon Dutch, a member of the wanderlust circus crew. "If you look around here, it's definitely about the experience of the place. It's not just about going (for the music), you see some amazing performance and costumes, too. That really adds a lot to the EDC experience."
Each performer plays a specific character throughout the event and is barred from breaking it among the crowd.
Wearing a white tank top strapped with black suspenders and bowtie, a newsboy cap and pink glitter across his face, Dutch is playing the role of a classic strongman. True to character, Dutch used his strength during an acrobatic stunt on Friday in the middle of Kinetic Field, EDC's largest venue. With a jam-packed crowd surrounding them, Dutch stacked a man and dancer on his shoulders. The 20-foot-high stunt drew a roar from the crowd.
Dutch's strength comes from his college football days. The now-30-year-old became a circus performer six years ago.
His distinguished background is one of many in the cast of performers, who include people from cities across the country and different day jobs.
Take Jeff Vue, 26, of Fresno, Calif. By day, Vue is a manager of a Panda Express restaurant. During EDC weekend, Vue transforms into a robotic cop dubbed "dancerformer."
The polar-opposite jobs makes Vue appreciate the EDC atmosphere.
"The crowd sees you as a performer, and it warms your heart and it opens up their heart," Vue said. "Everyone here loves each other, and that's what it's all about."
The performers are separated into three subcategories: dancers, circus performers and elaborate costume wearers. All share the same driving force .
"The crowd is what drives us," Vue said. "It motivates us, as performers, to pump up the crowd and make them come alive with the music."
The same fan-to-entertainer connection is what sparked Hillary Wagener to become a performer. The 20-year-old attended EDC a year ago as a spectator. This year, Wagener played an electric butterfly, a role she described as a "mix between Las Vegas showgirl, go-go dancer and Victoria's Secret model."
Her costume was nothing short of glamorous, with big light-up butterfly wings, sparkle eyes and an edgy bright pink mohawk.
Tasked with applying makeup for 500-plus performers are five makeup artists. Each has a specific job whether it be airbrushing, glam artistry or "specialty" makeup.
Sometimes, the small makeup staff leads to a logjam. According to Wagener, she arrived at EDC at 2 p.m. Saturday. But it was 11 p.m. before she was finished and ready to entertain the crowd.
Despite the wait time, the one-of-a-kind experience of entertaining a sold-out crowd makes up for it.
"It's an adrenaline rush to be up in front of that many people with camera and lights everywhere," she said. "People are constantly filming you and trying to take pictures of you. And you're within five feet of a famous DJ, so that's always exciting."
Contact reporter Sandy Lopez at slopez@reviewjournal.com or 702-383-4686. Contact reporter Eric Uribe at euribe@reviewjournal.com.
More on Electric Daisy Carvival