Danny G hosts enthusiastic, communal karaoke at Dino's Lounge
September 7, 2017 - 1:47 pm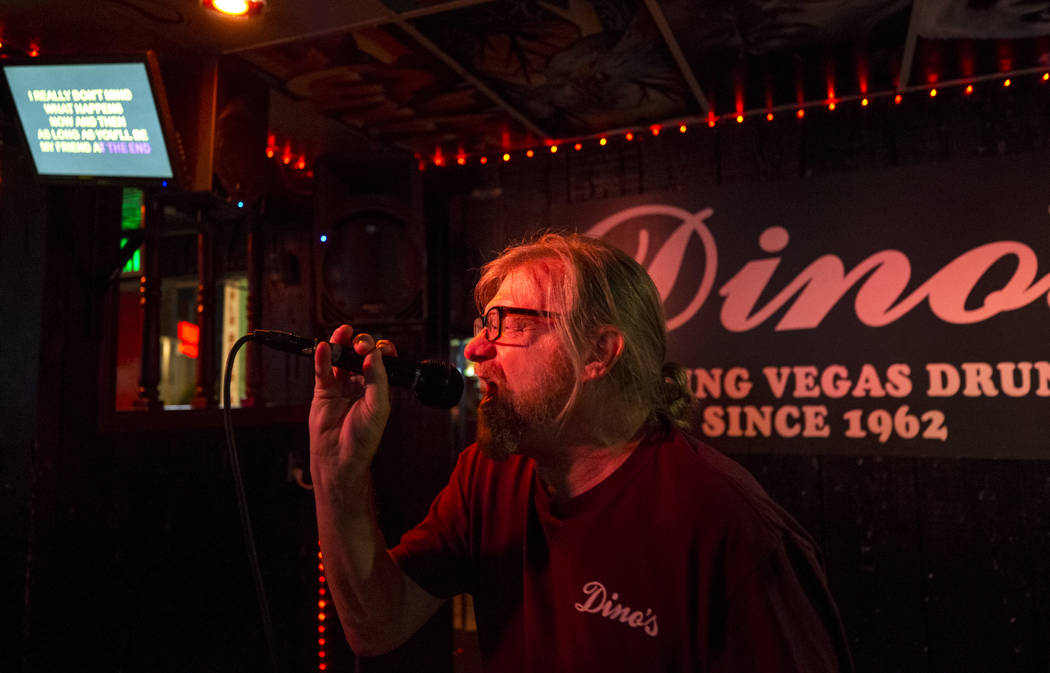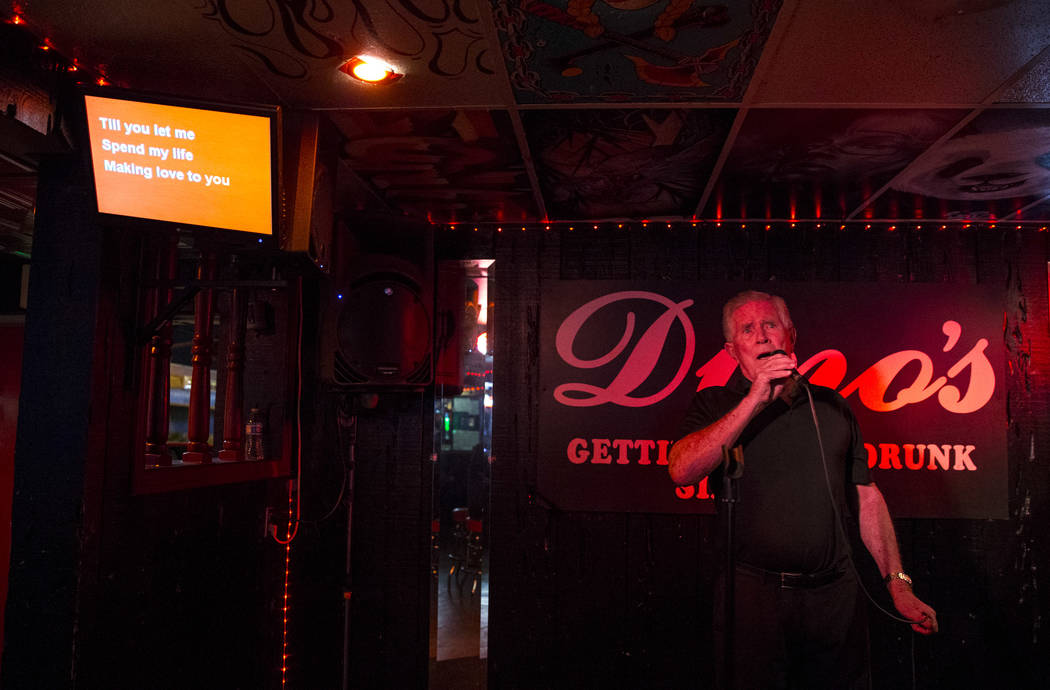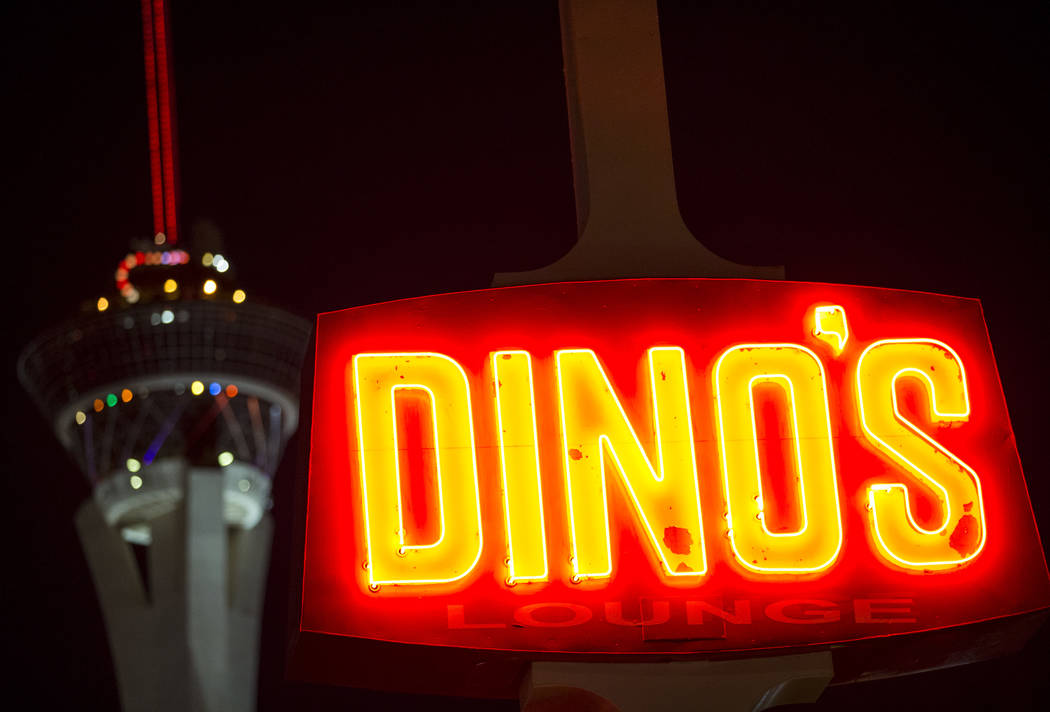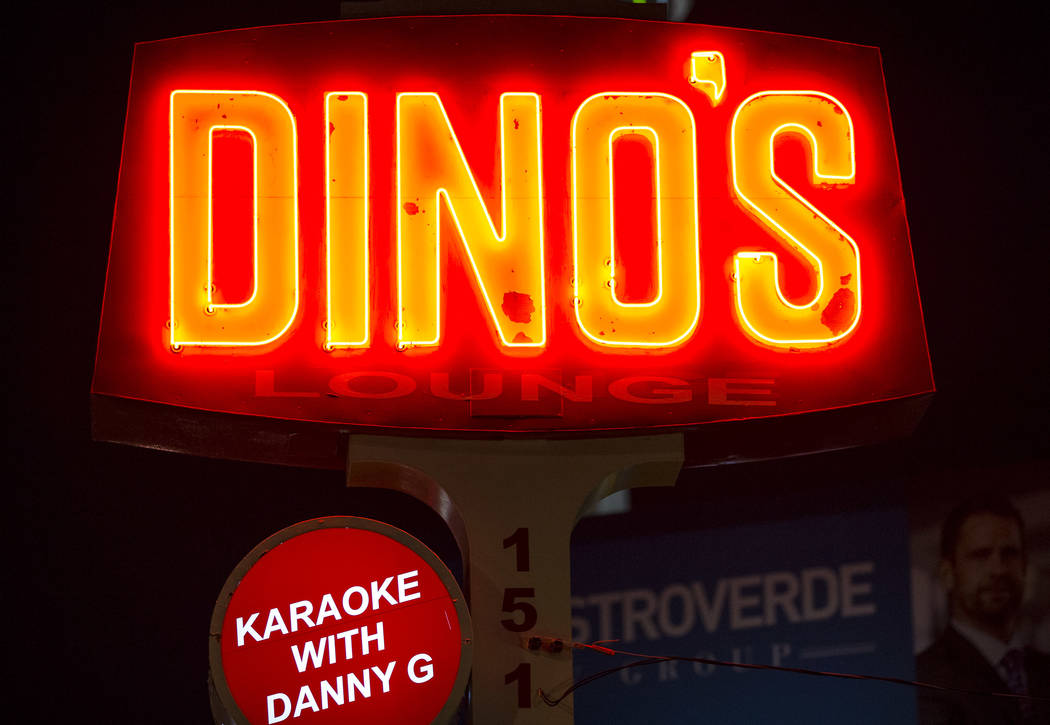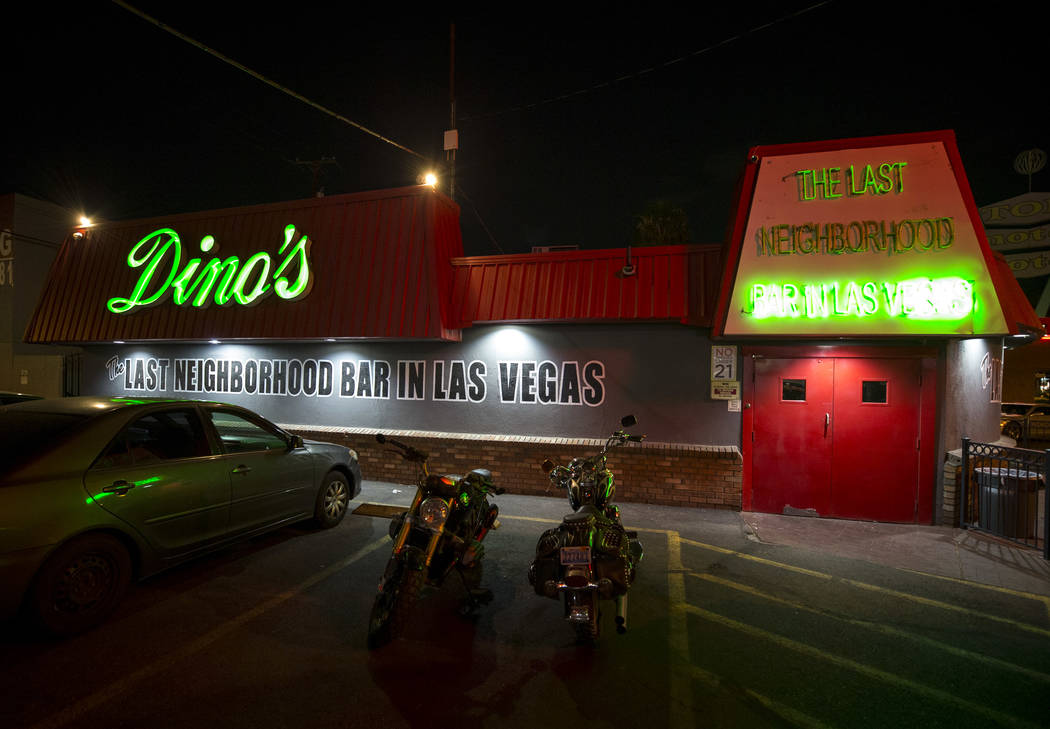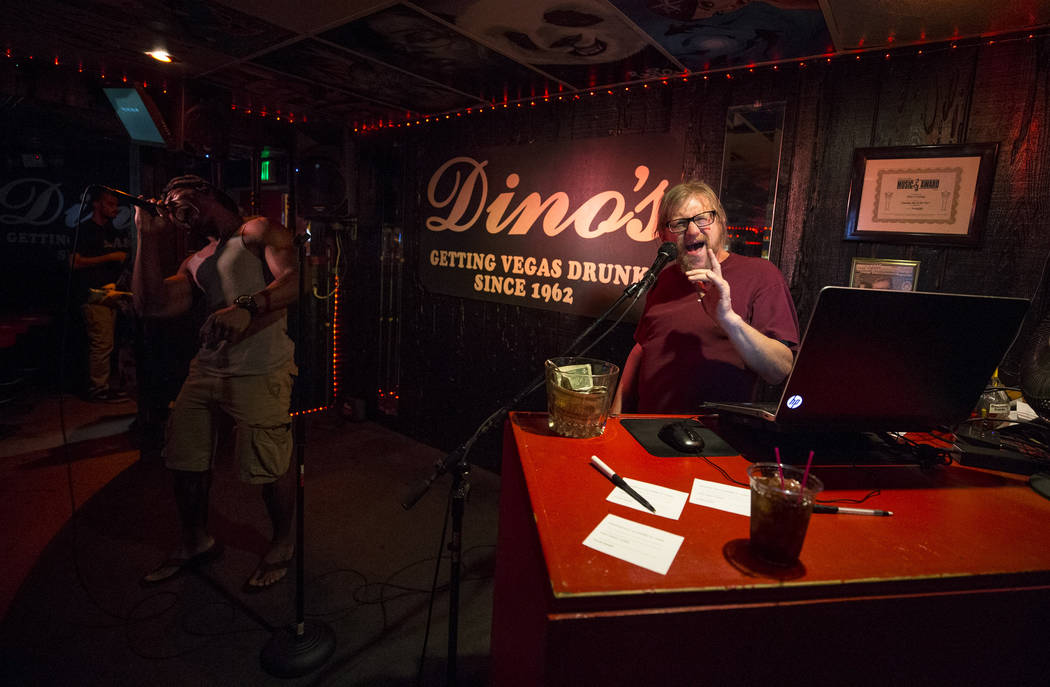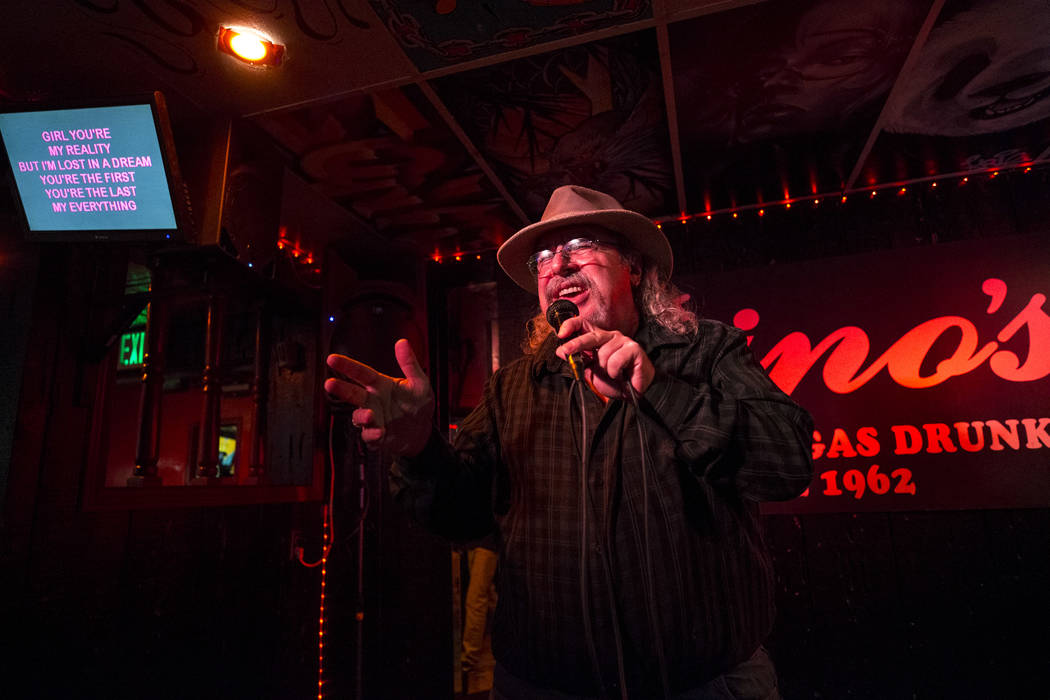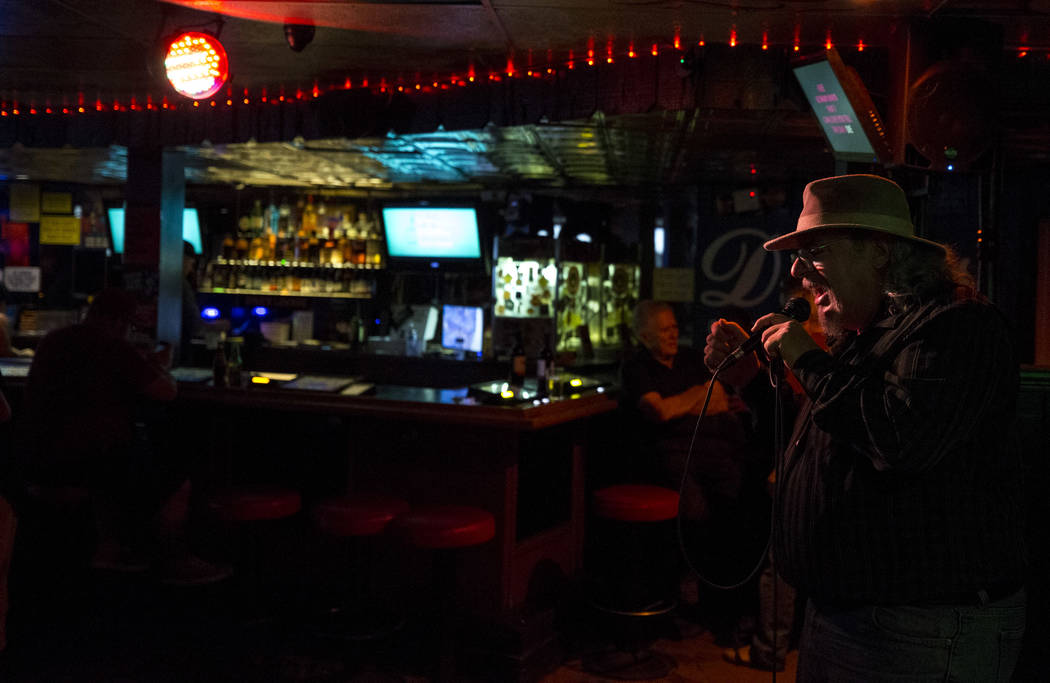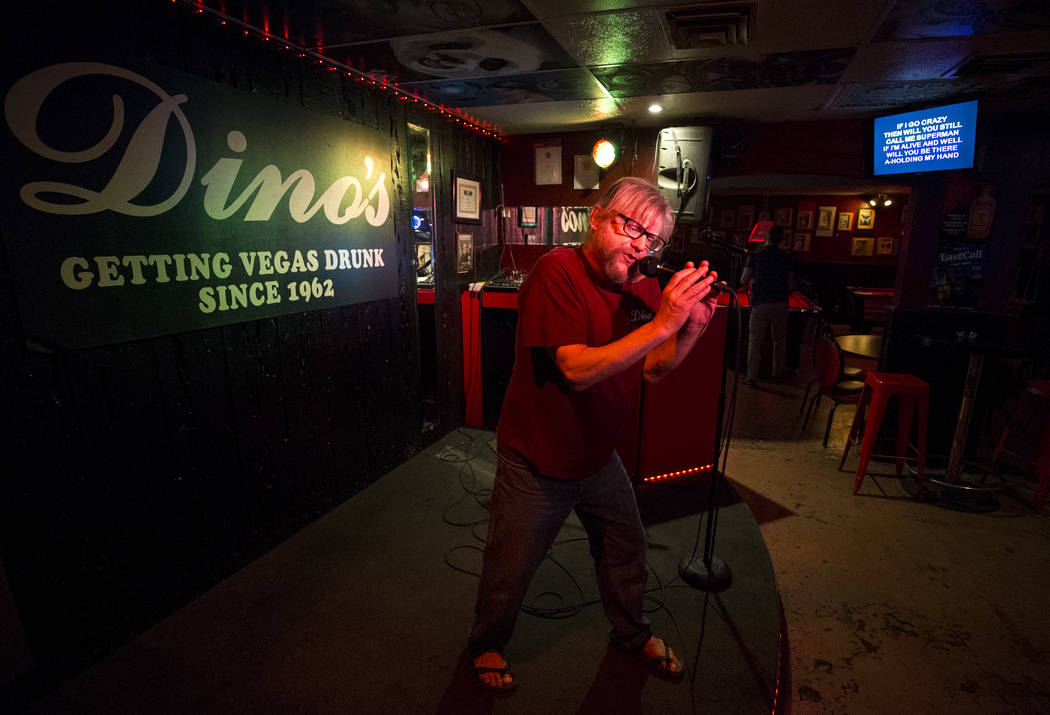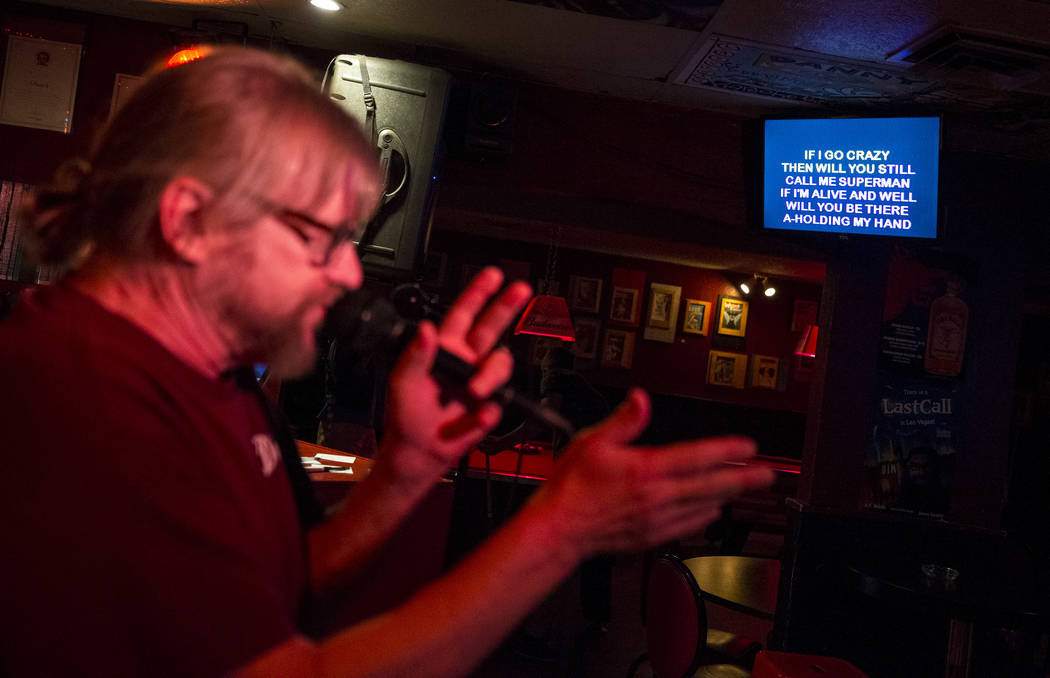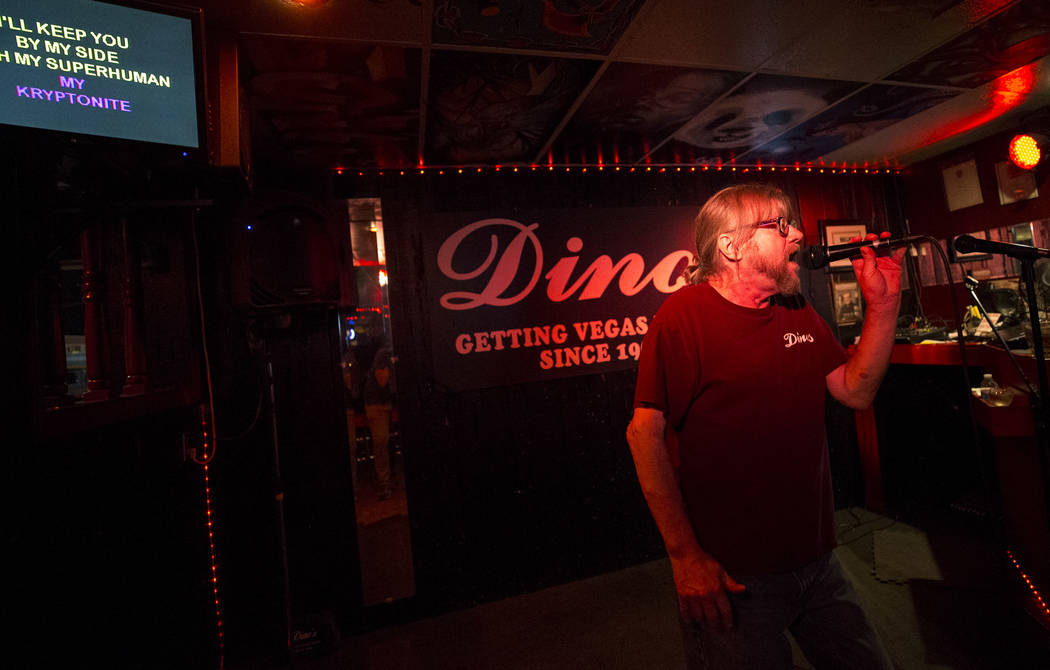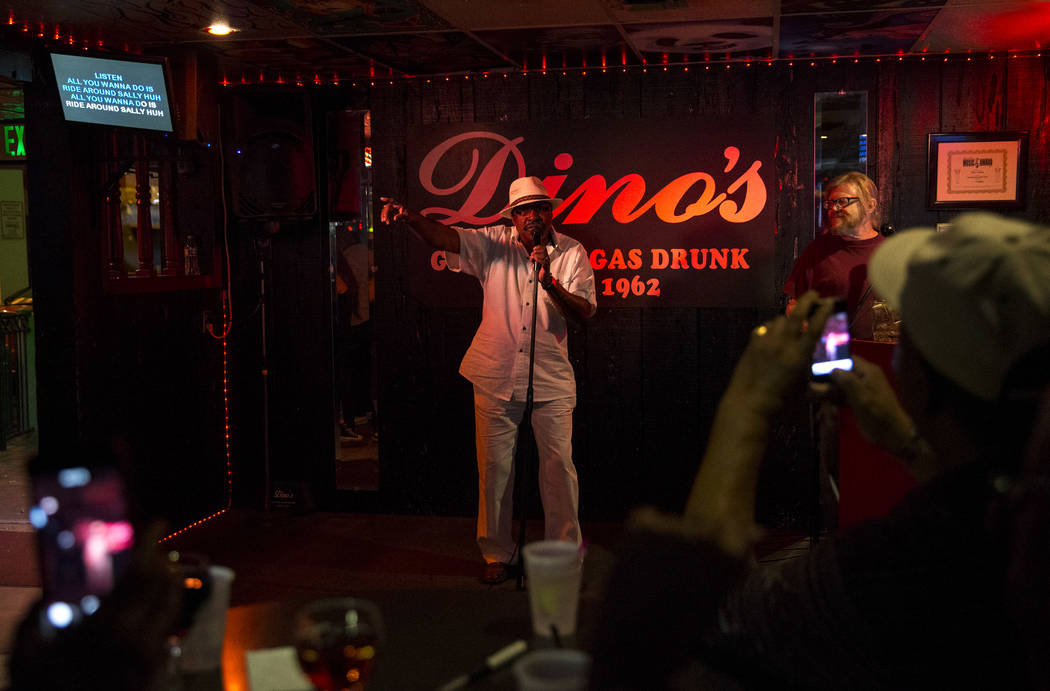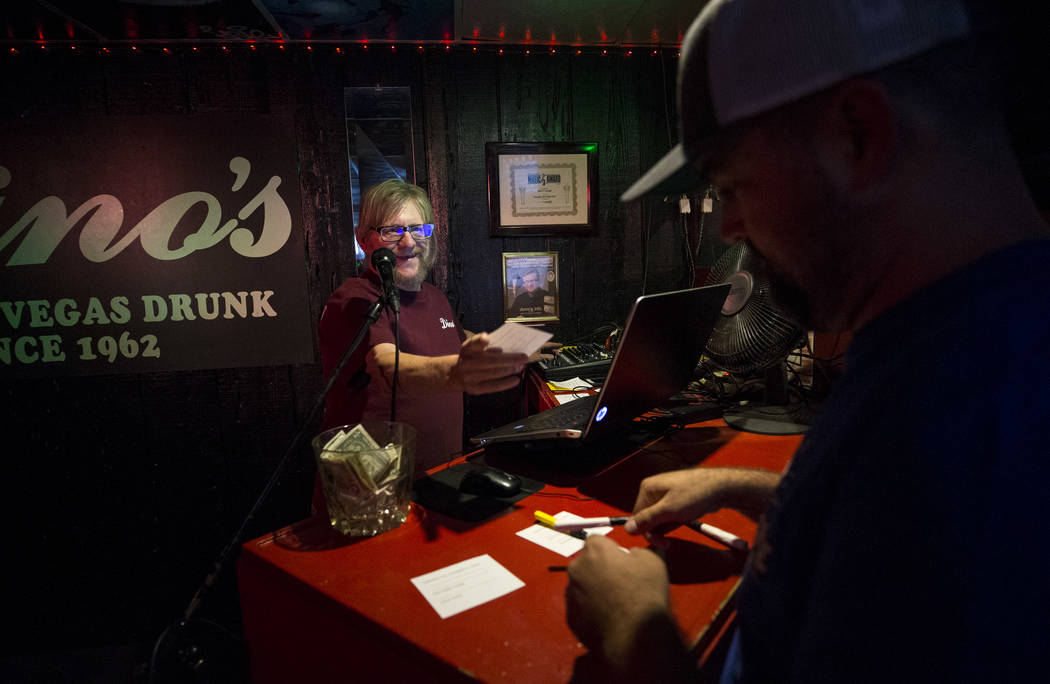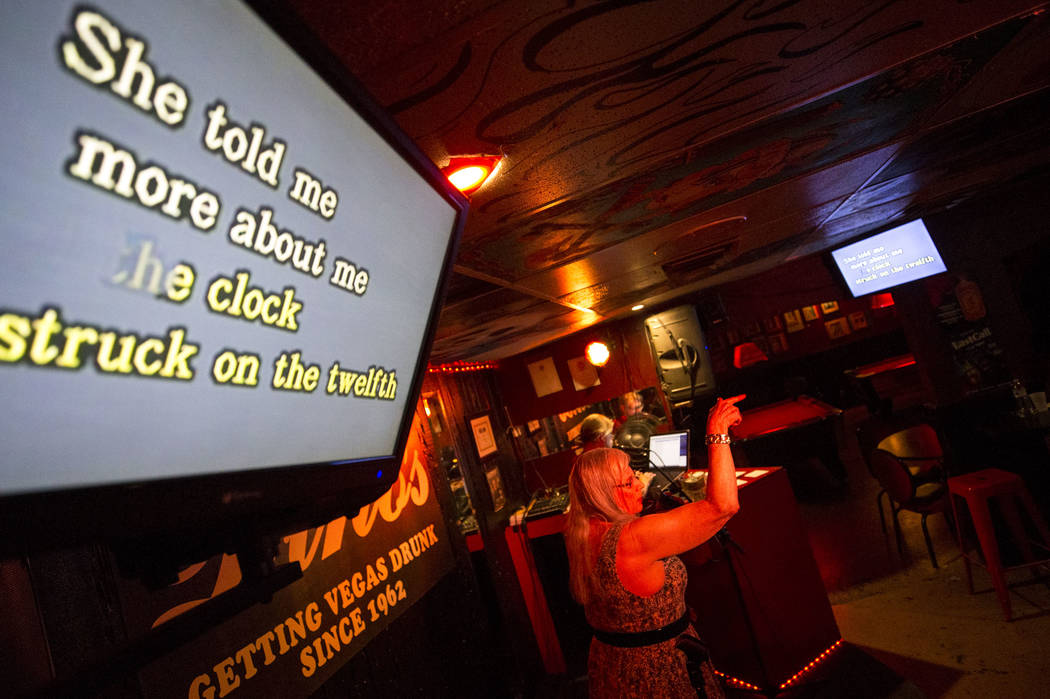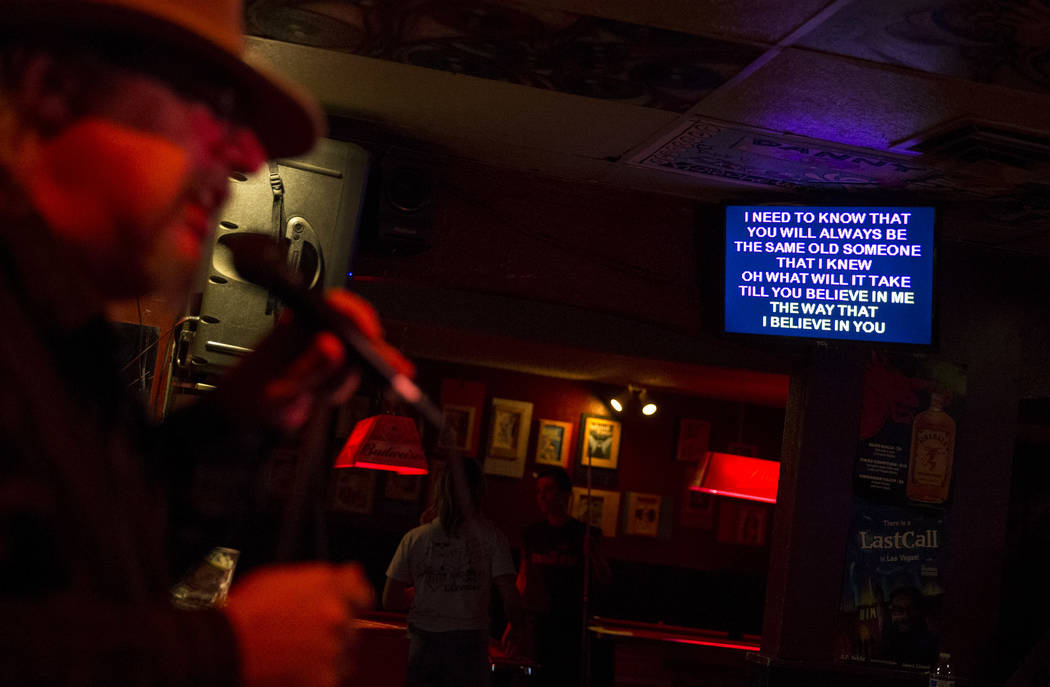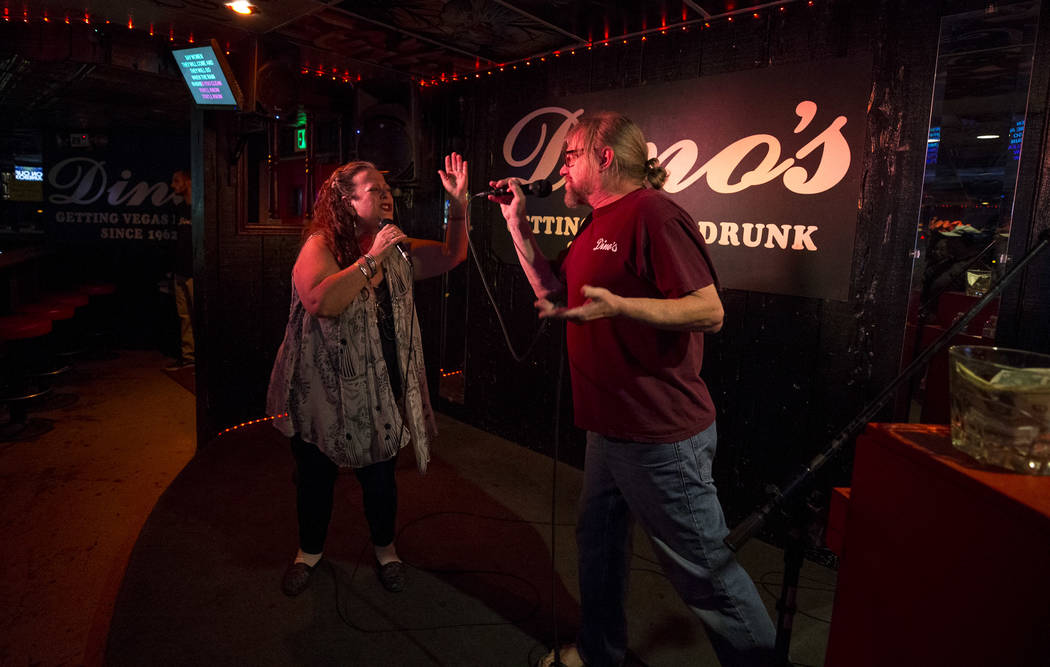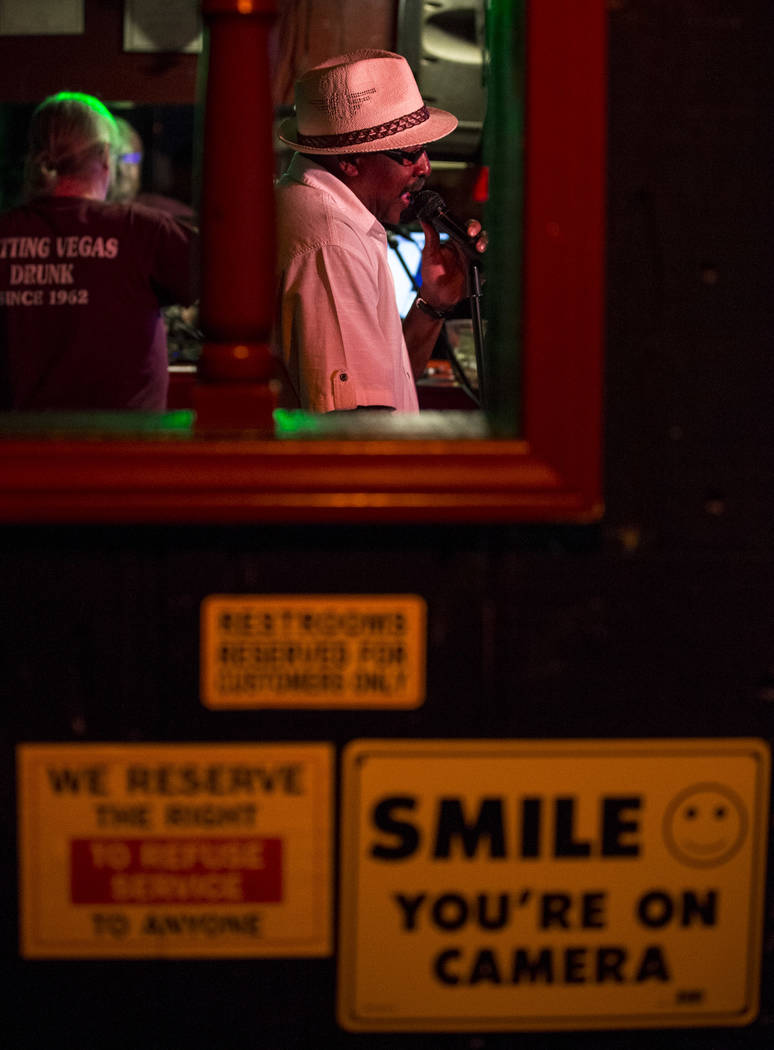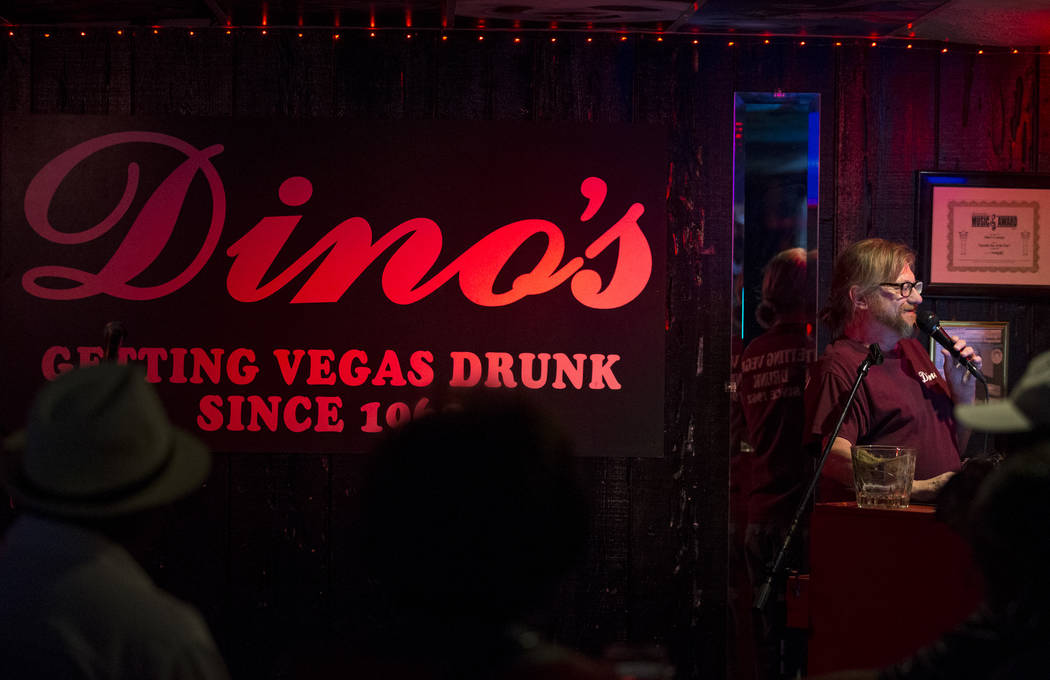 C'mon, you know the words — they're scrolling down the screen. So let us hear ya, superstar.
"Dark lady laughed and danced and lit the candles one by one (CLAP! CLAP! CLAP!) / Danced to her gypsy music till her brew was done."
Blonde-haired, black-booted and pop icon-possessed, Monica (they're first-name friendly on this stage) takes the Cher dare. Beside her, beaming a wide grin so fueled by enthusiasm it could lift off into space, is bespectacled, endearingly shaggy Danny G — Vegas' cuddliest rock 'n' roll teddy bear — piloting the sound board to launch Monica into the Cher-o-sphere.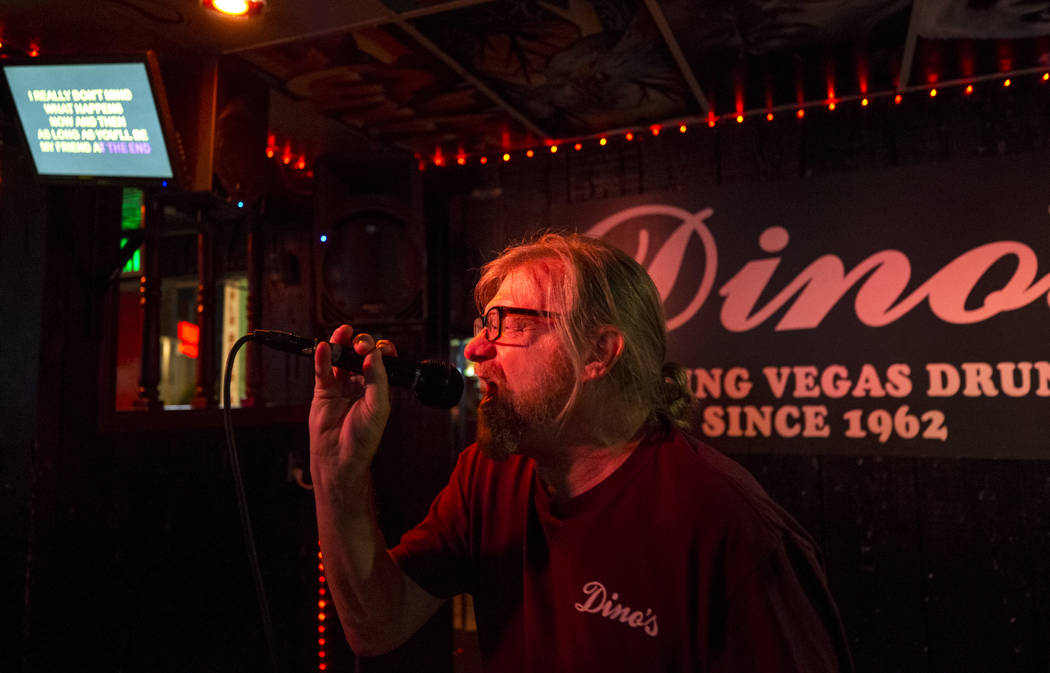 "Hey, it's just karaoke, not brain surgery," says the G Man (real last name: Gobel), the Thursday-Saturday host at Dino's Lounge, self-proclaimed as "the last neighborhood bar in Las Vegas" at 1516 Las Vegas Blvd. S. (motto: "Getting Vegas drunk since 1962").
Itching to unleash your inner showstopper but too shy to try? Among nearly 100 showcases around town, Dino's is a longtime locale, due largely to its ebullient karaoke impresario, presiding from 10 p.m. until the pre-dawn hours. Up against his simpatico gaze, warm praise and soft shoulder strokes, those stage nerves are toast. "By the end of the song you can't peel their fingers off the microphone."
As connoisseurs of the art rev up for the International Karaoke Singing Contest in Laughlin Sunday through Sept. 17, a Dino's visit hammers home the appeal.
"Got a wife and kids in Baltimore, Jack / I went out for a ride and I never went back." Enthusiastic Art channels The Boss on "Hungry Heart." So what if his stage moves are slightly spastic while he misplaces where Springsteen draws out the "huh-huh-hung-a-ry heart" part? "Sometimes I sing a couple lines with them to start them out, but you don't want to take the stage away from them," Danny says. "You want them to feel like they're doing it on their own."
"All ya wanna do is ride around Sally" (Cue everybody in the joint: "RIDE SALLY RIDE!") Belt it, Henry! Decked out in pristine white — shirt, slacks, ring-a-ding hat — he's getting his "Mustang Sally" on, growling it out, Wilson Pickett-style. Fist-pumping and undulating with sexy body English, Danny cheers him on. "It's about encouraging them and rousing the audience," says Danny, whose playlist numbers 180,000 tunes. "That's a good enough opportunity to choose something," he says with no small understatement.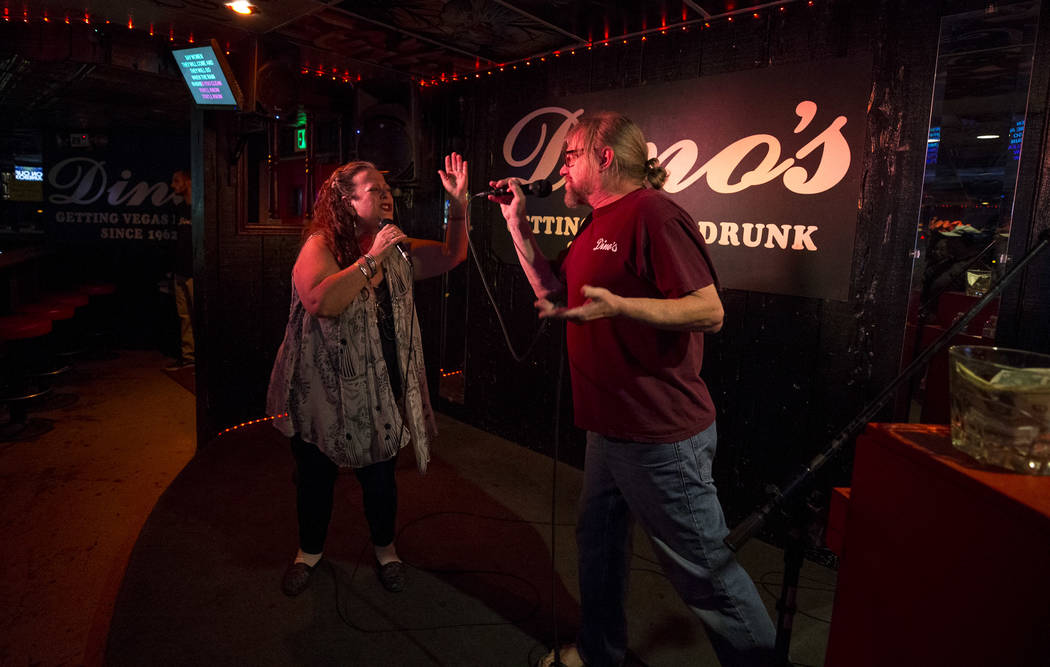 Karaoke disc jockey Danny G, right, duets with Katie Stephens during karaoke night at Dino's Lounge. Richard Brian Las Vegas Review-Journal
"Don't go trying some new fashion / Don't change the color of your hair / You always have my unspoken passion / Though I might not seem to care." Big crooner Tony, curly gray locks unfurling over his broad shoulders, is blissing out a la The Piano Man. Head tilted skyward and eyes shuttered, he's taking a breather as Billy Joel did during that buttery Phil Woods sax solo before lifting the mike to guide "Just the Way You Are" to a ballad-smooth stop. Critique: flawless. "If you have good microphone technique your voice will come through so much better," says Danny, a longtime musician who hosts not only stage-struck locals but Strip performers such as Carrot Top, and rockers — including The Killers and Five Finger Death Punch — who stop by.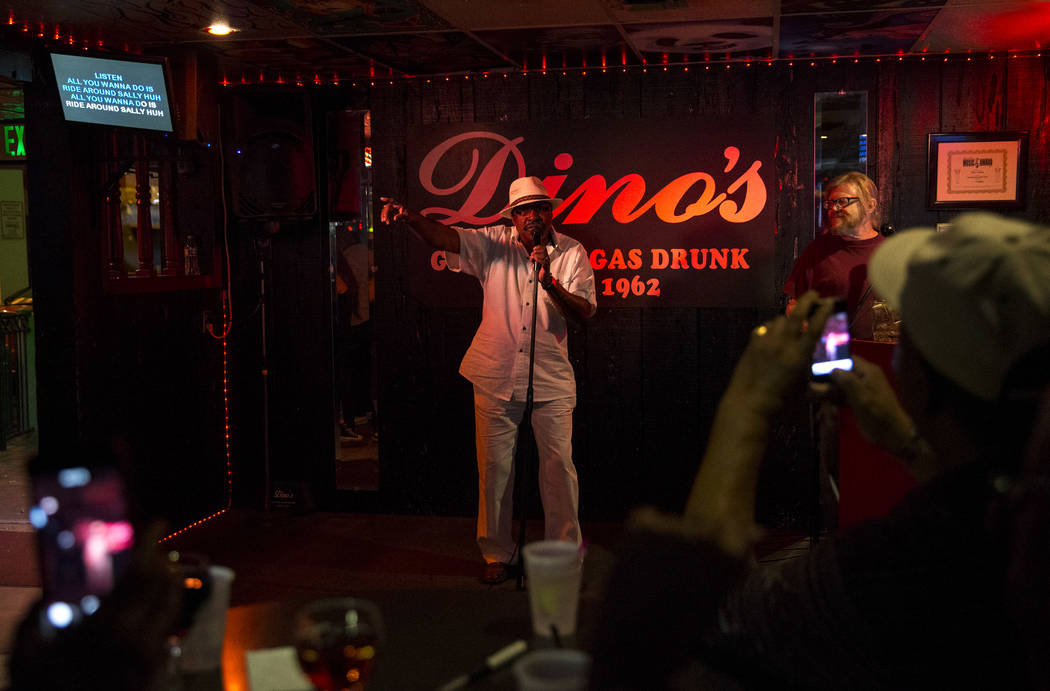 Henry Thomas of Texas sings karaoke at Dino's Lounge. Richard Brian Las Vegas Review-Journal
"When somebody holds the mike like an ice cream cone, that doesn't happen. You have to put it right by your top lip, under your nose so it picks up the entire sound of your voice. That gives me something to work with on the sound board."
"Thunder only happens when it's raining / Players only love you when they're playing." Purring sexily — and gyrating likewise — Katie tries on Stevie Nicks' "Dreams" as Danny dips in sparingly for the Fleetwood Mac background vocals. Seamlessly, their voices dovetail. "I tell people, 'Don't be afraid to express yourself,' " says Danny, a 17-year veteran of Dino's who for many years published Las Vegas Lounge Entertainment, a local karaoke guide. "Feel the emotion of the song. It's difficult for some people, and stage presence doesn't come naturally to a great deal of people."
Such would seem to be the conundrum for fetching young Blair. "I'm really nervous," she says, gingerly accepting the microphone from Danny as if it's a stick of dynamite. "Don't worry," he tells her, his smile a warm blanket of reassurance. "We'll stand by you." With nary a quiver in her voice, she begins to sing … wait for it …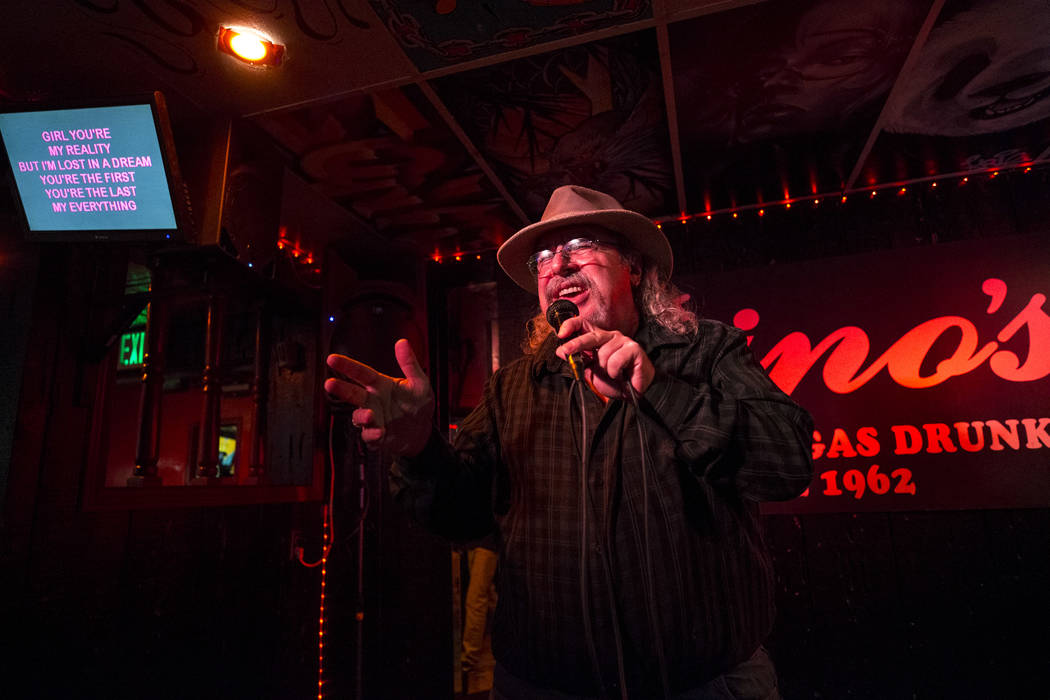 "When the night has come and the land is dark / And the moon is the only light we'll see / No I won't be afraid, no I won't be afraid / Just as long as you stand, stand by me."
Oh darlin', darlin' — on that stage, Danny stands by everyone.
Karaoke disc jockey Danny G, rights, duets with Kingsley Nwankwo during karaoke night at Dino's Lounge. Richard Brian Las Vegas Review-Journal
Contact Steve Bornfeld at sbornfeld@reviewjournal.com. Follow @sborn1 on Twitter.