Deftones, playing House of Blues, expand metal-based sound
November 16, 2012 - 2:09 am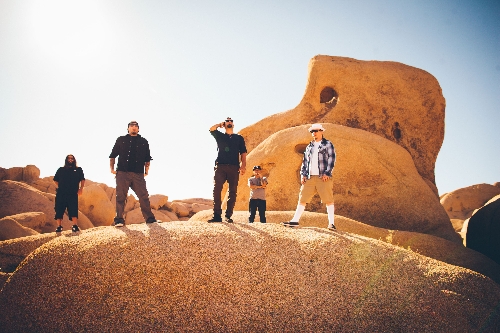 Before listening to his band's new record, Abe Cunningham suggests a good pair of headphones.
"The big ol' ones that go around your ears," the Deftones drummer offers helpfully, "with bass."
Sage advice.
"Koi No Yokan," the band's rhapsodic seventh album, released Tuesday, is an immersive, enveloping record, something that washes over you, akin to standing in the middle of a rainstorm.
Its title, translated from Japanese, references the sensation of love at first sight, and it's fitting: Deftones albums, including this one, have always been about feel and instinct more than anything else.
Despite being a hard-edged band, the group has long valued mood and atmosphere as much as gale-force fury and taxed adrenal glands.
It begins with frontman Chino Moreno's shadowy, transporting voice, which can have a narcotic effect when he sings in a low, breathy timbre, the calm frequently pierced by a goose flesh inducing shriek.
He alternately sounds seductive, imperiled, distracted, threatening.
The same could be said of the backdrop he sings against.
Guitarist Stephen Carpenter generally favors brusque, seismic riffing, but he tempers his more obstreperous side with understated, saturnine playing that elevates texture above torque.
Rhythmically speaking, Cunningham and bassist Sergio Vega keep things limber and ductile, while turntablist-keyboardist Frank Delgado fills in the open spaces.
This creates plenty of room for the band to roam, which they do with little inhibition on "Koi No Yokan."
The first two songs released from the album, "Tempest" and "Leathers," underscore how wide the goal posts are on the Deftones' sound.
The former is a brooding, lenitive slow burn, the latter a vertiginous, herky-jerky tantrum.
"Shedding your skin / Showing your texture / Time to let everything inside show," Moreno sings on its chorus, basically articulating the band's operating principle.
Above all else, "Koi No Yokan" is an album meant to be digested as a whole.
"With a lot of the songs, we sort of built in little connectors, intros and outros, that, when it was all said and done, would weave in and out of each other," Cunningham explains from a tour stop in Santiago, Chile. "We've always tried to make complete records.
"From the very start, we didn't want to be locked into any one thing," he adds. "It's always been a metal-based sound, that's the core, but we've been able to stretch it in so many different directions. It's nice to be in a band where you can do that. That's kept it fun for us."
Fun hasn't always been synonymous with this bunch.
After 2000's breakthrough "White Pony," the band had a notoriously difficult time creating both their self-titled fourth album and 2006's "Saturday Night Wrist," even getting fined by their record company at one point for failing to meet their deadlines for completing the eponymous disc.
This was attributable, in part, to creative tensions within the band.
"People know the inner turmoil, that's just band (stuff)," Cunningham says. "Things we were doing to ourselves at the time definitely prohibited communication. It was a wild time and we just had it.
"It's supposed to be fun," he continues. "We said, 'Let's do this right.' These last two records have really been a breeze. It's just focus, and then really enjoying each other and what we do. Now, we can do things a lot more efficiently – and with a lot more smiles."
This renewed appreciation for one another came in the wake of a near-fatal 2008 car accident involving bassist Chi Cheng, who remains in a comalike state four years after the incident.
"It just kind of put things in perspective," Cunningham says. "It's like, 'Man, this is pretty silly. Our boy's down and we're up and able to do things. Let's take it seriously, because we built a pretty cool thing.' "
For Cunningham, this life is pretty much his birth right.
"My dad played bass and my stepdad played drums, so I always grew up around music," he says. "My earliest memories are of being a baby crawling around stages and knocking cymbals over."
Those stages have become considerably bigger in the years since.
Though the Deftones are a heavy band, they're one of the few acts of their ilk who appeal to nonmetal fans, greatly broadening their reach.
They're a gateway act of sorts, intermingling different crowds and sounds alike.
"It's a battle between beauty and aggression – or at least a good duel," Cunningham says of his band's approach. "Maybe a dirty gunfight."
Contact reporter Jason Bracelin at jbracelin@
reviewjournal.com or 702-383-0476.
Preview
Deftones
8 p.m. Sunday
House of Blues at Mandalay Bay, 3950 Las Vegas Blvd. South
$48.50-$53.50 (632-7600)