Depeche Mode, performing this weekend, influential in growth of Electronica
October 3, 2013 - 10:11 pm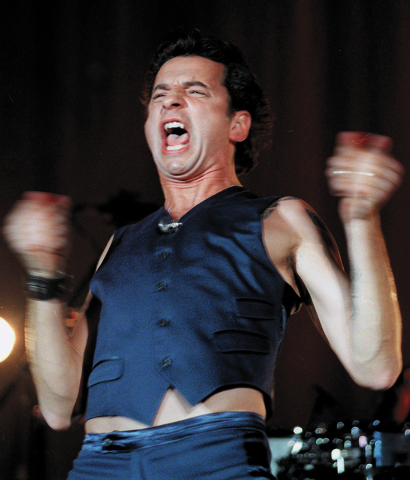 You may not always hear Depeche Mode in this DJ's set or that one's.
But they're there.
In a way.
As electronic dance music has come to power — especially here in Las Vegas, where the music generates almost as much revenue as parlay cards do — the DNA of these British synth-pop-turned-electronic-rock pioneers can be found in much of contemporary EDM, even if the music of a superstar DJ-producer like Tiesto isn't overtly evocative of the group's alternately dusky and danceable catalog.
As one of the first bands to take electronic-based sounds out of the discotheque and into arenas, Depeche Mode broadened the music's parameters both creatively and commercially.
Prior to the band's emergence in the early '80s, a lot of electronic music artists purposely heightened the synthetic-sounding nature of their work via computer-voice software, the metronomic thump of drum machines and laser-fire synth lines.
This was cutting edge technology, remember, and they wanted you to hear it.
Also, the sound of the music was, at times, a commentary on the means of production itself, pointedly cold and robotic as a way of examining the growing influence of said technology and the effect it might be having on the human condition.
Depeche Mode utilized much of the same equipment, but did so in a different way, with feeling and melodrama, especially as their career advanced and electronics began to play more of a supporting role in the band's sound, adding texture, depth and mood as opposed to serving as a focal point.
This, combined with frontman Dave Gahan's hot-blooded vocals, put a human face on machine music, gave it some warmth and emotional resonance, inspiring another wave of successful artists, acts such as Moby and Nine Inch Nails, to follow suit and further elaborate on what Depeche Mode started.
In this way, electronic music became more relatable, more approachable to mainstream audiences, which Depeche Mode experienced firsthand by the late '80s when they were the first act of their ilk to be able to sell out stadiums.
Depeche Mode and the aforementioned artists they influenced created momentum for electronic-based sounds and served as the gateway acts that expanded the music's base in new directions, helping catalyze the electronica boom of the mid-'90s, when the Chemical Brothers and The Prodigy were able to go platinum in what was a precursor of EDM's success.
In addition to laying the groundwork for the broader acceptance of electronic music, Depeche Mode's impact can also be felt more directly in contemporary dance music.
"What's popular now is a different style than what they did, but you are basically seeing electronic beats with male vocalists singing over them in sort of alternative fashion," says Las Vegas-based DJ Pizzo who has performed here since the '90s and is also owner of Hellafine Records. "There's definitely that influence there."
And there's all the remixes of classic Depeche Mode songs that still get played in the clubs on a nightly basis, perhaps the most memorable of late being Tom Staar &Kryder's take on "Enjoy the Silence."
This weekend, Depeche Mode returns to Vegas in the flesh, touring in support of their latest record "Delta Machine," all dark, understated seductiveness mingled with flashes of aching, bluesy bombast.
But in many ways, it is as if the band has never left.
Contact reporter Jason Bracelin at jbracelin@reviewjournal.com or 702-383-0476. Follow on Twitter @JasonBracelin
Preview
Depeche Mode
7 p.m. Sunday
The Pearl at the Palms, 4321 W. Flamingo Road
$160-$220 (702-944-3200)