Donna Summer, Queen of Disco, dies at 63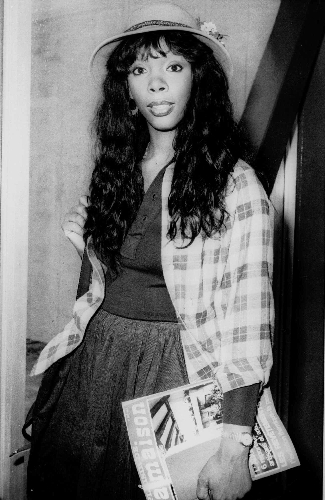 NEW YORK – Donna Summer never liked her designation as the Queen of Disco.
"I grew up on rock 'n' roll," Summer once said when explaining her reluctance to claim the title.
But as disco boomed in the 1970s, Summer was the beautiful voice and face of the genre with pulsating hits like "I Feel Love," "Love to Love You Baby" and "Last Dance." When disco crashed, she would continue to make hits incorporating her rock roots. One of her biggest hits, "She Works Hard for the Money," came in the early 1980s .
Yet it was with her disco anthems that she would have the most impact in music, and how she was remembered Thursday as news spread of her death from cancer at age 63 in Naples, Fla.
Summer was an occasional Las Vegas performer over the years and took part in a "David Foster & Friends" concert last October at Mandalay Bay. She sat on a stool to perform her four numbers, but her frailness was explained as vertigo instead of cancer .
After the '70s wave of disco peaked, Summer reinvented herself with a showroom-friendly act, playing Caesars Palace and the Las Vegas Hilton in 1986 and 1987. She played Caesars again in 1999, the Hilton again in 2005, an arena concert in Primm in 2009 and the first "David Foster & Friends," filmed in 2010 for television and video release.
Summer was every inch the Disco Queen, with glittery gowns, long eyelashes and luxurious hair.
Summer's music gave voice to not only a musical revolution, but a cultural one, when sex, race, fashion and drugs were being explored like never before in the United States.
She won a Grammy for best rock vocal performance for "Hot Stuff," a fiery guitar-based song that represented her shift from disco to more rock-based sounds, and created another kind of anthem with "She Works Hard for the Money," this time for women's rights.
Summer later became a born-again Christian, but many remember her best for her early years, starting with the sinful "Love to Love You Baby."
Released in 1975, a breakthrough hit for Summer and for disco, it was the genre's ultimate sexual anthem. Summer came up with the idea of the song and recorded it as a demo in 1975 . Casablanca Records president Neil Bogart suggested to producer Giorgio Morodor they re-record it and make it longer.
Summer had reservations about the lyrics – "Do it to me again and again" – but imagined herself as a movie star playing a part . So she agreed to sing, lying down on the studio floor, in darkness, and letting her imagination take over. Solo and multitracked, she whispered, groaned and crooned, simulating climax. Drums, bass, strings and keyboards answered her cries.
What started as a scandal became a classic. The song was later sampled by LL Cool J, Timbaland and Beyoncé, who interpolated the hit for her jam "Naughty Girl." It was also Summer's U.S. chart debut and the first of 19 No. 1 dance hits between 1975 and 2008 .
Summer – her real name was La­Donna Adrian Gaines – was born in 1948 in Boston. She was raised on gospel music and became the soloist in her church choir by age 10.
Before disco, she already had re­invented herself several times. She sang Motown songs with groups in Boston as a teenager, then dropped out of school in the late 1960s and switched to psychedelic rock after hearing Janis Joplin.
An attempt to get a part in the musical "Hair" led her to get the principal role in Munich. She stayed in Germany for five years, worked in other productions and modeled.
Meanwhile, she was performing in operas, singing backup for Three Dog Night and other groups and releasing songs of her own.
A marriage to Helmuth Sommer didn't last, but the singer held on to her ex-husband's last name, changing it to "Summer." By 1974, she released her first album, "Lady of the Night," to success in Europe.
Then came "Love to Love You Baby," her U.S. debut. Through the rest of the disco era she burned up the charts: She was the only artist to have three consecutive double-LPs hit No. 1: "Live and More," "Bad Girls" and "On the Radio." She was also the first female artist with four No. 1 singles in a 13-month period, according to the Rock Hall of Fame .
Musically, she began to change in 1979 with "Hot Stuff," which had a tough, rock 'n' roll beat. Her diverse sound helped her earn Grammy Awards in the dance, rock, R&B and inspirational categories.
Summer said she grew up on rock 'n' roll and later covered the Bruce Springsteen song "Protection."
"I like the Moody Blues, the Beatles and the Rolling Stones as well as Aretha Franklin, Dionne Warwick, the Supremes and Temptations," she said. "I didn't know many white kids who didn't know the Supremes; I don't know many black kids who don't know the Moody Blues."
Religion played an important role in her later life.
"Her passion in her life, besides music, was God, spirituality and religion. She held a Bible study class at her home every week," said Michael Levine, her former publicist.
Summer, married with three daughters, released her last album, "Crayons," in 2008. It was her first full studio album in 17 years.
Review-Journal writer Mike Weatherford contributed to this report.