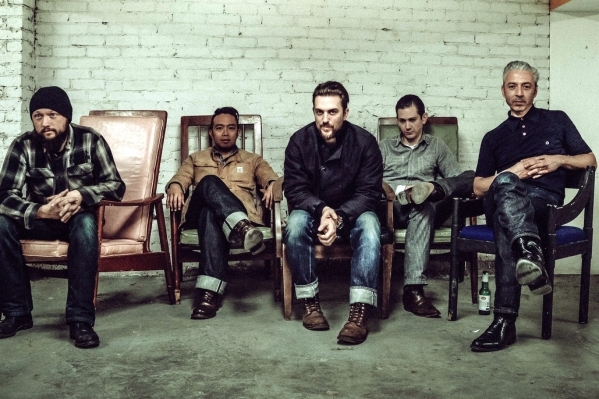 If the heart of rock 'n' roll is indeed still beating like the song says, you can thank guys like J.D. McPherson, whose music keeps its spirit alive.
"What we do is rock 'n' roll," says McPherson, whose vibrant vocals recall the finest moments of the foundational era. "The most inspiration that we get for our music is out of that earliest expression of rock 'n' roll music. That has a lot to do not just with the sound of the music and the instruments it's played on, but also the idea that it's the first teenage music; it's the first music that kind of belonged to young people. That's your first taste of freedom.
"Think back to your first taste of freedom that you had when you were a kid, when maybe you went to a carnival on a dirt bike with your buddies for the first time, listening to Motley Crue — that is such a deeply ingrained thing in every kids' mind. That's the kind of thing that keeps me motivated to keep making music. It's always going to be traced back to that stuff. There might be other influence creeping in, but rock 'n' roll is such an incredibly important thing to me, I don't think I could ever do anything that wasn't influenced by that initial idea."
McPherson, born Jonathan David McPherson, developed his love for rock early on while growing up on a cattle ranch in southeast Oklahoma. "I was just into music in general, and probably the best gift that I had from living there was that I was isolated and I had nothing else to do," he remembers. "So I really dove into music and sort of prided myself on the fact that I didn't really divide it up too much. I would give anything a chance."
McPherson's sensibilities first started taking shape thanks to his older brothers, who taught him how to play the guitar, an instrument he first picked up when he was 13 but didn't really start playing in earnest until a few years later. "When I got into rock music, my older brothers would show me some stuff and that's when it all went the way it went," he says. "At first, I was into what my brothers were into. They're quite a bit older than I am; my next-oldest brother is 16 years older than me. So he was into a lot of '70s classic rock, Zeppelin, Cream and Hendrix. And so that's what I was into at first. Still am really into it, actually.
"Then I got into punk. I call that gateway music, because it leads you into so many different new things. If you listen to enough punk, you start getting into reggae and rocksteady, blues, rock 'n' roll. There's such an influence on so many of those bands that look towards the past; and once I found kind of the earliest expression of rock 'n' roll, that's when I got stuck. That's when I got really ensconced in that stuff. Wanted to find out everything I could about it."
Gateway music. In that regard, you can essentially say the same thing about the music that McPherson makes, which probably serves the sort of the same function for a new generation of fans who might not have been exposed to the rudiments of rock, an assertion McPherson acknowledges.
"So, yeah, I mean, for Pete's sake, if some kid listens to Bo Diddley because of us, then I'm good. Stamp it. My work is done," he says, after noting that, "there were a lot of bands that did that for me, too. The Blasters, Dave and Phil Alvin's band: When I got the Blasters, that opened up a lot of stuff to me. They were pulling from blues, a lot of jump blues type things. Kind of showed me a lot of new influences that I hadn't really figured out yet."
In his bio, McPherson lists Little Richard and David Bowie as touchstones, and while you can clearly hear the influence of the former in his music, it takes a little more effort to detect the inspiration he derives from the latter.
"I think lyrically, I've always been kind of fascinated with him," says McPherson of the recently departed icon. "My lyrics can really kind of tend to shift a little left of center. The music might seem pretty straightforward, but the lyrical concepts and things are sometimes a little far out. 'Let the Good Times Roll' is a song about the subtext of Romeo and Juliet, the last act, where they're both dead and their spirits are looking for each other. Romeo's dead; Juliet isn't yet, but he's expecting her to be. So that's that one. There's a lot of paranoia in the lyrics, too, especially on the second record.
"But the main thing is that Bowie was pretty fearless and kind of unapologetic about a lot of things. And I think that's a good example for anybody who's pursuing creative endeavors, to stay on their own path and not be afraid to shake things up a bit, even in their own work, when things start to get stale."
McPherson is speaking from experience, life experience. Before he turned his attention to playing music full time, he earned a living as a middle-school teacher. In its profile of the musician last spring, Rolling Stone said he was fired. That wasn't quite the case, according to McPherson.
"I wish it were more exciting a story," he says. "But my contract was not renewed, basically because … well, let me back this up. I'll say this in my defense: I was a really good teacher, but I was a terrible employee. I just could not be less interested in wallowing in the mire of administrivia. You know, I just couldn't keep up with the paperwork, and I had a kind of micro boss figure, and that made me want to do less of what he wanted me to do. It basically boiled down to the fact that I was losing interest in that side of it, and I was trying to build a really exciting avant-garde art program for middle schoolers, and it was getting there."
As a teacher, McPherson was a bit unorthodox in his approach as he strived to help the students broaden their horizons, from exposing them to the work of Andy Kaufman ("kids started pulling pranks around the school," he remembers, "and word got out about that, so that probably didn't help out my cause much") to founding a mixtape club. From the sound of it, though, McPherson was about as cool it gets, the type of influential figure who can leave an indelible impression. After all, you never forget the first guy who turned you on to Bad Brains, especially when that guy is your teacher.
"There was one kid who was a star soccer player, and he was into, I don't know, Maroon 5 and things like that," McPherson recalls. "I think I just had Internet radio on one day, and some hardcore stuff came on, and he was like, 'That's cool. What's that?' I said, 'That's Bad Brains.' He goes, 'Do you have any of that?' I said, 'I have all of that.' He said, 'Can you make me copies of that? That would be really good to work out to.' I said, 'You got it.' "
Ah, yes, the first taste of freedom. Let there be rock.
— Read more from Dave Herrera at reviewjournal.com. Contact him at dherrera@reviewjournal.com and follow @rjmusicdh on Twitter.
Like Neon Las Vegas on Facebook: