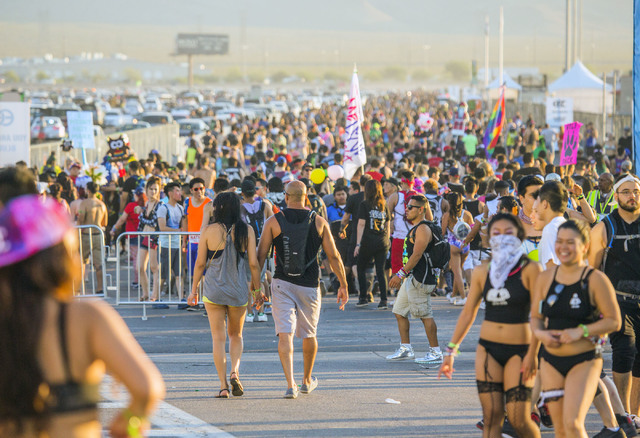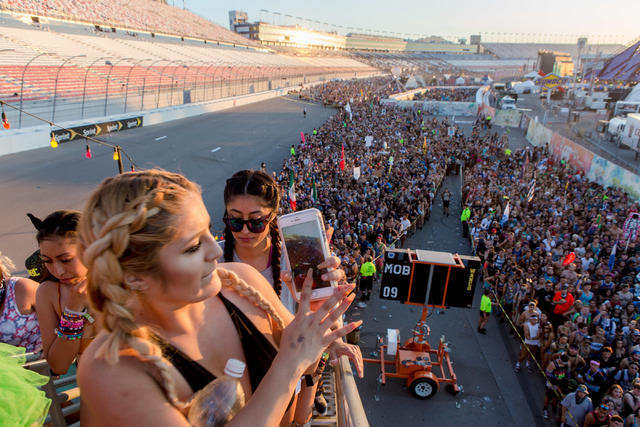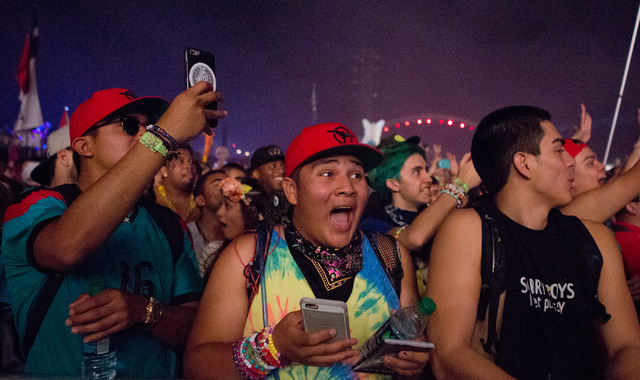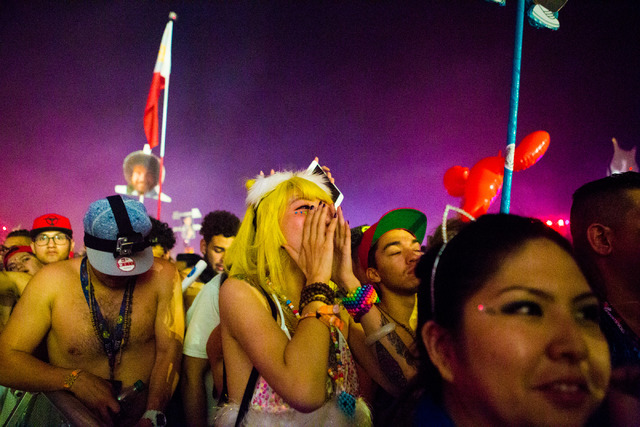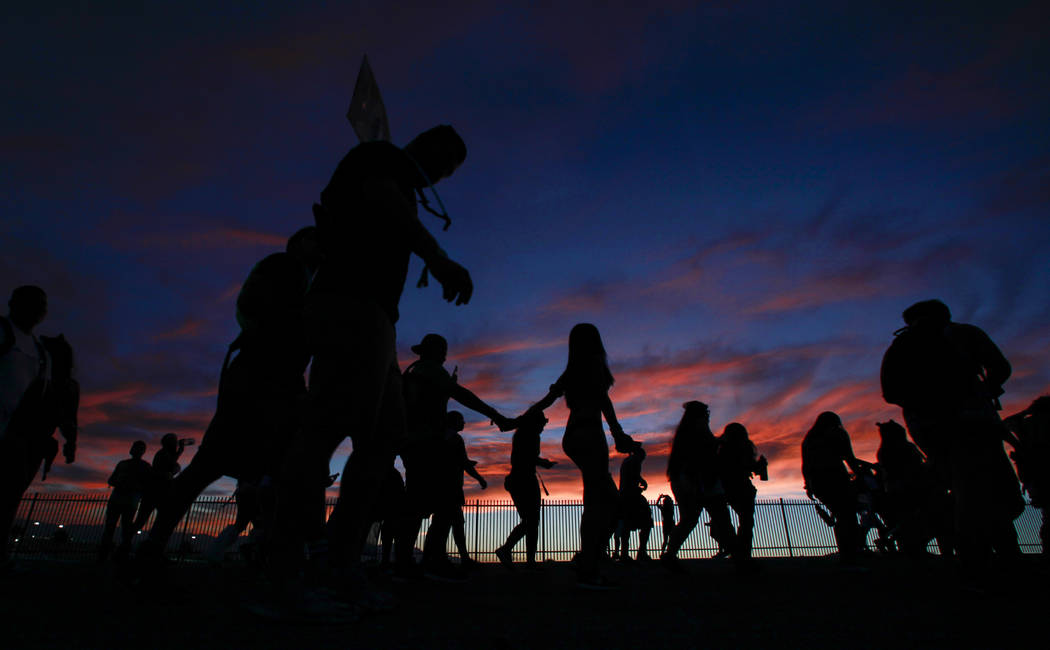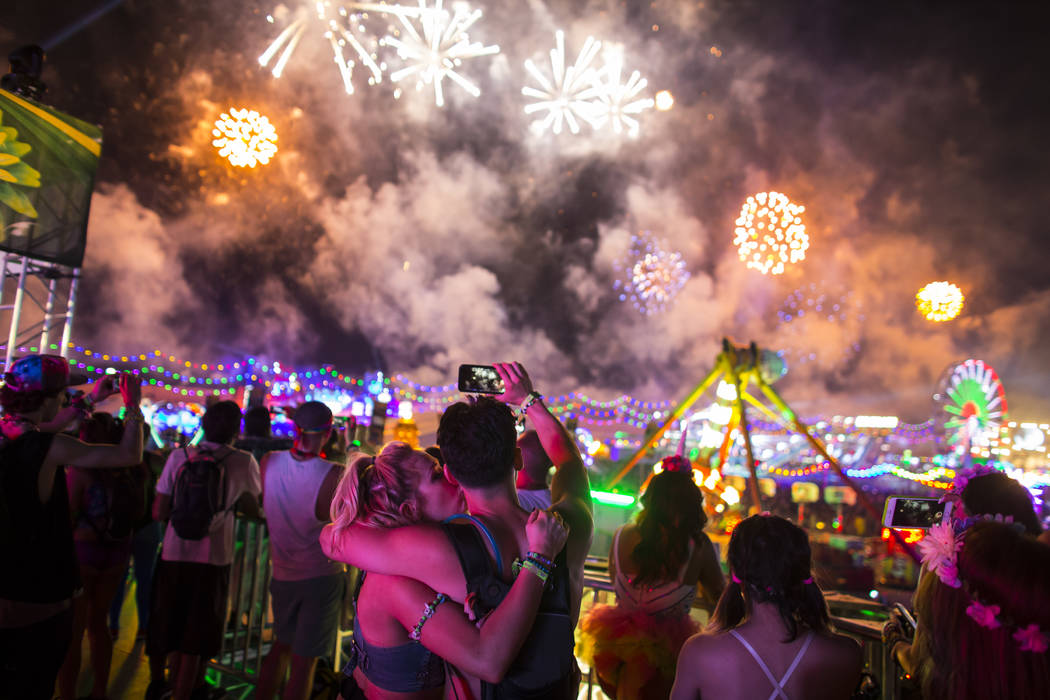 He's made the trek for 20 years now, but it was a plastic ring scored from a liquor store coin machine that made one trip especially memorable.
The year was 2000, and Angel Martinez and his girlfriend Yanira were traveling from Los Angeles to Tulare, California, where Electric Daisy Carnival was held that year.
During a break from the road, Martinez nabbed the aforementioned ring.
Later at EDC, he proposed to Yanira during a show-closing set by Rob Gee, using the only thing he had: the piece of novelty jewelry he'd gotten earlier in the day for pocket change.
She accepted.
Yanira has since passed away, but Martinez continues to attend EDC every year, doing so in honor of both her memory and their shared love of the raver's credo "PLUR" (peace, love unity, respect).
"I decided to continue to keep our annual tradition going," he explains, "and the belief in promoting and sharing our PLUR ways with others."
Talk with any number of EDC devotees, and stories like Martinez's become an increasingly common reflection of an uncommon bond between a music festival and its fans.
When trying to pinpoint the appeal of EDC, of course there's the smorgasbord of big-name DJs, the over-the-top production values, the abundant costumes (Where's Waldo? He's hanging with the dancing banana man and the young woman dressed as a sexy Statue of Liberty).
"It's like crash-landing on an alien disco planet," explains Ken Lawrence, a 47-year-old, L.A.-based EDC die-hard who will be making his 10th trip to the festival this year. "It's a psychedelic sci-fi adventure on a scale that I never dreamed was possible in my 25 years of raving.
"I was around in the humble beginnings of Insomniac (the company that puts on EDC) when it would sometimes be in a dirty warehouse with a hole torn in the wall. But to see the progression from that to what it is today is nothing short of astounding. Everywhere you look, there's something crazy going on."
Aside from the allure of all the otherworldly sights and sounds, fan after fan gives voice to the same thing when speaking about what keeps them coming back to EDC each year: the emotional connection they feel toward the fest. Unlike other music festivals, the performers up on stage are but one of numerous entry points to EDC — this is why the three-day dance music Mardi Gras nearly sells out every year before a single act is announced.
"It goes far beyond a music festival for the values learned from various people that I have formed lifelong bonds with," says Eddy Leon, an L.A. native who went to his first EDC in 2005. "Some of my best friends I met by saying a simple 'hello' to them at the festival."
As Leon's words underscore, one of the more unique aspects of the EDC vibe is that it's all but impossible to feel out of place there. Freak, geeks, cool kids, ravers, rockers — everyone fits in by not having to worry about fitting in.
"It's so much more loving than any other festival I've been to," says Shane Mari, a professional figure skater from Colorado who will attend EDC for the sixth time this year. "It's hard to describe the feeling because it's like nothing you've ever felt before. You can just be who you are; it doesn't matter. It transports you to this other realm."
Said realm is not the exclusive province of dance music die-hards, either.
"It's one of those things that you need to experience regardless if you're into electronic music or not," Leon says. "Every year I bring someone new to the festival who has never attended. It's become somewhat of an annual tradition for my festival crew and I. There's so many people from all walks of life that come together for this special gathering. It's a world on its own."
At times, walking through the EDC grounds feels like experiencing an alternate reality, but really, it's less an alternative to the norm than an escape from it.
"This is our playground," Martinez says. "I feel as if I'm at Disneyland, but remixed with electronica. I get the best of both worlds: music and being a kid again. Let's brush off the daily grind and go on a fantastic voyage."
Contact Jason Bracelin at jbracelin@reviewjournal.com or 702-383-0476. Follow @JasonBracelin on Twitter.