'Fame Monster' Gaga growled, the crowd raved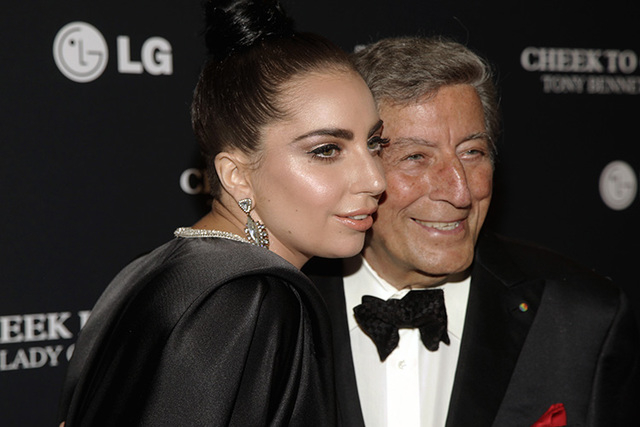 The pop chameleon changed her colors once again.
DayGlo green.
To match her thong.
How do we know the shade of Lady Gaga's undergarments?
She hiked up her skirt to show anyone looking — and by "anyone" we mean everyone, for the 28-year-old singer has made a career out of marshalling eyeballs like a sheepherder tending to her flock.
The song was "Bad Romance," performed a half-step slower live than on record, Gaga's vocals more guttural, more primal, a growl in place of a purr.
The tune was prefaced by Gaga tearing off the wig she was wearing at the time and baring her teeth at the crowd as she was outfitted with a new one by a pair of handlers who performed a wardrobe change right on stage.
Gaga was adorned with a bright multi-colored wig, a see-through vinyl top, fuzzy boots and a whistle: standard-issue rave ware.
This was her ArtRave tour, after all.
The moment encapsulated the evening: here was Gaga shrewdly, opportunistically affixing herself to a music, a culture that's particularly en vogue at the moment.
She did so in somewhat stilted fashion: her get-up was pro forma and dated, more evocative of the '90s rave scene than what you might see at the Electric Daisy Carnival these days.
This is what Lady Gaga has become: an asimmilationist striving to keep up with the times.
Some have argued that this is who she's always been all along, citing the endless Madonna comparisons that have stuck to her like body glitter.
But at least with her 2008 debut "The Fame" and 2009's "the Fame Monster" she positioned herself at the vanguard of the looming dance pop boom with a big voice and even more outsize ambitions.
At the MGM Grand Garden Arena on Friday, Gaga's early hits from those records were played in clipped, perfunctory fashion, with "Just Dance," "Poker Face" and "Telephone" coming one right after the next, the latter performed with something close to indifference.
Nearly half of Gaga's 21-song, 100-minute set on Friday was given to her most recent record, last year's chaotic, grandiose "Artpop."
"Sometimes the simplest move is right," Gaga sang on the album's title track, which opened the show on Friday, propelled by a bass line that worked the body like a deep tissue massage.
As if to prove her point, her current show is less an attempt to shock and awe, as in tours past, as it is one prolonged group-hug with her adoring fanbase.
She also spent less time speaking about weightier issues related to bullying, gender equality and sexual orientation, which has informed her stage banter on prior outings.
Her instructions to the crowd on this night: "You better grab a glow stick or shut up."
With a set design suggestive of an arctic snow castle, Gaga led her phalanx of chiseled dancers in a fun, physical routine, playing a seahorse-shaped keytar, donning flowing blue and pink tentacles and dry humping a piano amidst confetti levels suggestive of a ticker tape parade in honor of returning war heroes.
She headbanged to the propulsive beat of "G.U.Y., " strapped on a guitar for the martial stomp of "Venus" and high-stepped around the stabbing synth lines of "Applause."
She took to the keys to make torch songs of "Dope," "Born This Way" and a show-closing "Gypsy."
Seated, without having to sacrifice her breath to her oxygen-sucking dance moves, she could better showcase her considerable vocal range, elongating certain words, savoring their syllables as if they were coated in something sweet.
When she relied less on her live vocals and more on backing tracks, such as on "Judas" and "Aura," the sentiment inherent in those songs was decidedly less palpable.
Still, it was there, albeit in a different way.
After she performed "Aura," Gaga read a letter from a crowdmember about how her music provides him with an escape from life's troubles.
"I dance, and I instantly feel better," he wrote.
Upon finishing the letter, Gaga invited the fan backstage for tea after the show.
Then, she undulated into the dirty disco throb of "Sexxx Dreams."
She danced.
He danced.
And for another 30 minutes or so, until show's end, those troubles remained outside the arena doors.
Contact reporter Jason Bracelin at jbracelin@reviewjournal.com or 702-383-0476. Follow on Twitter @JasonBracelin.