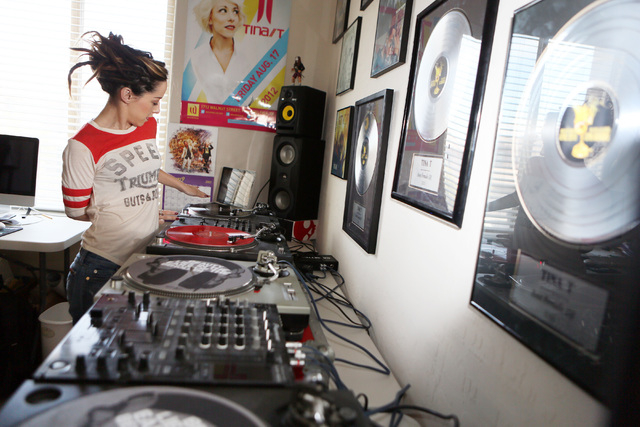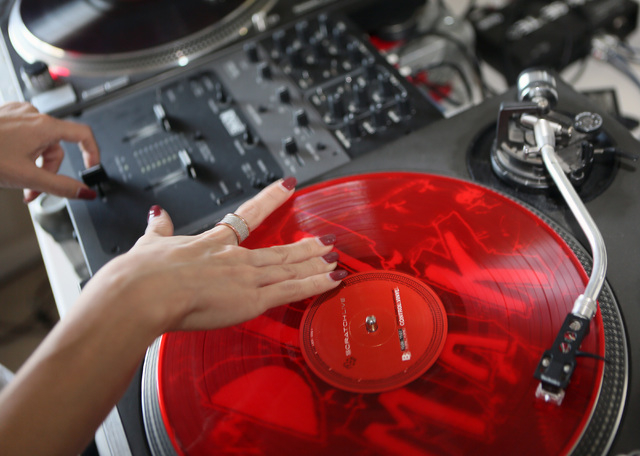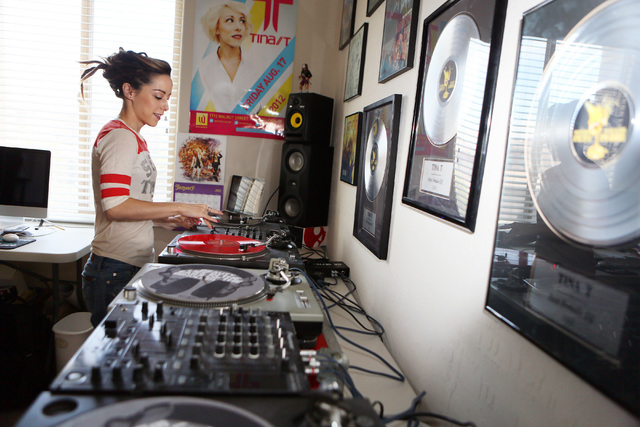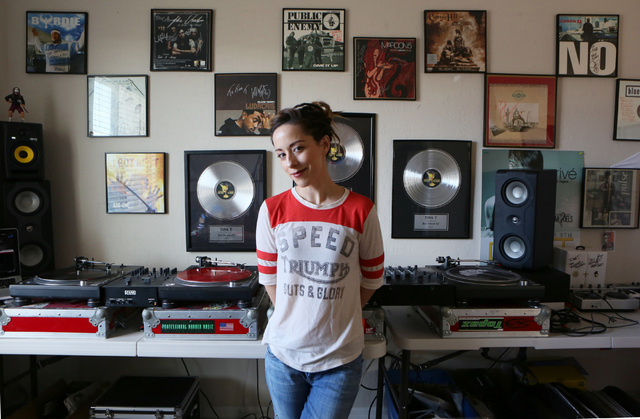 Barely 19, Tina Turnbull sat in the back of a music booth watching the local disc jockey work his magic on the dance floor.
"He was like a puppeteer," she recalls. "He would tell me he could make a certain group of girls come to the dance floor. He would put on a song and sure enough they would come. It was fascinating to watch."
Turnbull wasn't supposed to be in the club because she was underage, but as long as she kept to the booth, she could stay.
But honestly, she didn't want to move. She was hypnotized watching and learning from the DJ.
"I was addicted," she says. "He put on the Mary J. Blige song 'Family Affair,' which was popular at the time, and everyone came to the dance floor. I wanted to do that. I wanted to be the DJ that got everyone to the dance floor every time."
DJ Tina was born.
In Las Vegas, there is no lack of clubs or DJs to check out.
But as Turnbull's mother pointed out to her the other day, women aren't featured at the same rate as men in the clubs.
"It's not from the lack of talent," she says.
Lisa Pittman, another local DJ who plays at Marquee nightclub inside The Cosmopolitan of Las Vegas, says it is still a male-dominated industry.
"There is a bro code that still exists with DJs," Pittman says. "Sometimes, it gets in the way from being able to perform in the best spots."
Things are changing, though. And as more women step onto the scene, they hope there will be more recognition of their talents.
It's not as if they have a choice. Many of the DJs who entered the scene fell in love with what they're doing and couldn't give it up if they tried.
Turnbull, who grew up in Seattle playing classical violin, discovered turntables at a friend's house when she was 15. She put on a record and began to play with it.
This is how her addiction started.
It started with just messing around on her own, but then Turnbull began attending competitions.
Eager to join, she focused on how to scratch.
"Scratching is like patting your head and rubbing your stomach at the same time," she says. "It's the same coordination. Once you start getting it down, you turn it into muscle memory."
A DJ will slow the record down and put on the cross fader to develop different sounds.
Turnbull adds that scratching is like learning a language. She worked for months to learn different techniques and sounds.
"Once you learn three or four different ones, you can start putting it together," she says. "Then you can put together your own language."
She lugged her turntables to Washington State University and would practice in her tiny dorm room. One day, there was a knock at the door.
"It was my neighbor," she says. "He was a DJ. He told me I was good at scratching and wondered if I had ever learned about mixing music."
He connected her to other local DJs, which Turnbull would study by watching them captivate audiences at nightclubs.
She then started learning and working her own crows — fraternity parties and college events.
Looking to spread her wings, Turnbull began traveling for gigs and even came to Las Vegas to play at Rain nightclub.
"I was so nervous," she says. "Waiting for 2 a.m. to play is the worst because you can't calm your nerves. You just have to sit and wait."
When she graduated with a degree in marketing, she decided to move to Los Angeles and market herself as a DJ.
She worked for a while as an assistant marketing director at BPM magazine, which covered nightlife and the music industry, and was still able to spin at parties.
Many in her circle of friends who were DJs kept applying for and getting gigs in Las Vegas. Turnbull decided to move to Las Vegas to see if she could get a residency.
"On my way out, I got a call from Tao," she says. "I was so nervous."
At 1 a.m., during the club's peak hours, Turnbull took the stage.
"I give it what I got and threw out my hottest stuff," she says. "I was hired on the spot."
Turnbull has played at other clubs and traveled internationally for gigs in the Bahamas, the Philippines and Canada.
"I'm trying to focus on Las Vegas at the moment and do less traveling," she says.
She now plays at Marquee.
Like Turnbull, Pittman was a musician before entering the industry.
Playing drums and bartending at Studio 54, a former nightclub at MGM Grand that closed in 2012, she grew more and more interested in becoming a DJ. One night in 2002, she got her shot.
"They gave me a residency on Thursday nights for an event called the Dollhouse," she says. "Things were a lot different back then. You had to carry around vinyl records and play what was in your bag."
She equates it to packing for vacation.
"If you pack for sunshine and it rains the whole time, you're screwed," she says. "It's so much better now that you just carry around your laptop."
By being at Studio 54, she was able to develop a name for herself.
She was then picked up by Tao Group in 2008 and eventually landed at Marquee, which also is part of Tao Group, where she plays Friday and Monday nights.
Pittman even picked up some international gigs, once playing on a mountain in New Zealand.
"That was definitely an interesting one," she says.
Pittman has seen how Las Vegas has grown in the number of nightclubs, which increased the number of DJs vying for opportunities.
Though both love where they are at, they still have high hopes for what they can do.
Turnbull, who has been eyeing her old violin, says she has fantasized about finding a way to mix an electric violin with her music.
Outside music, Pittman says she wants to use her status as a DJ to raise awareness of issues in the LGBT community.
It doesn't stop with their music.
Turnbull hopes to inspire the future DJs. Six years ago, she started a weeklong summer camp called Camp Spin-Off for youths 13 to 17 years old. Kids travel to Forest Homes Camp in California for the week.
Along with traditional camp activities such as s'mores and campfires, the youngsters learn about using equipment in the DJ business and hear from professionals.
Even among her students, she sees a changing tide.
"It started out more males," she says. "Now it's about a 50/50 ratio. If it can change with them, it gives me hope it will change for adults, too."
Contact reporter Michael Lyle at mlyle@reviewjournal.com or 702-387-5201. Follow @mjlyle on Twitter.