Five Finger Death Punch drummer adjusting to sobriety
September 18, 2015 - 9:31 am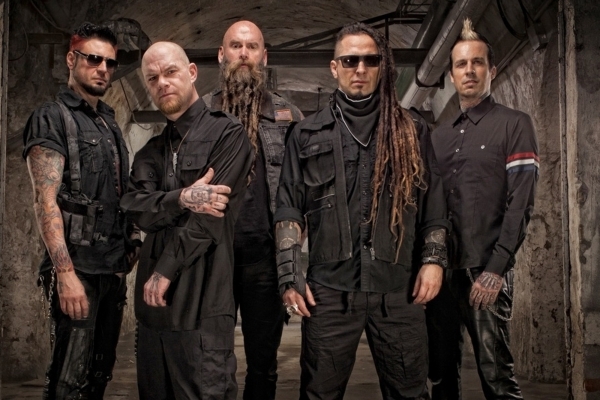 Jeremy Spencer is sober these days, which has given him a whole new perspective on being a member of Five Finger Death Punch.
From back when he co-founded the band in Los Angeles with guitarist Zoltan Bathory a decade ago until just a handful of years ago, Spencer was addled almost the entire time, and things just got progressively worse.
"You know, that was an eye-opener when I first got out of rehab," the drummer recalls. "I had to learn how to do it, because from the start of this thing on up, I was using pretty much. And all of the sudden it's: Wow! I'm living this life and having to feel every emotion that comes with it."
Cleaning up his act hasn't been easy, but Spencer says he's learned to adjust. "The first little while, it was definitely an eye-opener," he reiterates. "I had a lot of anger and stuff that I hadn't processed, and it took a little bit to get my feet underneath me, but I'm learning to deal with it a lot better now.
"I feel pretty good," he adds. "I mean, obviously, I feel a lot better physically and mentally, just from the fact that there are no chemicals in my body. As far as playing, I feel a lot better. I want to get on stage, whereas before I dreaded it, which, you know, that's really not how it's supposed to be."
Spencer documents his whole descent in his book, "Death Punch'd: Surviving Five Finger Death Punch's Metal Mayhem." A riveting read, the best-selling book ends exactly where it begins, with the Las Vegan checked into a hotel room in his hometown, convulsing from having consumed too much cocaine and convinced that he was going to die.
In the pages in between, the timekeeper not only dishes on his most debaucherous moments, but holds up various snapshots of his bandmates, some of which aren't necessarily the most flattering, particularly the parts that seem to highlight the volatility of Ivan Moody, the band's highly expressive frontman, who has attracted headlines in recent month for domestic issues outside of the band.
The candidness of Spencer's memoir seems to have caused some teetering tension between he and Moody that reportedly spilled over at a show in Memphis, Tenn., this past spring, when Spencer and his bandmates exited the stage after a few songs, leaving Moody to attempt to soldier on without them. The YouTube clips are awkward to watch, as Moody interacts with the crowd, eliciting some heckling, before the band eventually returns and plays an abbreviated set.
While there are no other clips to support this, a number of fans claim what prompted this division was Moody making an offhand mention of Spencer's book, asking if anyone had read it, which allegedly prompted the drummer to ditch his drum kit.
Whatever the case, both musicians acknowledged the rift afterward and expressed their regret. "Jeremy and I were talking backstage and we were both being human," Moody later told Metal Hammer magazine. "It just sucked that I had my microphone in my hand. The saying is that you should wash your clothes at home."
For his part, Spencer attributed the dissension to sound and stage issues and says now he doesn't even remember what was said, exactly, nor does he even know if Moody — whom he contends is the "best frontman I've ever seen" — even read his book. He knows a few of the other guys have, and their response has been generally positive.
"I don't even know that he read it, to be honest with you," Spencer says. "So I really can't speak on it, because I really don't know if he has. I sent him a copy of the book — I sent everybody a copy, signed it and all that stuff, whenever it first came out. I had also offered everyone a chance to read their parts before it came out, just to say, 'Here. This is what's happening.' "
If you ask Bathory (which we did this time a year ago when Five Finger Death Punch last played in Las Vegas), as cringe-worthy as some of the sections are, Spencer offered up a sanitized version of the events.
"I read the book," Bathory told the paper last fall. "Actually, he's very modest. I mean, the things that happened, the things that I witnessed, I don't think there's a publisher that would put it out. That book is actually a castrated version of the truth."
Nonetheless, you can see why some observations might be less desirable than others. At the same time, anybody who's followed the band for any amount of time has probably discerned by now that Five Finger's frontman is an intense figure. So it's not like the book shed any new light. Intensity's always been part of the frontman's appeal.
"I just think he writes what he feels, and you can tell that he really means it, and I think that's why a lot of people connect with our songs," Spencer says. "I always just think he delivers what does so good, man. I love it, man. I get a kick out of what he's going to write next and how he performs it. It's so genuine. He's such the real deal. He's one of my favorite entertainers."
Spencer shares the same sort of respect, admiration and appreciation for the rest of his bandmates, even more so now that he's seeing things through a sober lens. "We've all kind of grown together and been through a lot together," he says. "We've learned how to respect each other's boundaries.
"There's still days where it's not great. It's just like any family, man. I mean, we're together stuck in a tube driving across the planet, so you're going to get on each other's nerves — there's just no escape. But you know, we love each other, and we try to work out the small stuff and get past it. You kind of learn how to file it in the right folder, as far as what to really get upset about and what not to, because the machine needs to roll."
And roll on, it has. When the Five Finger dudes return to town this weekend, they'll be playing songs from their new record, "Got Your Six," which debuted at No. 2 on Billboard, giving it the band's best first week sales yet.
Spencer is stoked at how far the band has come ("Yeah, man, it's cool," he says. "I've watched this thing grow from nothing to headlining arenas"), although he admits that playing in the band can be grueling at times, mostly because of how it writes and fine-tunes its songs in the studio. When the sessions are done, Spencer says that he often has to teach himself how to play the parts before heading out on the road.
"When you have your whole record done, you're like, 'Crap, man! Now I gotta learn that,' " he says, explaining the songwriting process and how he strives to keep from repeating the same styles. "I probably wouldn't have written it like that if I would've known I had to play it for the next two years, every night.
"The last few records killed me physically," he confesses. "I'm like, 'Man, I'm really paying attention on the next one. Like, this one, I consciously went, 'OK, you're going to play this for two years and beyond, so make sure you want to do that every night to yourself.' So it's maybe not as chaotic as some of the other stuff that I've come up with in the past."
Sounds like the chaos has subsided a bit all the way around.
Read more from Dave Herrera at reviewjournal.com. Contact him at dherrera@reviewjournal.com.
Like Neon Las Vegas on Facebook: