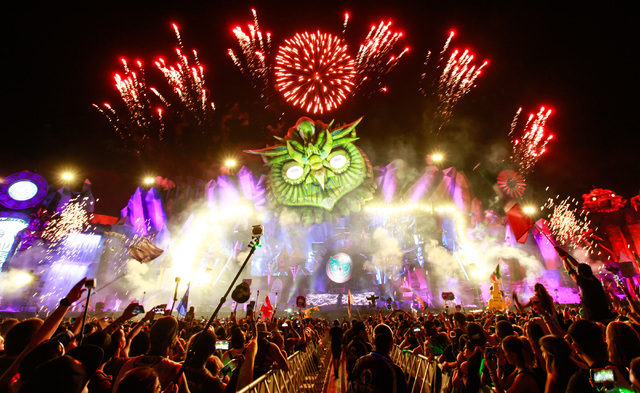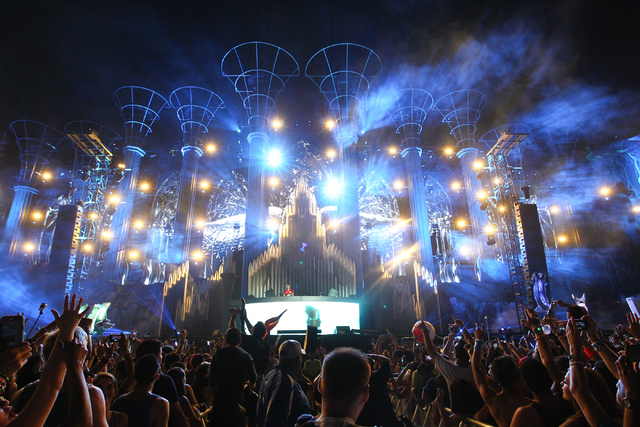 As the sun set, his star rose.
Flashback to three years ago.
It's a Friday at dusk when a Las Vegan takes the biggest concert stage in North America.
Framed by skyscraper-sized mechanical owls, Justin Blau gets to work.
It's 7:20 p.m., less than a half-hour after the gates have opened at Las Vegas Motor Speedway, signaling the start of Electric Daisy Carnival 2014.
The incoming crowd gradually goes from a trickle to a flood of color at the Kinetic Field, which is the size of a half-dozen aircraft carrier decks stacked side by side.
Blau (who performs under the moniker 3lau) is but four months removed from the release of his biggest hit up to this point, "How You Love Me."
This is his arrival.
"It was definitely an 'I'm here' moment," the 26-year-old Blau recalls. "It was my whole goal to play the festival, and so when it happened, I was kind of over the moon about it. There's something about being on a race-car track just outside of Vegas where the only people around you are other dance music lovers. It's also in the middle of the night, when nothing else is going on. There's no news, no political tweets showing up. The only thing that anybody at the festival has to think about is the festival itself and the people around them. You're kind of forced to be immersed."
What's this immersion like?
Well, it's akin to being zip-locked in a freezer bag of crazy — a fun, delirious kind of crazy — a grown-up carnival of light and sound that conjures an atmosphere of childlike delirium among all of the revelers who flock here from around the world to spend three days dancing in the desert from dusk till dawn.
Dance music capital
Dance music in general is designed to bring people together.
Sure, you can dig the music's merits on your own, but it's meant to be experienced when surrounded by other bodies in motion.
EDC embraces and expands upon this communal vibe at the core of EDM.
"That's really what gives this festival so much uniqueness," says Blau, who returns to EDC this year. "It just creates that togetherness that dance music creates normally, but it magnifies and amplifies that sense of unity with the people around you and the artists on stage."
Now in its seventh incarnation after relocating here from Los Angeles in 2011, EDC has become one of the world's largest music festivals, drawing a total attendance of over 400,000 in 2016. It's grown into a fest like no other in terms of size, spectacle and did-I-really-just-see-that? production values.
This weekend, over 200 artists will perform on eight stages spread throughout the massive speedway grounds, with EDM prime movers like Afrojack, Tiesto, Martin Garrix and Armin van Buuren throwing down next to Drake-approved hit-makers (DJ Khaled), hockey-mask-sporting gabber pugilists (Angerfist) and a fellow costumed as a certain hot chocolate enhancer (Marshmello), among others.
In the past decade, Las Vegas has arguably surpassed Miami as the dance music capital of America, due in large part to the city's booming club scene, which EDC complements by offering a more inclusive, affordable alternative to the velvet rope circuit.
"On a weekend-by-weekend basis, it's really expensive to go into the clubs to see Calvin Harris," Blau says. "A lot of the younger kids can't necessarily afford it, and they might not be of age yet. What EDC does is it kind of pulls together Vegas as this club capital of the country, and then makes it more accessible to people of all ages and, in many cases, all budgets. A table at a nightclub is 10 times the price of an EDC ticket."
Peace, love, unity, respect
Even if you've caught a given EDM act at a club, EDC tends to bring out a different side of them, and it's not just the size of the crowd that causes this change, but its makeup.
"I think most certainly all the hard-core ravers come out there, and they are very knowledgeable about dance music," says Dutch Laidback Luke, an EDC vet who returns to the Kinetic Field this year. "When I play EDC Vegas, it feels like a genuine rave with the appropriate crowd."
As such, performers like Blau labor over their sets weeks in advance, sweating over every detail.
"I literally spent three hours yesterday picking colors out for a visualizer for one of my new songs," Blau says, before rattling off a few of the many things he thinks about before hitting the stage. "How many seconds of pyro flames do we have? When is it going off? At what drops? What color palates make sense, what shapes make sense for the visual screens during this song? I kind of think of everyone's sets at EDC almost like a Cirque du Soleil show. Every little bit has to be perfect."
Above all else, though, EDC is defined by a familial vibe, with the raver's credo PLUR (peace, love, unity, respect) becoming less a slogan than a guiding principle, at least for the three long, sweaty nights when the Daisy blooms in the desert.
"It has a very big sense of a rave family. I love that," Luke says. "The whole PLUR thing, I actually live by that. It's something that you feel very heavily in a place like EDC."
Contact Jason Bracelin at jbracelin@reviewjournal.com or 702-383-0476. Follow @JasonBracelin on Twitter.