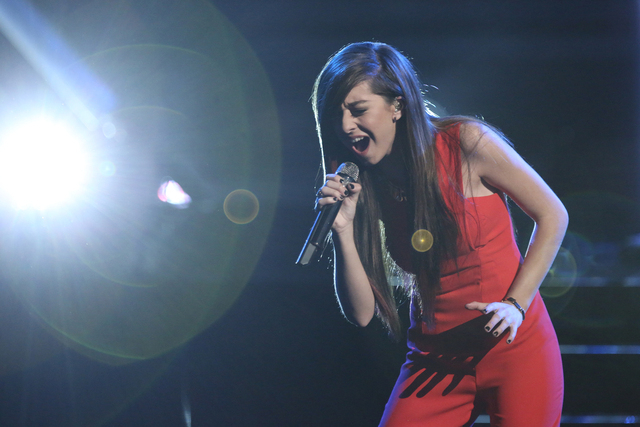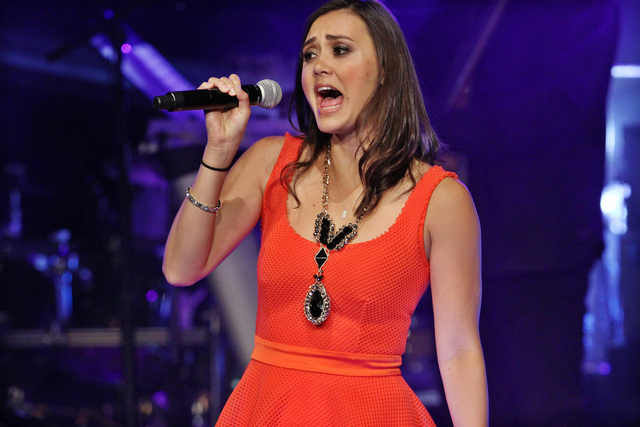 There are two ways you could claim Christina Grimmie is the very definition of a new-media pop star, one who could seemingly thumb her nose at record labels.
First she was a 17-year-old YouTube sensation, building enough of a fan base on her own channel to record an EP and get invited to open a Selena Gomez arena tour.
Then at 20, Grimmie came in third on "The Voice." And now she's coming to the Hard Rock Hotel on Friday as part of a summer tour of the NBC talent show's favorites and finalists.
So you kind of picture Grimmie waving goodbye — or even making a less polite gesture — to those gatekeepers of the major labels who once decreed who is or isn't a star.
Instead, she is hurrying to get an album in stores by Christmas.
"The labels hold the key to radio and marketing. Financially, that's something an independent artist 99 percent of the time cannot do," Grimmie noted from a recent tour stop. "That's why 'The Voice' was a huge platform for me to present myself and have people be interested."
Nonetheless, Grimmie did such a good job jump-starting career, she says the Internet was its usual judgmental self in declaring she was too far down the road to stardom to be competing on the sixth season of "The Voice" last February.
"Well guess what, I didn't win. So therefore it's not unfair," she says. "It kind of shuts people up."
If it was no scandal for the producers of "The Voice" to let her on, what was in it for Grimmie to compete at this point of her career?
"I just feel I learned so much about myself, (both) myself personally and myself as a performer," she says. "Just by being on that show it was very different from anything I've ever done, ever. It was a huge step for me to do that."
And even though she came in behind winner Josh Kaufman and runner-up Jake Worthington — both on the tour with her — she was promised a record deal either way, after mentor and team leader Adam Levine told viewers he would sign her to his 222 Records.
But now it looks as though Island Records will exercise its contractual option for "The Voice" contestants. And as the tour commenced, Grimmie was sorting through whether Levine would be involved.
"I would like to hopefully work with Adam for that," she said, "but I can't promise anything."
From the time she auditioned with Miley Cyrus' "Wrecking Ball" (which she has been reprising on the tour), "The Voice" showed off Grimmie's skills as an interpreter.
She hopes the eventual album would combine her original songs with her love of electronic dance music.
"I'm a huge fan of EDM, but I don't really want to smack people in the face with hard EDM coming off a show like 'The Voice,' where I sang Elvis songs in a Celine fashion. So I don't just want to flip the switch completely.
"I'm a pop singer, so I obviously want to do the pop lane with some EDM and big vocals."
She cites David Guetta's work with Sia (Furler) on hits such as "Titanium" as a path to reconciling genuine singing with a DJ's fondness for processed and sampled vocals.
"I think it can be done, and I think a lot of people are just afraid to touch it," she says. "All you gotta do is get with producers who believe in you and get behind the mic. … If it's done right and from your heart it's gonna come across. I'm telling you I write the stuff all the time. I write EDM. I feel like if I can just get in the room with some writers who truly truly believe in me … I don't see how it can go wrong."
Grimmie's YouTube fans can already vouch for her restless musical spirit.
"I don't even want to fit it into a tiny box, I just want to write music, you know, and just see what happens," she says.
"I just love music, so whatever happens happens. Hopefully everyone loves it."
Whatever the future holds, Grimmie says she is trying to relish the present, singing with fellow "Voice" contestants whose paths she may not cross again. Grimmie was already a fan of Will Champlin from last year — "I think he's a genius — and was thrilled when the tour directors asked them to trade their piano skills in a duet.
The tour also features Tessanne Chin and Jacquie Lee from last year, as well as Jake Barker, Holly Tucker, Kristen Merlin and Las Vegas' own Dia Frampton from Season One.
The tour is "a lot more relaxed and just fun," Grimmie says. "Of course it was fun on 'The Voice' but there was always that element of competition and your opponent doing better than you.
"But on a tour it's like each of us bring our different abilities to the tables and our different styles, it's way more fun and we've just come together as a community, which is so much more relaxed than being on the show."
Contact reporter Mike Weatherford at mweatherford@reviewjournal.com or 702-383-0288.
Preview
"The Voice" 2014 Tour
7:30 p.m. Friday
Hard Rock Hotel, 4455 Paradise Road
$45-$65 (888-929-7849)