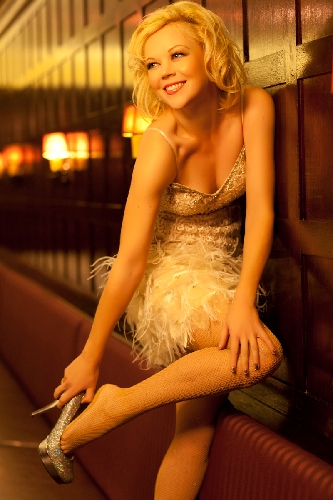 You may know Emily Bergl as "Desperate Housewives' " truly desperate Beth Young.
But the characters Bergl embodies in "Kidding on the Square" are all her own, whether they're singing Cole Porter or Madonna.
And they'll all be kicking up their heels this weekend when Bergl brings her acclaimed cabaret show to (where else?) The Smith Center's Cabaret Jazz.
The two-night stand marks Bergl's Las Vegas debut.
That is, "unless you count getting drunk and dancing on a table" at a bachelorette party, Bergl admits with a chuckle. "That's the only time I've ever been to Vegas."
But the Party Capital of the World seems an ideal venue for a show dedicated to the delights – and even some of the dangers – of "good old-fashioned entertainment."
In our increasingly wired world, "there's very little live performance and live music on an intimate scale," she says. "A lot is very corporate."
Which makes "Kidding on the Square" such a striking alternative.
"It's not just me singing at the piano," Bergl says of the show, which underwent considerable revision on the road before hitting the big time: the Oak Room at New York's venerable Algonquian Hotel, one of cabaret's most celebrated showcases.
That 2011 engagement earned Bergl a rave review from New York Times writer Stephen Holden, who described "Kidding on the Square" as "sensational" and Bergl herself as "a natural stage entertainer who suggests a multiple exposure of Carol Burnett, Bette Midler and Madonna, without really resembling any of them."
The show's multiple-personality aspect is no accident, Bergl says.
Onstage, "I'm a version of myself that later transforms into several different characters," she explains.
Those characters emerged as Bergl chose the songs they'd sing, from such vintage hits as "Ain't Misbehavin' " and "Ten Cents a Dance" to more modern tunes by Lily Allen, the Scissor Sisters and Madonna that Bergl interprets with "a vintage sound."
In creating "Kidding on the Square," Bergl started with "songs I really loved."
Using that standard, Bergl thought, "Why should I limit myself to the songs of the '20s and '30s?"
And once Bergl "let those songs speak to me, the more I worked on them, the more these characters came out," she explains.
Overall, "Kidding on the Square" aims to invoke a "nostalgia trip" that transports audiences back to the '20s and '30s – a time, she says, when "you could drop into any crappy basement nightclub in New York and hear live music."
Besides, "people are longing for the glamour and the authenticity and the wildness of that time," Bergl says. "I invite my audience to experience that glamour and sense of romance."
And when Bergl says "experience," she means it.
"I rely on the audience, a lot, to participate with me and be part of the show," she says. "The most important character in the show is the audience I'm sharing it with."
The audience's collective challenge, in her view: "to re-examine and hear songs for the first time" that we all think we know.
After all, "I'm an actor first," Bergl says. "I look at the lyrics first."
And the stories those lyrics tell, in Bergl's interpretations, aren't necessarily the stories we've heard before.
Take the Noel Coward favorite "Mad About the Boy," in which adoring fans of a silver-screen idol extol his virtues and express their devotion with such lines as these:
"Will it ever cloy, this odd diversity of misery and joy? I'm feeling quite insane and young again, and all because I'm mad about the boy …"
Most interpretations overlook the fact that "this person is crazy – this person is a stalker," Bergl argues, describing Coward's lyrics as "obsessive and a little scary."
And in Bergl's hands, Madonna's bouncy "Material Girl" becomes "a very sad ballad" sung by "someone who took the song seriously" and, in the process, ruined her life.
By reinterpreting familiar songs in an unfamiliar way, Bergl says, it takes 20 to 30 seconds for audiences to react with an " 'Ooh, I know that song.' "
As for audiences who think they know Bergl – thanks to her "Desperate Housewives" role – "I'm lucky I played such an odd character," she acknowledges.
Onstage, "I don't think people expect me to be insane Beth Young." (Although she does share a story of her "Desperate Housewives" days during "Kidding on the Square.")
It all ties in with Bergl's acting background, which spans movies ("The Rage: Carrie 2"), TV ("Southland," "Gilmore Girls," "Men in Trees") and stage (in everything from Broadway's "A Lion in Winter" to Off-Broadway's "Love, Loss and What I Wore").
No wonder Bergl considers herself a character actor.
The term is "mostly only applied to older actors," says the British-born, Chicago-raised Bergl, who turned 37 in April. "But even when I played Juliet, I played her as kind of a dork."
Clearly, nothing's sacred when it comes to Bergl's powers of invention, and reinvention – not Shakespeare, and not the kinds of songs she embraces in her cabaret performances.
"I love the Great American Songbook, but I don't think cabaret should stop at the Great American Songbook," Bergl says of the pop-music treasure trove created by such master songwriters as Irving Berlin, Fats Waller and George and Ira Gershwin. "Why not give Madonna the same treatment as Cole Porter?"
In "Kidding on the Square," Bergl does exactly that.
Contact reporter Carol Cling at ccling@reviewjournal.com or 702-383-0272.
Preview
Who: Emily Bergl
When: 7 p.m. Friday and Saturday
Where: Cabaret Jazz, Smith Center for the Performing Arts, 361 Symphy Park Ave.
Tickets: $43-$56 (749-2000; thesmithcenter.com)