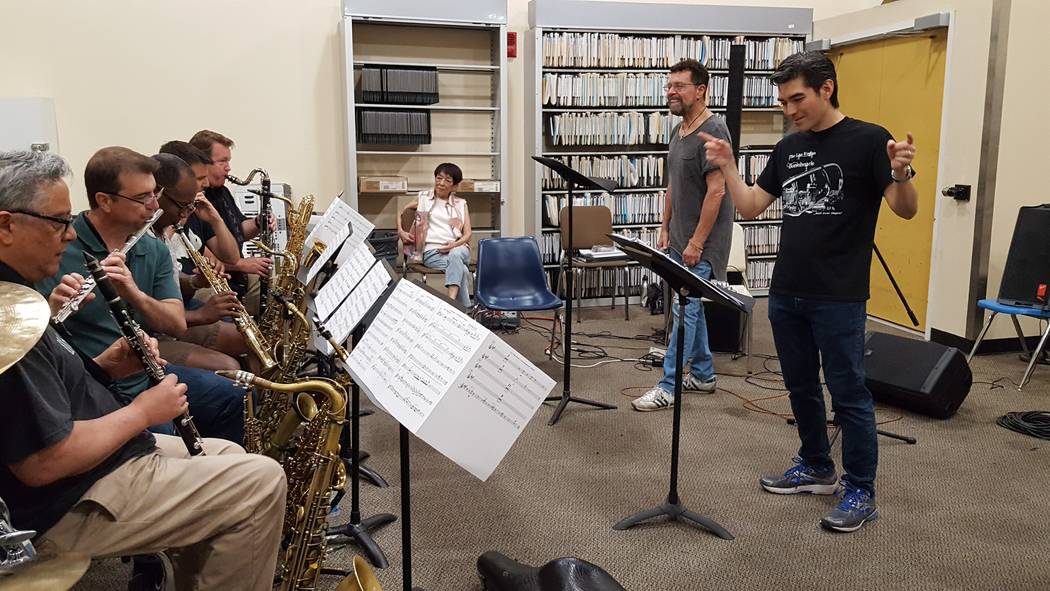 Nathan Tanouye has a typical Las Vegan's mixed emotions about the city, from a bemused eye on the tourists to the irritation of a broiling summer day.
But typical Las Vegans do not write a 40-minute suite for a jazz orchestra.
Sunday brings the premiere of "Las Vegas Suite," the latest and most ambitious of Tanouye's ongoing work with the Las Vegas Jazz Connection collective. This time, the composer and trombonist teamed with Las Vegas entertainer Clint Holmes, who added lyrics to four of the five movements and will sing them in front of the 27-piece orchestra.
"He's the perfect person, of course. Just because his style is so unique and versatile," Tanouye says. "You'll hear some big band-esque things with a singer you might have heard in old Las Vegas. I'm not sure I intended it to reflect that, but it does."
The ode to Las Vegas and asking Holmes to help were both the ideas of Carolyn Freeman, who heads the nonprofit American Jazz Initiative and produced the Jazz Connection's three albums.
"Maybe it's too obvious," Freeman says of Las Vegas' lack of representation in music versus the movies. "People think of this as a stopover, not a place where people live every day. We're here and we see the beauty of the mountains and the craziness of the Strip every day. We who live here see all the sides of it."
Sunday's performance at The Space includes Las Vegas native Aaron Ramsey's "Archipelago." The show will be recorded, but "Las Vegas Suite" will probably have to be recorded again in a studio because of its complexity, Freeman says.
It took Tanouye three years to finish the suite when he wasn't teaching at UNLV, working on his master's degree or backing Celine Dion. Six years in Dion's 30-piece Las Vegas orchestra can't help but influence his cinematic vision of Las Vegas, which sometimes sounds like Duke Ellington's "Harlem" suite by way of a '50s TV crime show.
Tanouye breaks down the movements:
"Springtime in the Desert" — "It goes into the natural beauty of the desert, especially this time of the year. It's also the most pleasant-sounding movement. It's a nice medium swing tune, starting with flutes and the brasses in mute."
"The Boulevard" — "Maybe a visitor's perception of walking down the Strip. There's a little fugue in the middle that kind of illustrates a person walking down the Strip and another person joining, and pretty soon there's a whole mess of people."
"The Hustle" — "That has to do with the more risque side of town," Tanouye says with a laugh. "That's the instrumental. It's a little edgier tune. I wrote it in France and Belgium and a bit in Montreal (during Dion's summer tour)."
"The Aftermath" — It's about the next day. Some people might be having regrets about, you know, whatever. It's the slow movement, a little sadder. Relationships are not there anymore."
"The Heat" — That one is probably the craziest one. It's about the heat in Las Vegas. It has a bit of an attitude to it, if only from my own experiences. I get in the car and I burn my hand. It's kind of fast swing with a little bit of dissonance in it. It goes into a funk kind of groove for a little while. There's actually a little rap section in the middle."
Contact Mike Weatherford at mweatherford@reviewjournal.com or 702-383-0288. Follow @Mikeweatherford on Twitter.
Preview
What: "Las Vegas Suite"
When: 2 p.m. Sunday
Where: The Space, 3460 Cavaretta Court
Tickets: $20-$40 (702-903-1070 or www.thespacelv.com)