Gaga, Bennett playing Vegas for New Year's
December 25, 2014 - 5:33 pm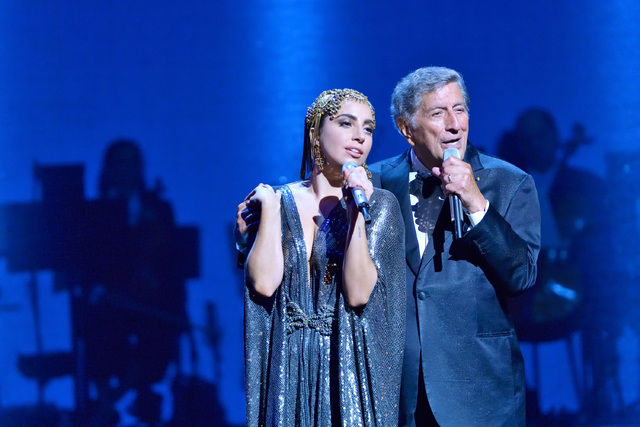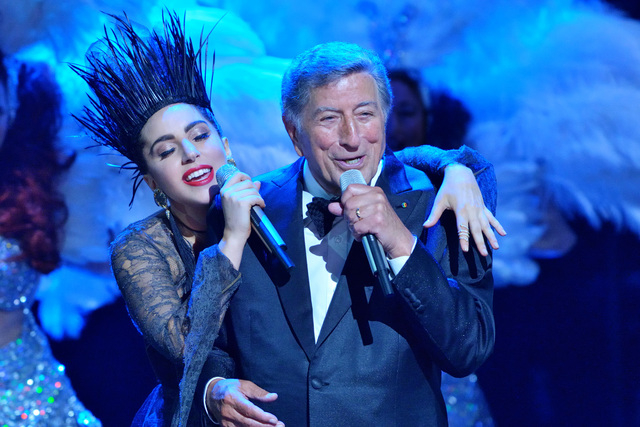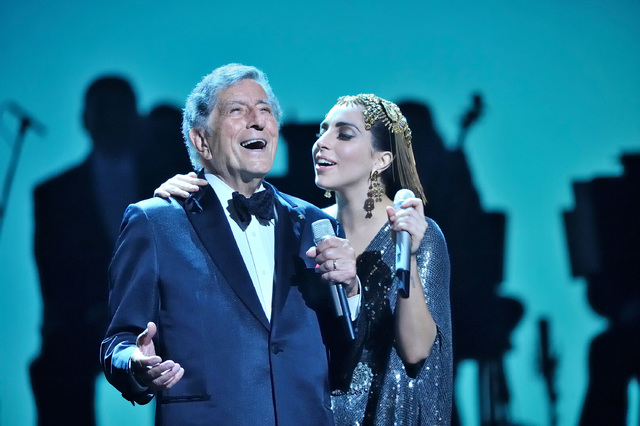 Not long after the November 2001 release of "Playin' with My Friends: Tony Bennett Sings the Blues," the Las Vegas Review-Journal asked the singer which duet partner from an album including Stevie Wonder, Billy Joel and Ray Charles he would like to work with again.
The answer was instant: "k.d. lang."
In fact, he was going to do a full album with her. And he did. "A Wonderful World" came out the next year.
He didn't say "Lady Gaga," because she hadn't been invented yet. Stefani Germanotta was still in high school, though playing Adelaide in "Guys &Dolls" did offer early exposure to some of the standards from Bennett's songbook.
But the two New Yorkers eventually found each other. Just as one song with lang led to a full album, a "Duets II" pairing with Gaga on "The Lady is a Tramp" led to September's "Cheek to Cheek" album, a TV special and select live dates, including the two tightest tickets in Las Vegas next week: Tuesday and New Year's Eve's sold-out shows at The Cosmopolitan of Las Vegas.
What follows is a Vegas-centric timeline for both, intentionally skewed toward Bennett for two reasons. First, he has played Las Vegas for 54 years. Second, he is 88.
Fans have wondered for years how many more shows Bennett has left in him. As the possibility of retirement grows more real with each year, it's equally realistic to believe Gaga's real Vegas years are still to come — whenever she's ready to take root with a production show living up to our darkest fantasies.
B.G. (Before Gaga)
Bennett didn't record his signature song, "I Left My Heart in San Francisco," until 1962. In October 1960, he was still considered a pop singer who didn't have an act. That left him as the singing guest star of "Minsky's Scandals" at the Dunes.
In 2006, Bennett recalled finding himself amid "all the girls, almost completely nude onstage for a chorus line, and they had me just reading a newspaper so it looked like I was one of the chorus boys.
"And right in the middle, I'd pull the newspaper down so everybody would spot that it was me, and I'd come up to the microphone and do a number with all the girls onstage. It was unbelievable."
By 1966, he was more the tuxedoed singer exuding the class we know today, and Bennett became the second headliner (after Andy Williams) at Caesars Palace. "I did as much business as Elvis down the street at the Hilton," he said. "(A)s many times as I played Vegas, it was sold out wherever we played."
Gaga goo-goo
Madonna perfected the art of reinvention, but Bennett only needed to one time. When Stefani was born on March 28, 1986, on the Upper West Side of New York City, Bennett was starting a comeback that began when he went back to Columbia Records and released that year's "The Art of Excellence."
"The Beatles generation and other rock fans seem to be willing to give a listen to other types of music and discover other talents," Bennett told the Review-Journal in February 1987, while playing Bally's with the Count Basie Orchestra.
"As far as I'm concerned, 'yuppie' isn't a bad word," he said.
But Bennett's big splash with a younger generation would be in April 1994, when he took his act to MTV in a live "Unplugged" concert that was the brainstorm of his manager-son Danny. The album went platinum and cemented the singer's image as the epitome of classic cool.
Stefani had just turned 8 on the night of the MTV concert. She might very well have been watching it. Various biographies say she could play the piano by ear at age 4 and sang along to her tape-deck songs by Michael Jackson and Cyndi Lauper. She has said she wrote her first song at 13.
The Monster is Born
In September 2006, Bennett chased his 80th birthday with the release of "Duets: An American Classic," which debuted at No. 3 on Billboard's album charts and paired him with everyone from Celine Dion to Bono and Sting.
"I just realized, 'Out of all the years I've been around, this is the biggest year I've ever had,' " he told the Review-Journal.
That same year, Stefani met Rob Fusari, the producer who steered her from dabblings in New York burlesque and rock to the danceable pop that would result in her debut album, "The Fame," in 2008. There are different claims to just who thought of the Lady Gaga name, but no argument that it stemmed from the Queen song "Radio Ga Ga."
Class and Crass
Gaga had fully created herself as a living piece of Warholian pop art in time to be the opening act for Kanye West at Mandalay Bay Events Center in November 2009. She came back on her own the next month for a two-night stand of "The Monster Ball" at the Palms.
"Tonight, I'm feeling particularly slutty," Gaga announced to the Palms crowd, something Bennett probably never said to pianist Ralph Sharon.
By the time the Ball played the MGM Grand Garden in August 2010, Gaga understood better than most that social media made it about the audience as much as the star. "You don't need to have money or plastic surgery to be a Vegas star," she proclaimed.
That same year, Bennett was singing with a small combo at the Las Vegas Hilton and featuring his daughter Antonia, who was born 12 years before Lady Gaga.
Who would have guessed that in another year, he and Gaga would be duet partners?
Lush life
Bennett once told the Review-Journal the secret to his success is timeless material: "On one side there's elevator music, on the other side there's this cacophonous music, really loud, and you can't tell the words or anything. … In the center (are) songs that will just never die, no matter when you hear them. They're perennial. They don't go away."
And so Bennett gets at least one more pass at them on the Strip. Will there be an encore?
"I work live all the time," Bennett said two years ago. "It's not because I have to, I don't even have to work. I do it because I really love to be in front of a live audience. It's thrilling for me to be alive and have the audience cheering for me."
And for how much longer? "One of the tricks of show business I learned from people like George Burns and Jack Benny is, 'Man, when you're hot, don't quit. Keep going.' "
Contact reporter Mike Weatherford at mweatherford@reviewjournal.com or 702-383-0288.
Preview
Tony Bennett and Lady Gaga
7 p.m. Dec. 30, 9 p.m. Dec. 31
The Chelsea at The Cosmopolitan of Las Vegas, 3708 Las Vegas Blvd. South
$152.65-$295.25 (800-745-3000)