Garth Brooks brings the charm — and film crews — back to the Strip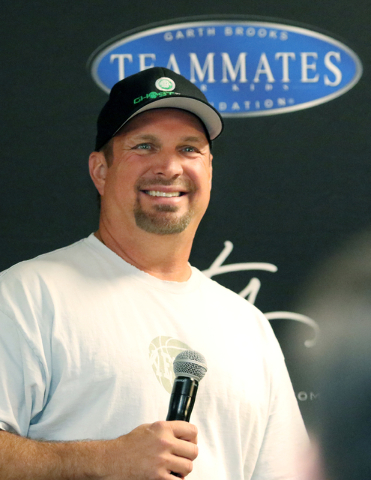 Garth Brooks will be wearing the same shirt for all six concerts in the T-Mobile arena. But that's not why he allegedly gets crowded out of his own dressing room.
In a Friday afternoon news conference before his debut in the arena, the country superstar announced that all six of his T-Mobile concerts through the July 4 weekend will be filmed — hence the shirt continuity.
But the dressing room, he shares that with singing spouse Trisha Yearwood, even though the percentage of the split seems to be a matter of dispute. "You can call me whipped, whatever you want. I just have to be breathing the same air she is," he told reporters.
If you could hear the collective "Aww" among the press corps, it was brush-up reminder on the charm the 54-year-old Brooks brings back to the Strip, more than three years after ending his run of one-man shows at Wynn Las Vegas.
"The nice thing about this is when we're packing our bags, we're going to the same place," Yearwood added. "I was always that girl that was like, 'No one's that in love, nobody's that happy, I hate those people.' And now I am those people."
But when it comes to that division of dressing-room space? "He's slowly taking over my wardrobe with hats and jeans. We can talk later about who the diva really is."
The T-Mobile dates through July 4 and a July 9 show in Yankee Stadium all are being filmed for an unspecified TV special and home video.
"The crazy thing about these six shows which is really hard for me to understand is they've got to be the same because you're filming them all as one show," Brooks said. "That breaks my heart, because I love going out with no rules and whatever comes comes.
"My job now is to make this train that's the same every night different."
Brooks has been back in the arenas since September 2014. During a 14-year semi-retirement to raise three daughters in Oklahoma, the only place to see him live was the solo (except for Yearwood) and unplugged shows he did at Wynn Las Vegas.
"Steve Wynn has this wonderful knack to find out whatever your fear is and then to stick you right in the middle of it. Because he knows what's best for you," Brooks said. "What it told me was I could do this again, which was sweet."
But "to make the leap from the one-man show to the freak show (of arenas), that was scary," he said. "I told everybody on the freak show, give me four to six months to get my feet back under me. And I was being humble. I knew it would take me about two days, right?" But it turned out that it "was probably 13 to 14 months in."
Now, however, a live album probably will follow the concert video out of this last burst of shows, he said.
Yearwood, 51, has come into her own as a cooking and lifestyle guru as well as a singer and will sign copies of her latest book "Trisha's Table" in a ticketed signing at the arena Saturday and again July 2, from 12:30 to 2 p.m. both times.
"It was like having a double life," Yearwood said of commute to the Wynn from Oklahoma in a private jet. "Vegas is so glitzy and fun and crazy, and they we'd be home in Oklahoma, raising our kids and getting them to school the next morning. It really did work."
Brooks also confessed he and Yearwood "want to be busy all the way up to showtime. If we don't we get nervous. … She'll purposely do things like do her nails on the way to the stage so she's still got something to do."
"I really do," she confirmed. But sometimes she will hear the stage manager announce that her husband has shuffled the song order and she needs to be out there sooner than expected.
"That's why I always do my nails early," he announced.
Read more from Mike Weatherford at reviewjournal.com. Contact him at mweatherford@reviewjournal.com. Follow him @Mikeweatherford