George Strait talks about singing all 60 of his No. 1 hits
Updated April 7, 2017 - 11:14 am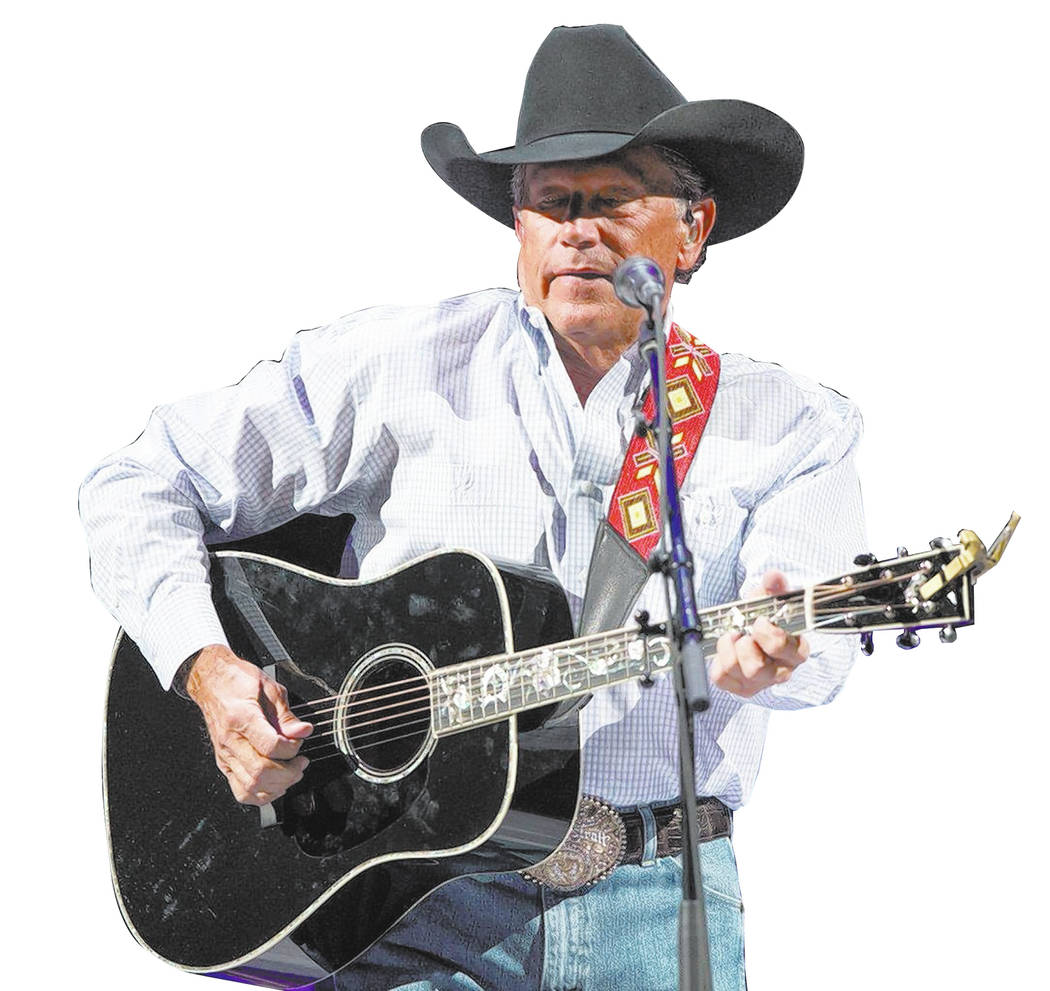 Janie Fricke and the Oak Ridge Boys had No. 1 country hits in 1982. You can hear the Oaks on Friday at the Peppermill Casino in West Wendover, and Fricke at Cactus Pete's in Jackpot in July.
George Strait had his first No. 1 that year with "Fool Hearted Memory," and he will be singing it in T-Mobile Arena this weekend. The country legend still packs arenas because he just kept going with those No. 1 hits, all the way to "A River of Love" in 2008.
If 2011's "Here for a Good Time" doesn't make the cut this time, that's because it peaked at No. 2. Strait's plate will be full with "2 Nights of Number 1's," singing all 60 songs that hit the top spot on country radio.
"I didn't get the idea from Mariah," the Texas legend says of Mariah Carey doing her 18 pop hits in order during her Caesars Palace residency. Instead, it was tour promoter Louis Messina's idea, one Strait "always had in the back of my mind to do, but never thought I could."
But he is going to sing them in chronological order, 30 each night plus a few extra favorites. "If you want to get 'the full Monty' you have to come both nights," he says. "This is not a ploy to get people to do that, but there's just no way I can do 60-plus songs in one night."
Strait, who turns 65 next month, filled us in on this unique project and his semiretirement of playing exclusively at T-Mobile.
Review-Journal: A lot of these songs are in any show you do, but some favorites didn't hit No. 1. "Amarillo by Morning," for example, peaked at No. 4. Are there "obscure" No. 1s that for whatever reason you never sang as much as some of the songs that didn't hit No. 1?
Strait: There are some songs that I didn't do in my shows very long, like "Go On" and "One Night At a Time." To call these songs traditional is a stretch, I think, but that's not saying they're not good songs. I loved them, and obviously a lot of my fans did as well, since they went to No. 1. I'm loving bringing them back. I think my fans will hear some songs and say, 'Hey I forgot about that one.'
The only thing about doing them in chronological order is you might have a couple of ballads back to back. It's how they fell, though, so that's what I'm doing. I would rarely do that in a normal show. I like to mix up the tempos to keep the pace of the show up. This is a special situation, though, and I think the fans will get into it. I think it will bring back a lot of old memories for them, just like it's doing for me.
RJ: You did a trio of Merle Haggard songs at T-Mobile after we lost him last year. Did his forging on with concerts almost until the day he died make you rethink the retirement thing? Or is this Vegas arrangement the perfect balance?
Strait: It was a huge loss when Merle died. I was devastated along with millions of other fans. I played with him and his band about a year before he passed away, and it was the highlight of my career. It was actually in Vegas, at the (Academy of Country Music Awards in 2014) and then a tribute-to-the-troops thing the next night, where we did "Fightin' Side of Me."
I'm very comfortable with my situation right now as far as playing shows goes. I'm loving playing the new T-Mobile Arena. I know I'm not going to tour again, so this suits me. I'm not sure what next year will bring, but right now I feel like I'm going to play as long as my fans want to come out and hear me.
RJ: "Kicked Outta Country" (a new song on the box set 'Strait Out of the Box: Part 2') is something we've seen over and over with the guys named in the song (Haggard, Willie Nelson, Johnny Cash) no longer getting played on country radio. But it always seemed like you were the one "exemption" — that you were the one who could sneak some Western swing past the gatekeepers. Were you just having fun with that song? Or did you want to remind radio of, you know, 60 No. 1 hits?
Strait: Look, country radio was great to me for many years obviously. They played me way longer than most, and certainly longer than I thought they would. I remember when they quit playing Merle and George Jones and some of the others, and I knew that would happen to me someday. I told myself I was just going to accept it and go on. It's inevitable.
It's a lot harder to accept than I thought, though. I don't think it's that I ever took it for granted, because I always worked hard at it, but more that I just got used to having my records on the radio. "Kicked Outta Country" is sort of taking a jab at that. Well, not sort of, it really is.
RJ: It has been a long relationship with you and our town. You've watched it change since Colonel Parker sat in a booth at one of your Hilton shows in the late '80s. Do you have any favorite — or least favorite — memories of playing here over the years?
Strait: The Hilton days were great, but I always played there during the NFR (National Finals Rodeo). And since I love to go to the rodeo, then maybe a hand or two of blackjack, the nights got a little long. That's also where I first met Colonel Parker. He would come backstage and tell me 'George, you gotta do movies.' He eventually brought Jerry Weintraub out to see me, and that was when the idea for 'Pure Country' came about.
Contact Mike Weatherford at mweatherford@reviewjournal.com or 702-383-0288. Follow @Mikweatherford on Twitter.