GoldBoot mixes disco soul with rock tendencies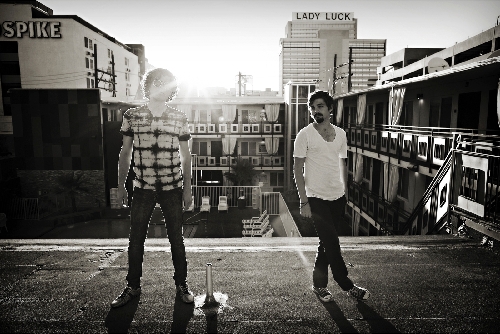 You can't fake the funk, and GoldBoot doesn't try. They keep it real — real funky. Singer Logan Lanning breaks it down:
What does GoldBoot sound like?
"I think an easy summation of our sound would be a disco soul band with rock 'n' roll tendencies. We draw a lot of influences from the late '70s when there seemed to be an eclectic fusion of styles throughout rock 'n' roll and pop albums. It was as if everything was the same thing and it was all such interesting pop music. Keeping things in motion is big for Dan (Conway, drummer) and I. We live off the groove."
You're a newer band, but are vets of groups such as American Yeah and The Rooks. What brought you all together to begin with?
"Well, Dan and I knew we would continue to play music outside and after America Yeah, so I guess GoldBoot was just the next step. We were really firm on the idea of only working as partners to write and arrange the songs entirely. I think the exclusiveness of the input was what we genuinely loved about the songs enough to want to form a live group. When me and Dan thought of a bass player to play with us live, Leo (Banchik) was our first choice and we ended up playing the first four or five shows with him in and out of state. He moved to Tennessee in January and hasn't been a part of the current lineup, but I guess Dan and I will always remain as the members of GoldBoot so things kept going."
You tracked your debut at the Palms studio, where such luminaries as Elton John, The Killers, and, uh, Paris Hilton have logged time. Were you sufficiently inspired by the likes of Barry Manilow and Britney Spears, who also recorded there?
"Inspired? Yes, but I think we were more inspired that the studio was affording us a huge opportunity. America Yeah cut the EP inside the Palms as well and to be able to go back and honestly feel welcomed like part of a team was rad. I guess knowing well-respected musicians graced those same vocal booths subconsciously drives your energy to give it your all and make magic happen, but, like I said, the studio and people in it are what makes it special for us."
You're a rock band, but with funk and disco underpinnings. Name some of the best rock 'n' roll records to dance to.
"Michael Jackson, 'Off the Wall'; Television, 'Marque Moon'; Prince, 'Prince' (1979); Talking Heads, 'Remain in Light'; David Bowie, 'Station to Station'; anything by Arthur Russell."
Check out GoldBoot at myspace.com/GoldBoot.
Contact reporter Jason Bracelin at jbracelin@ reviewjournal.com or 702-383-0476.