Green Day gives punk rock power to the people during MGM Grand show
Updated April 8, 2017 - 8:34 pm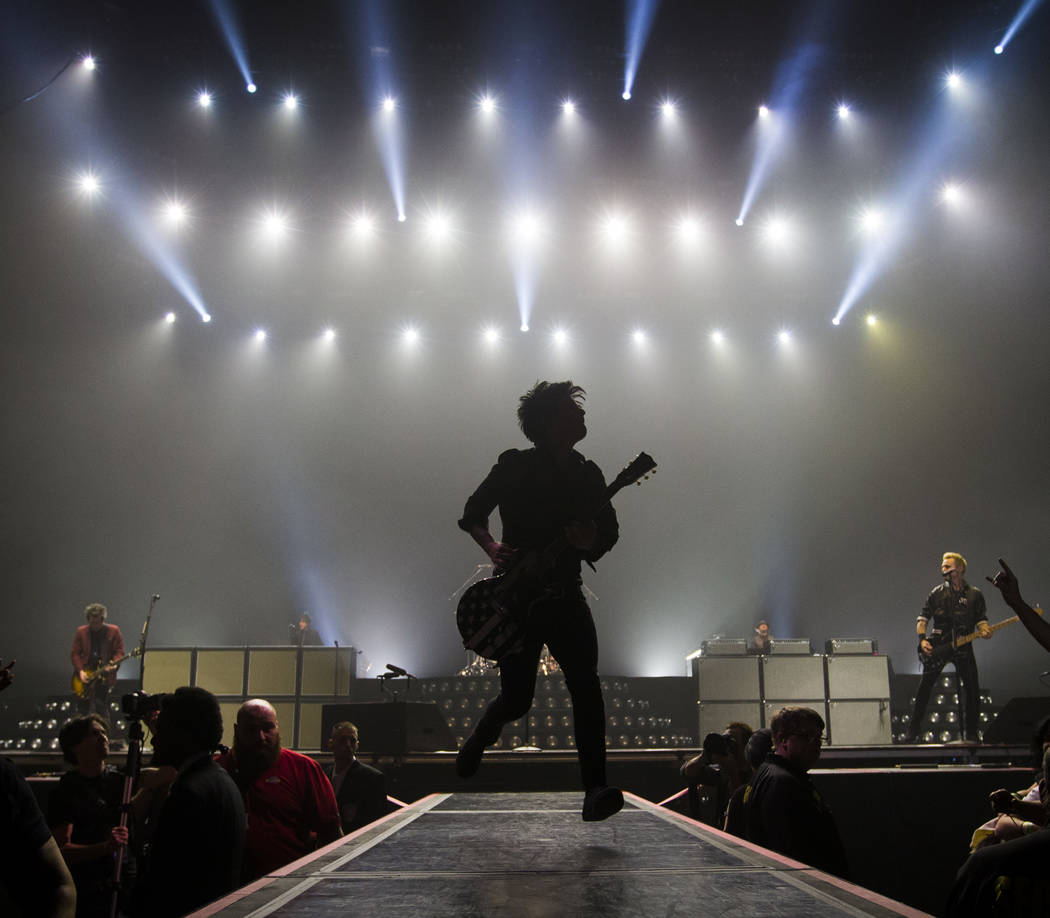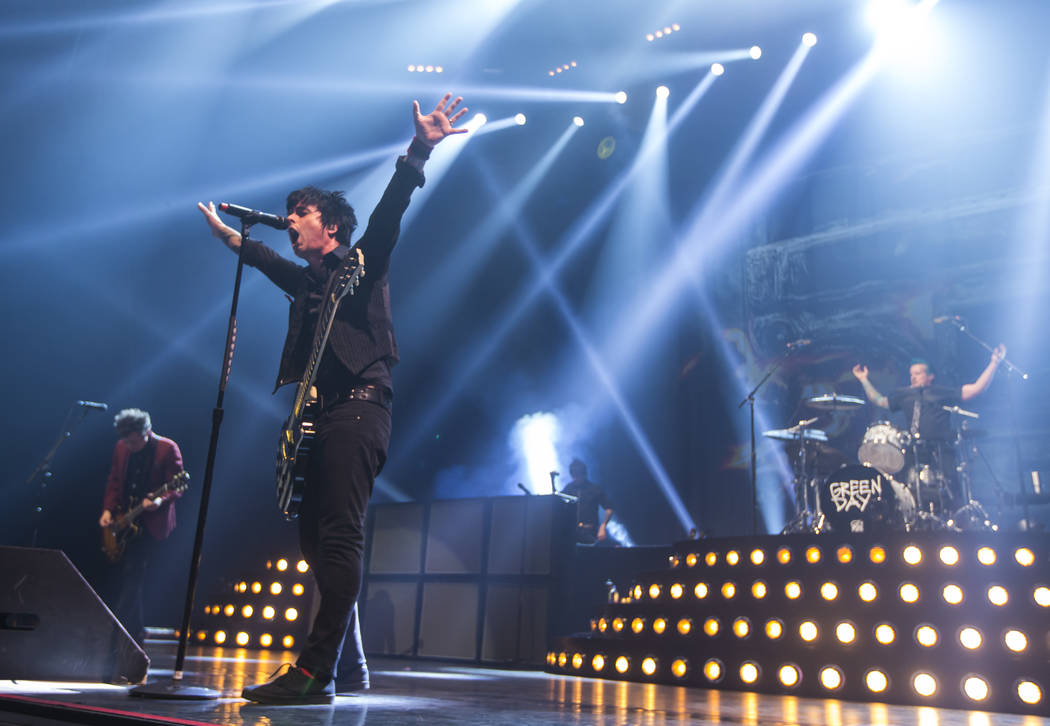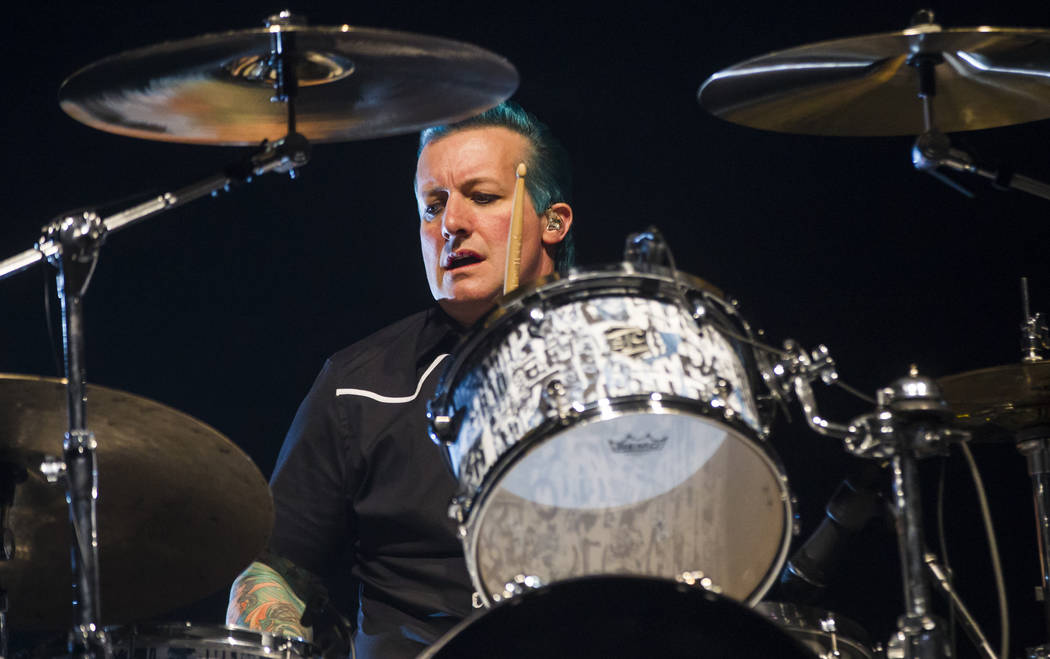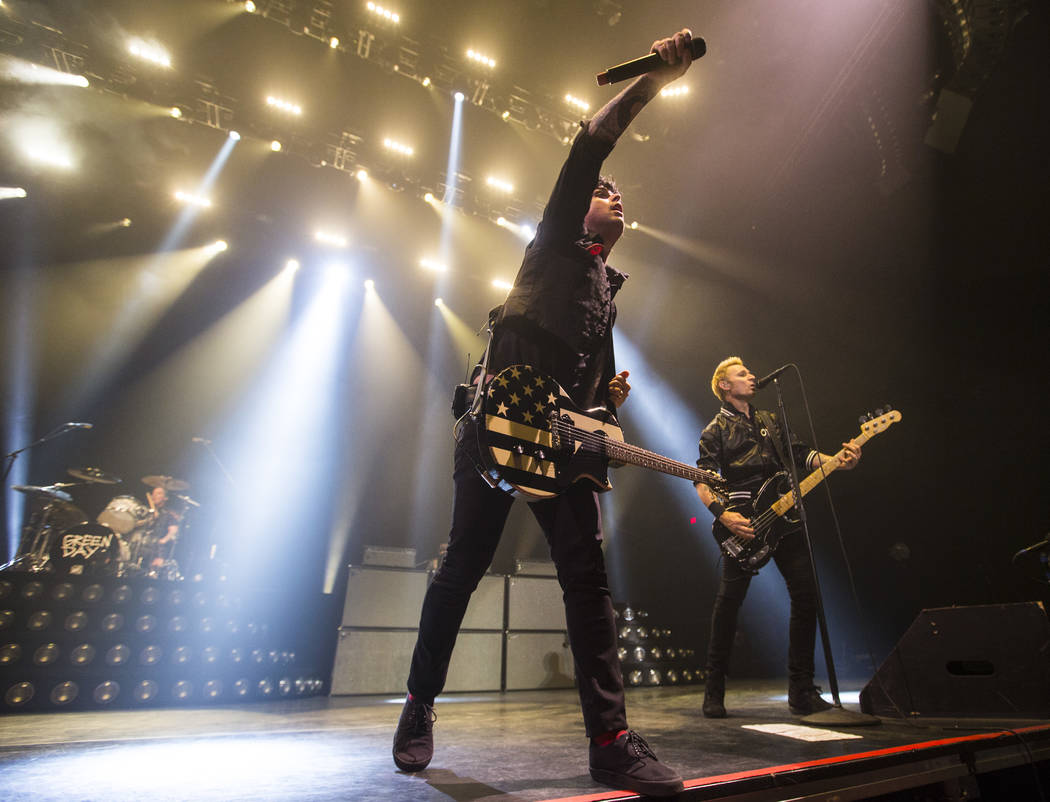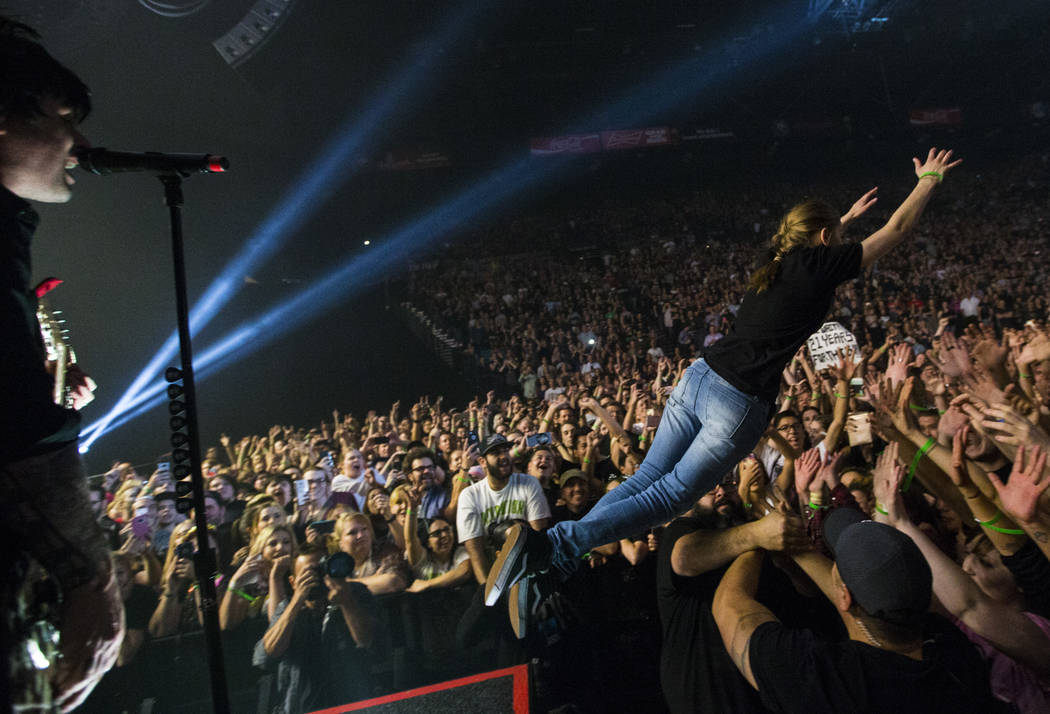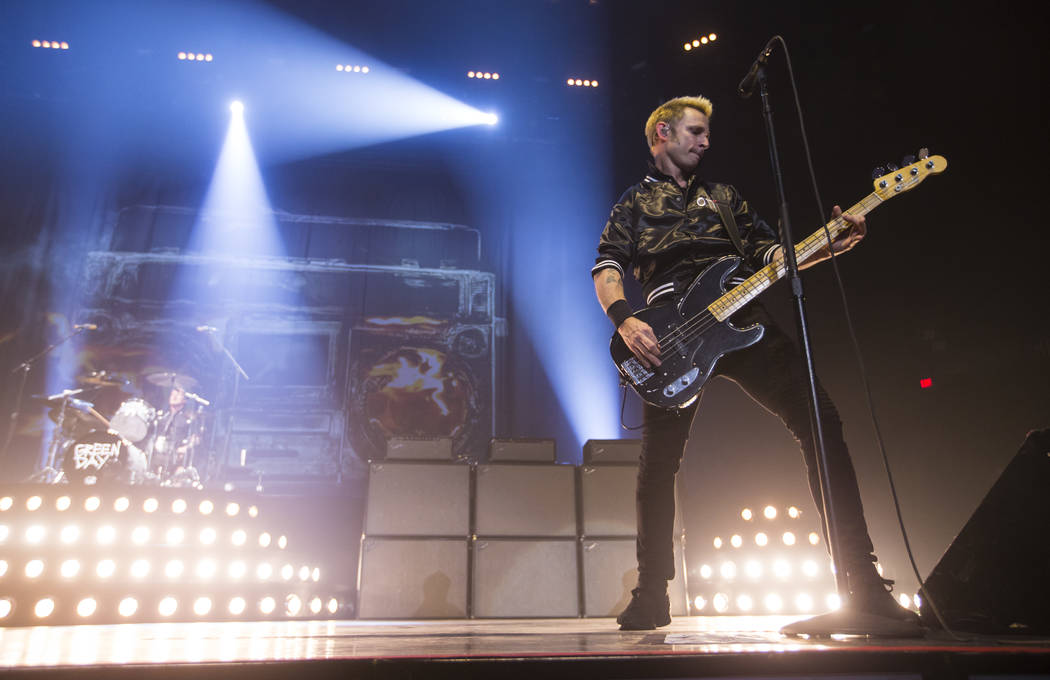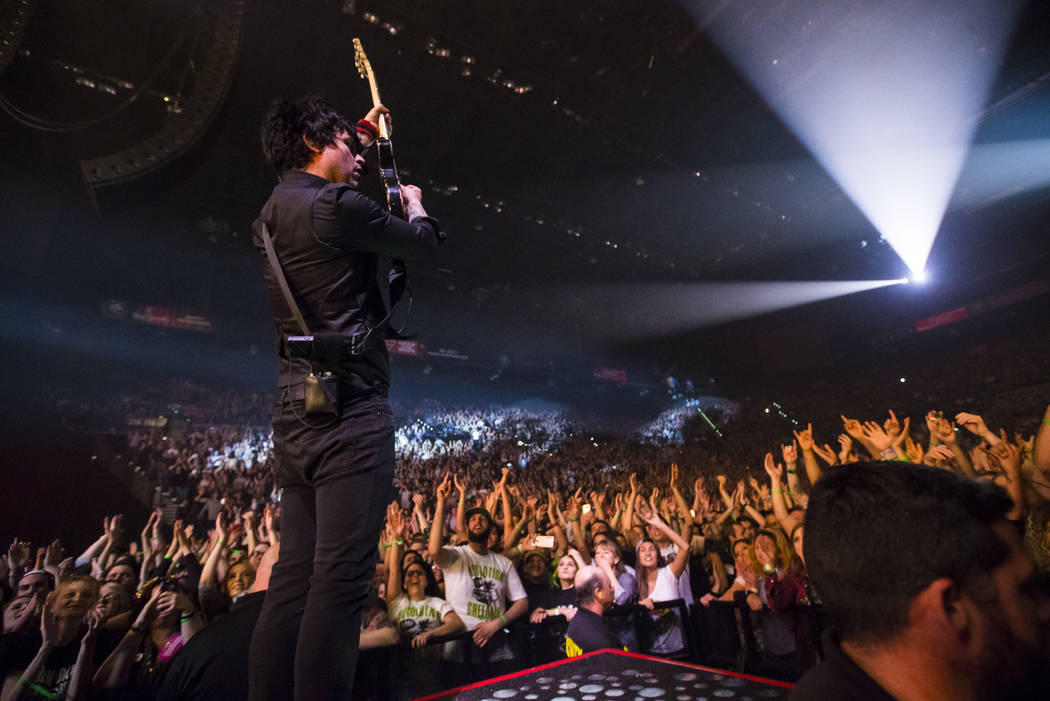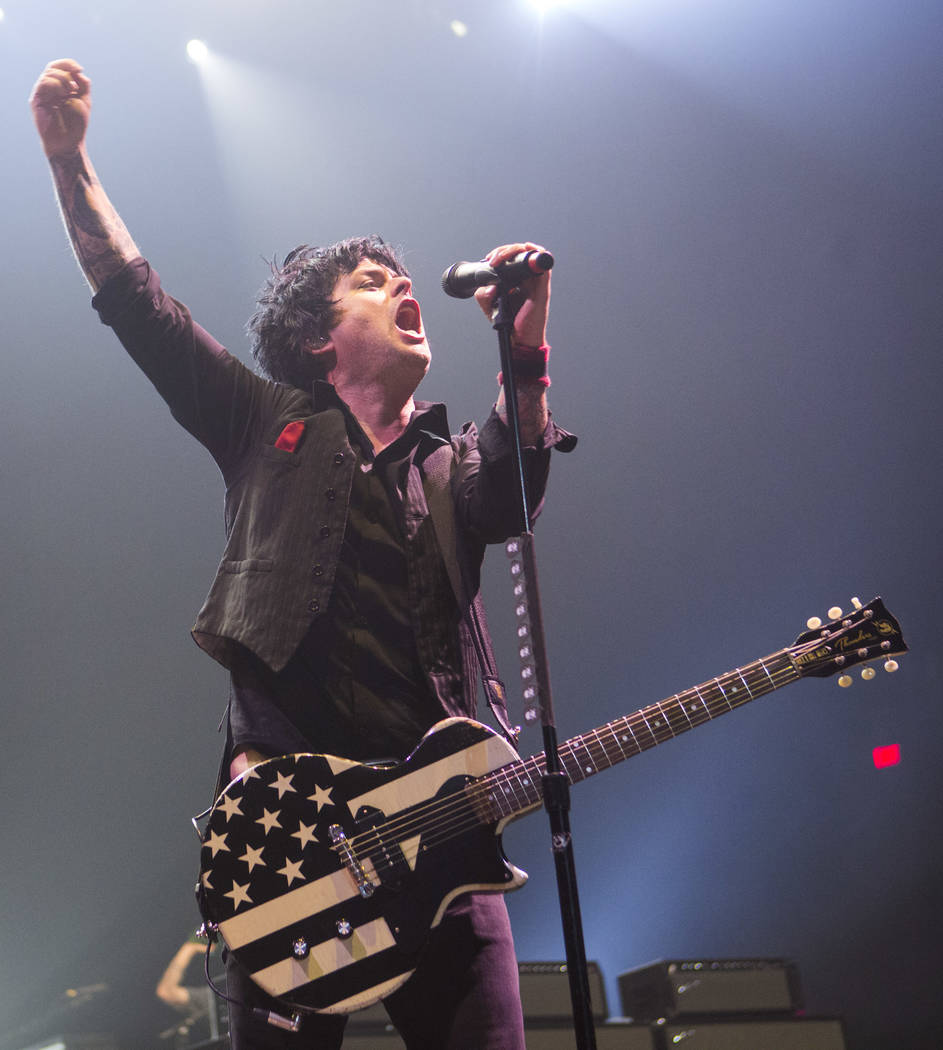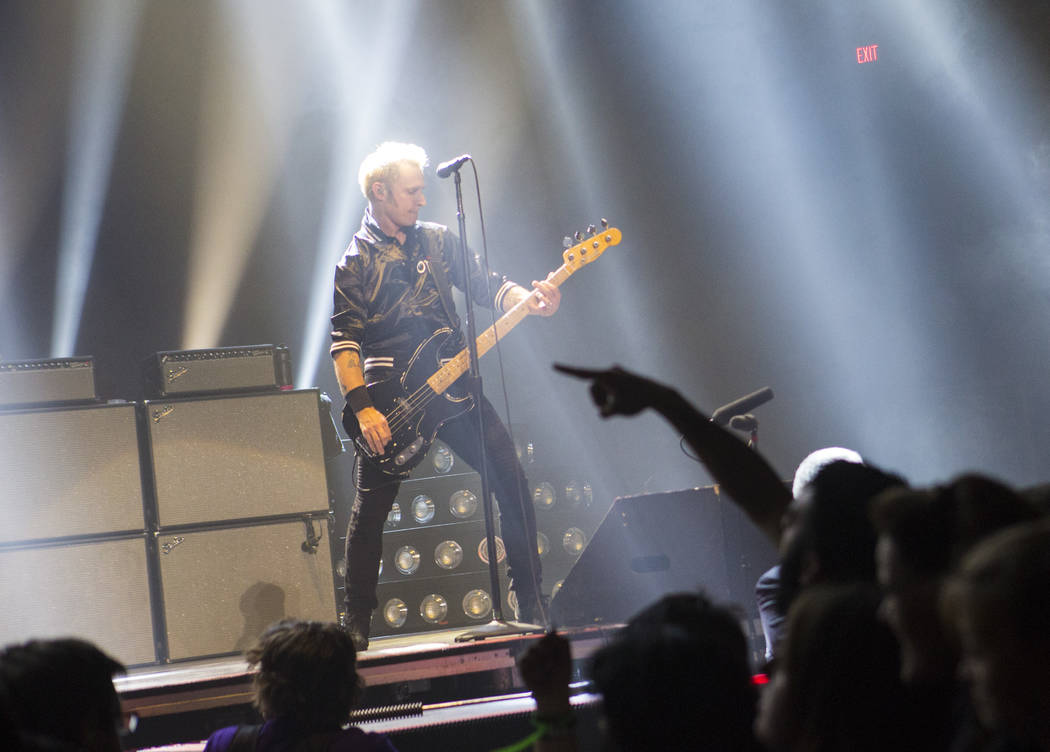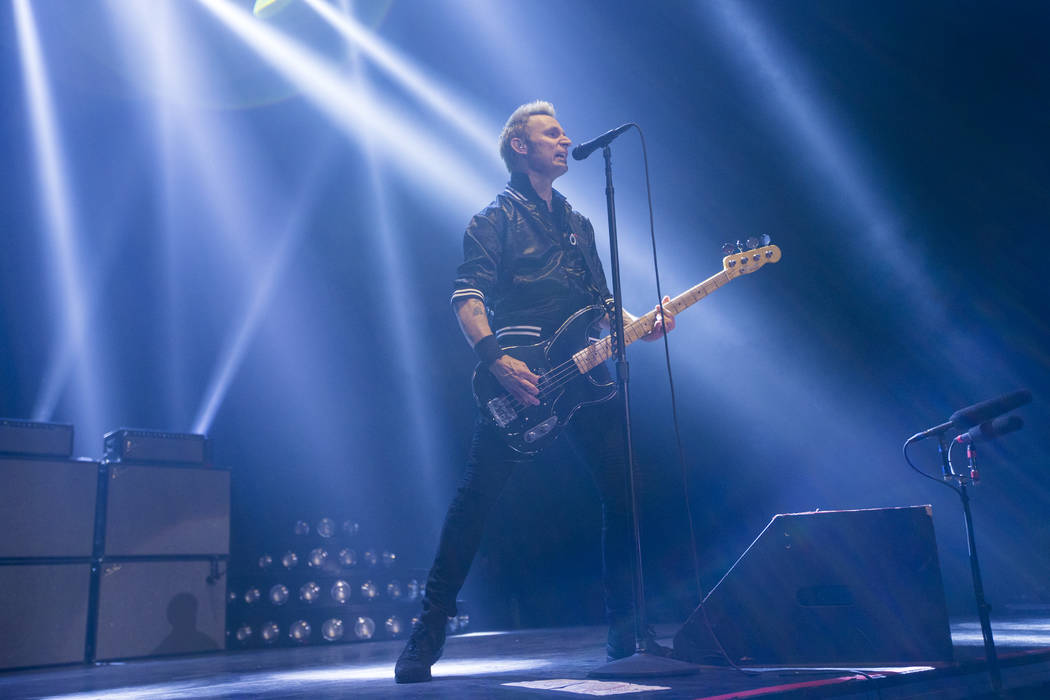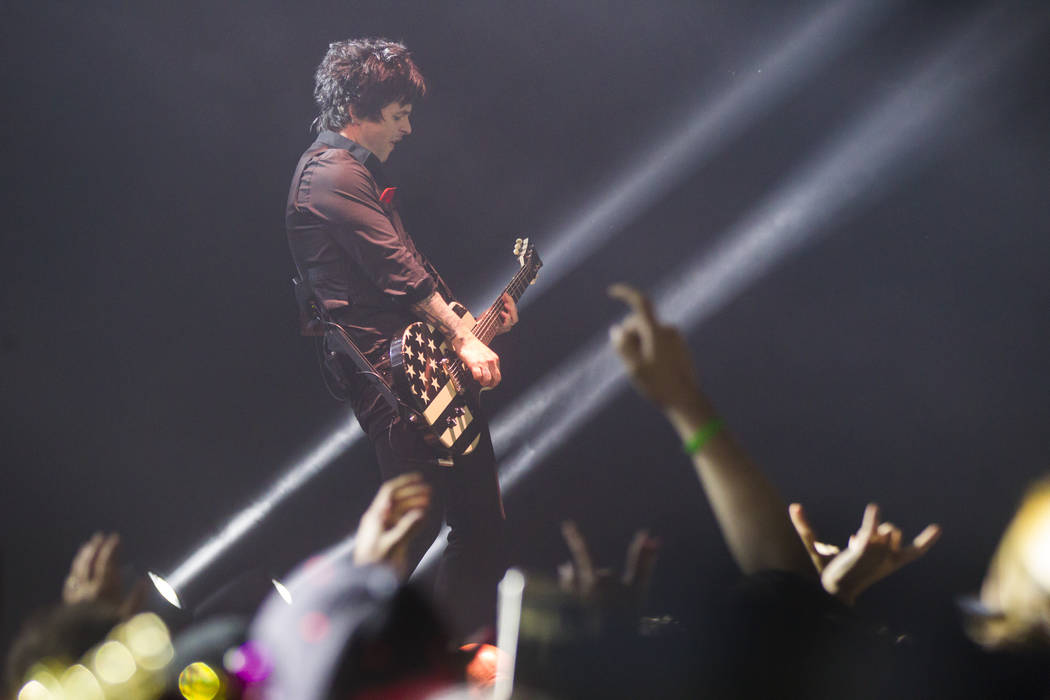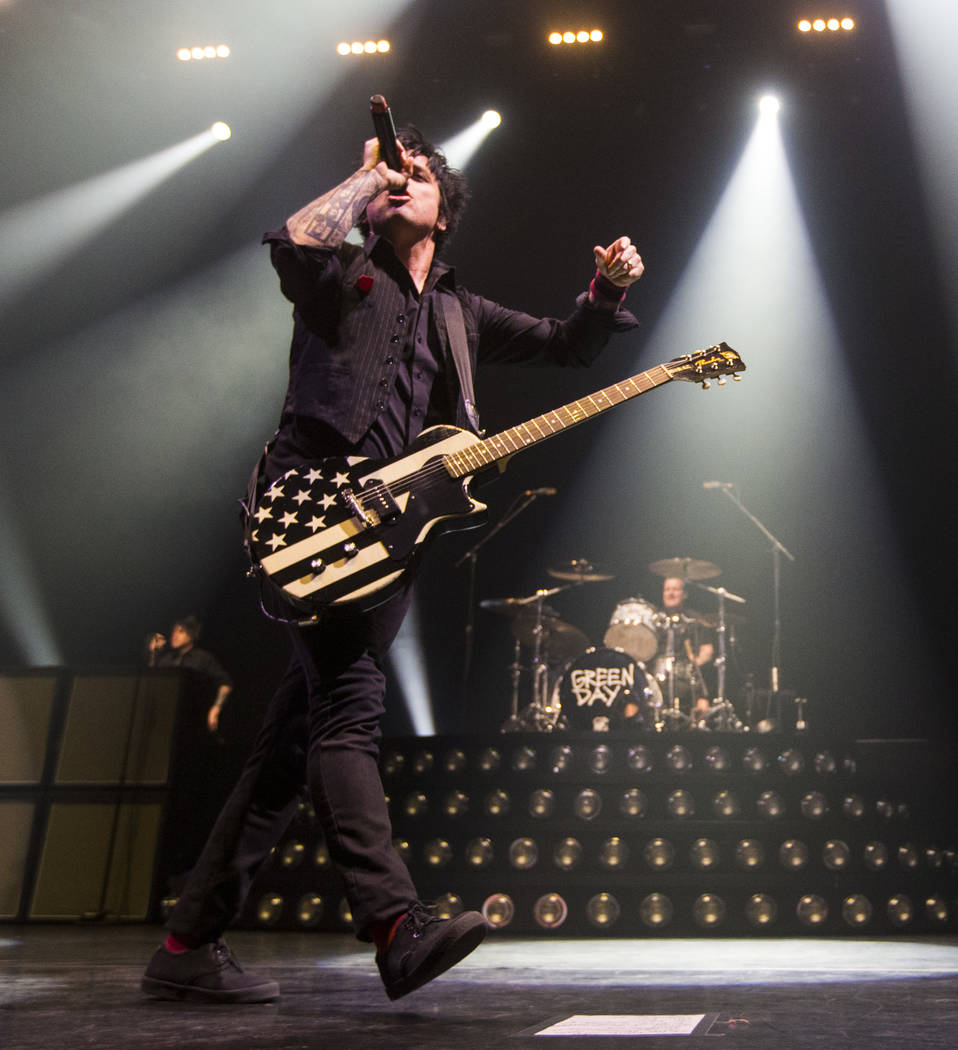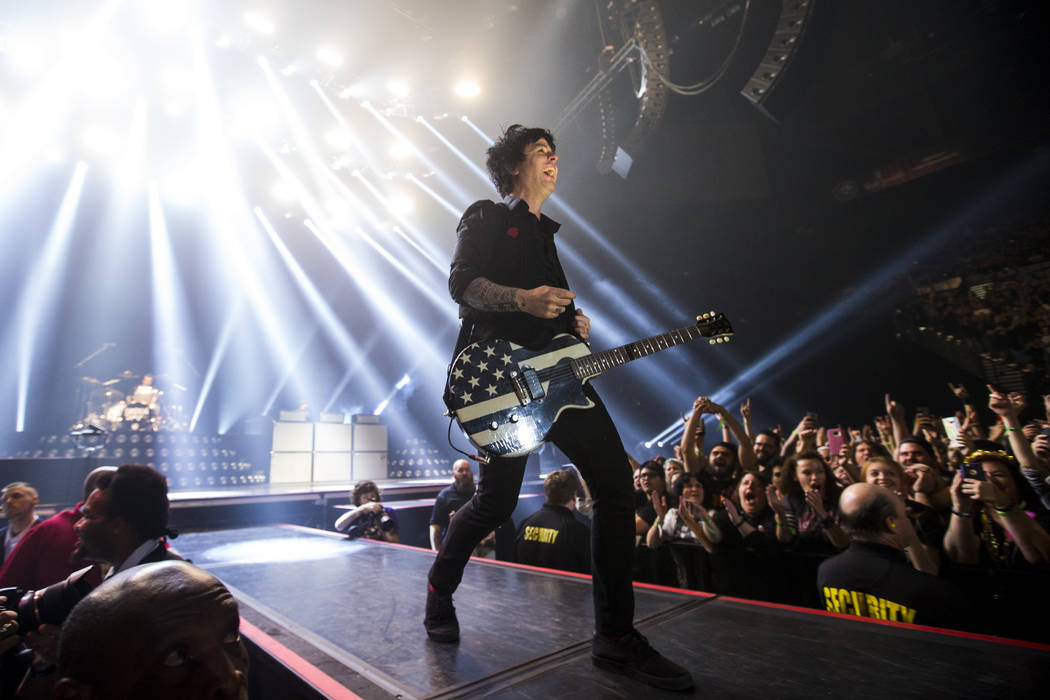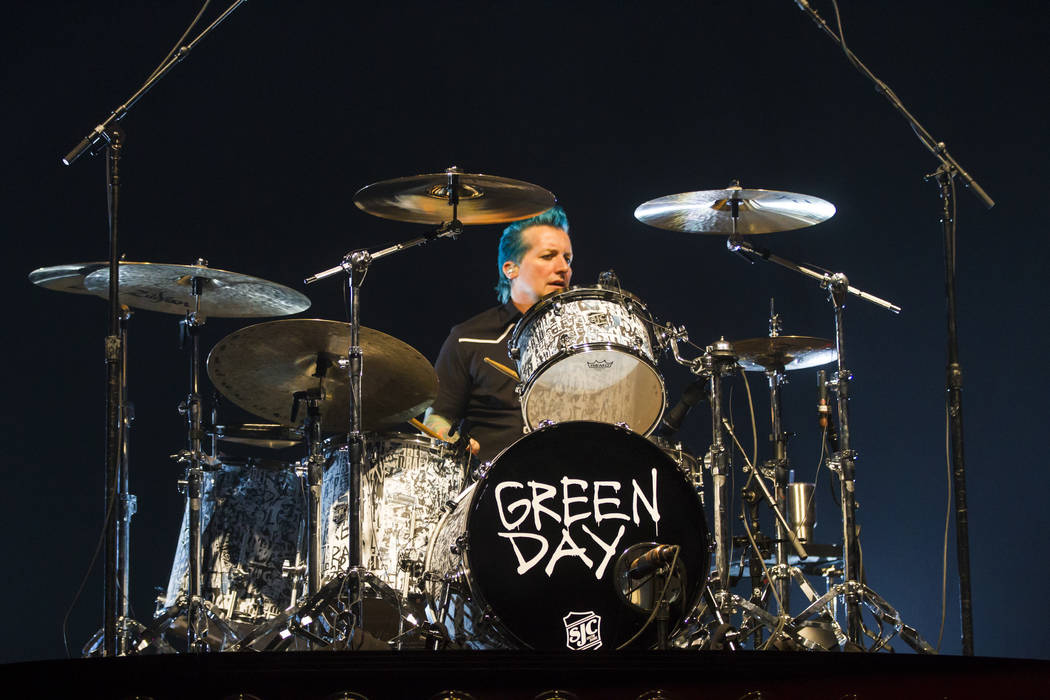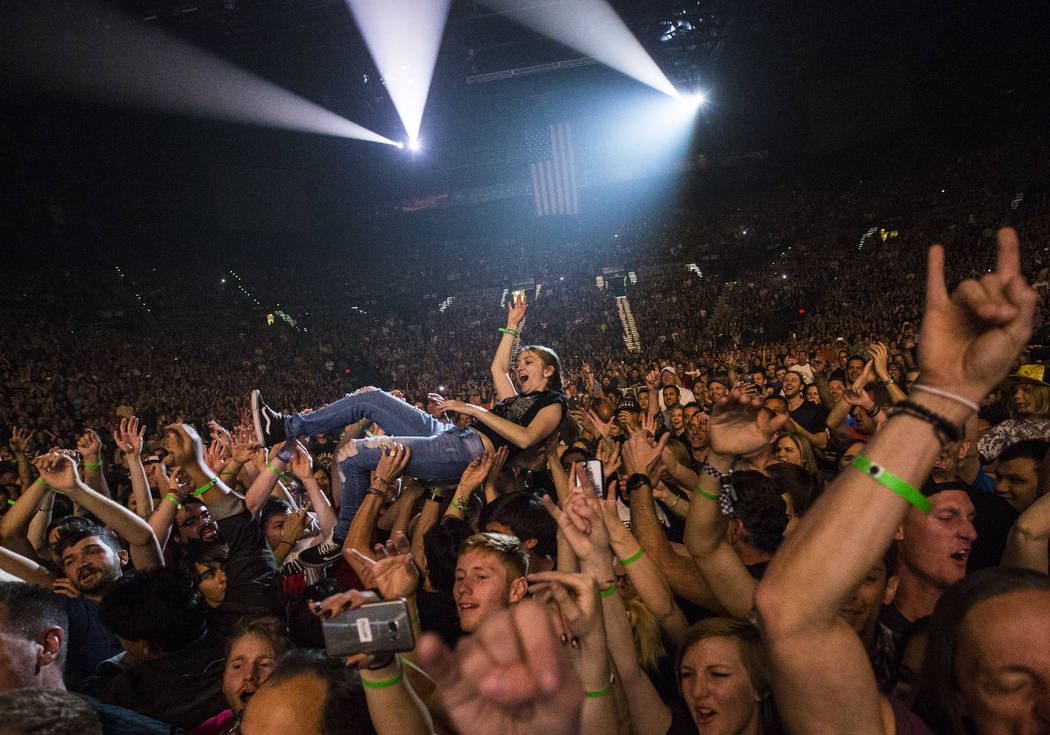 The punk rock dad posed questions hard as the downstrokes vibrating his guitar strings.
"How the hell did I work so hard to be born this way?" Green Day frontman Billie Joe Armstrong wondered aloud in "Forever Now," his slurry howl somehow sweet and snotty, snide and sincere all at once as he throttled his instrument. "How did a life on the wild side ever get so full?" he asked later in the same number.
The 45-year-old father of two didn't bother attempting to supply the answers to either.
His point wasn't to bemoan the tribulations of being a rock star or of growing older.
Nor was he trying to solve any existential quandaries.
Instead, Armstrong's aim was to acknowledge the uncertainties, the insecurities that tend to be impervious to one's age or status in life.
He does so as a means of connecting with the large, diverse audiences that Green Day attracts, which, at the MGM Grand Garden on Friday, spanned from grandmas to preteens, button-downed types in khakis to kids in homemade fan shirts.
First, Armstrong gives voice to all this angst, and then, in the next breath, he does his best to expel it.
"Always look on the bright side of life," he commanded from his back, sprawled on the stage prior to the song in question.
"You are the weirdos and the freaks," he continued, rolling over on his belly to gaze at the crowd before him. "We've got to protect our lost souls … we can change the world."
Now, punk rock has long ceased being an underground art form made up of outsiders and misfits, in large part because of Green Day — selling over 80 million records worldwide tends to mainstream things a tad.
But Armstrong and Green Day still see themselves — and their fans — as underdogs, and they carry themselves as such, even during the course of a jam-packed, 2½-hour, high-production arena rock spectacle that often felt like a victory march from a conquering army returning home.
From the rat-a-tat opening triumvirate of "Know Your Enemy," "Bang Bang" and "Revolution Radio," the band lunged into its tunes at the kind of breathless pace employed when trying to outrun some unwanted pursuer, setting the unofficial punk-rock-pyro record but a few songs into the flame-enhanced performance.
"This is unity music," Armstrong bellowed in carnival-barker tones. "Tonight is about love and compassion and humanity. We're going to sing together."
The near-capacity crowd responded to Armstrong's commands with such fervor, it all but consumed some numbers, like a seismic "Holiday."
About the only time Armstrong didn't have the audience eating out of his hand was when the Oakland, California, native extended an olive branch to his hometown NFL team relocating here. ("I think I'm getting used to this Las Vegas Raiders thing," he said to a healthy round of boos, presumably from the team's disgruntled die-hards).
This communal vibe was enhanced by Armstrong plucking young fans up on stage at numerous points throughout the show. During a lively cover of Operation Ivy's "Revenge," he enlisted a young girl to join in on guitar.
Armstrong patiently showed her the chords, and after a few practice runs, she was strutting down the catwalk, jamming along in time with the band. (Afterward, Armstrong gave her the guitar.)
It was more than just a cool moment, but a way for Armstrong to democratize arena rock, to demonstrate to fans that they might be able to do what he does, more or less. This, more anything else, remains the true essence of punk rock, the artistically egalitarian notion that anybody can express themselves through music, no matter their mastery of technique.
It wasn't all for show.
To wit, concert openers Against Me! were vocal about the impact Green Day had on their lives when they were younger.
At one point during the band's taut, tense and electrifying set, where Against Me! tore through numerous songs addressing life as a transgender person, frontwoman Laura Jane Grace recalled seeing Green Day as a kid, her first concert.
"I know how it feels to be out there," she said, pointing to the crowd.
She then urged those who were so inclined to start a band and — echoing the sentiments Armstrong would later voice — use their music to "change the world."
Worked for him.
Worked for her.
Contact Jason Bracelin at jbracelin@reviewjournal.com or 702-383-0476. Follow @JasonBracelin on Twitter.
Review
Who: Green Day
When: Friday
Where: MGM Grand Garden
Grade: A