Guns N' Roses opens reunion tour at T-Mobile Arena in Las Vegas
January 19, 2016 - 8:18 am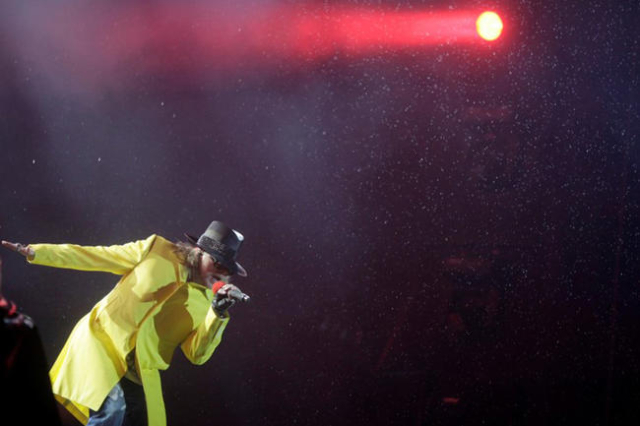 Welcome (back) to the jungle!
It's official. After countless rumors, it's finally been confirmed: Guns N' Roses will reunite on stage for the first time anywhere right here in Las Vegas.
The reconvened act are set to play two nights at T-Mobile Arena on opening weekend April 8-9 before headlining this year's Coachella the following two weekends.
"What an honor to work with the biggest name in rock n' roll as part of the opening celebration of T-Mobile Arena," Bobby Reynolds, vice president of booking for AEG Live Las Vegas said in a release earlier Tuesday morning. "Guns N' Roses choosing to return to the stage in their full glory, on the Las Vegas Strip to open T-Mobile Arena is rock n' roll history. This is going to be an awesome event and not to be missed."
"What better city than Las Vegas – the Entertainment Capital of the World – to see Guns N' Roses play together for the first time in 23 years," added Dan Quinn, general manager of T-Mobile Arena. "The T-Mobile Arena was designed to host iconic events such as this, and we will provide guests with an incredible experience as they enjoy this historic show."
Tickets for the show start at $79.50 (plus fees) and go on sale Saturday at 10 a.m. Citi Private Pass members will have chance to purchase tickets in advance starting Wednesday at 10 a.m. during a presale that runs through Friday at 10 a.m. (CitiPrivatePass.com)
Read more from Dave Herrera at reviewjournal.com/music. Contact Dave at dherrera@reviewjournal.com and follow @rjmusicdh on Twitter.