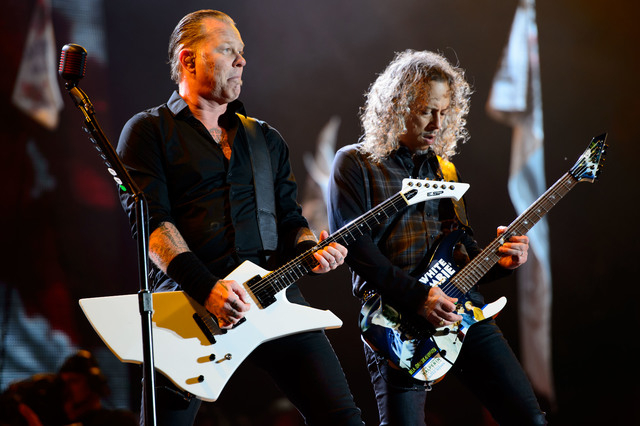 It's a new year, which means it's time to unwrap that sweet 2015 "Curious Kittens" calendar that Santa brought you and mark down all the kick-ass concerts you're going to see over the next 12 months.
We'll help you get started.
Here's some of the year's most notable shows announced thus far:
■ Eric Church, Jan. 16-17, The Chelsea at The Cosmopolitan of Las Vegas. Last time he was in town at the iHeartRadio Music Festival in September, Eric Church stole the show with his hard-charging, amped-up country snarl. He did so with a 20-minute performance. Imagine how much dust he's going to kick up with a headlining set.
■ Jack White, Feb. 4, Brooklyn Bowl at The Linq. Garage rock/blues preservationist Jack White is mostly playing arenas on his upcoming tour. We lucky Las Vegans will get to see him in a much more intimate venue when he rolls into Brooklyn Bowl.
■ Cannibal Corpse and Behemoth, Feb. 6, House of Blues at Mandalay Bay. The first must-see metal show of the year see sees Polish extremists Behemoth locking (devil) horns with death metal greats Cannibal Corpse. Wear a neck brace.
■ Bob Seger, Feb. 21, Mandalay Bay Events Center. Bob Seger will bring more of that old time rock 'n' roll, you know, the kind that soothes the soul, when he hits town in support of his latest record, "Ride Out."
■ Rascal Flatts, Feb. 25-March 14, The Joint at the Hard Rock Hotel. After a string of hard rock residencies at The Joint, Rascal Flatts become the first country act to take over the venue for an extended stay when they play nine shows there through mid-March.
■ Chris Brown, March 7, Mandalay Bay Events Center. Gumby-limbed R&B star Chris Brown's dance moves have to be seen to be believed. So, you know, go see him.
■ Ringo Starr and his All-Starr Band, March 15, The Pearl at the Palms. Ringo Starr commemorates his recent induction into the Rock and Roll Hall of Fame by doing what he does best: play shows with his impeccably assembled All-Starr band, which includes Todd Rundgren, Steve Lukather, Gregg Bissonette and others on this run.
■ Widespread Panic, March 27-28, The Joint. The Joint is becoming a home away from home for this veteran jam band, who have been lighting up the venue annually for a few years now. Karl Denson's Tiny Universe joins them on the 27th; Chris Robinson Brotherhood on the 28th.
■ Kenny Chesney, April 3-4, The Joint. Country superstar Kenny Chesney will be headlining stadiums this summer. But before then, he brings his "Big Revival Tour" to the smallest room he'll play on said tour.
■ Barry Manilow, April 10, MGM Grand Garden arena. This may be your final chance to hold your Bic in the air and sing along to "Mandy" with Manilow in the flesh as he embarks on his "One Last Time!" tour.
■ Fleetwood Mac, April 11, MGM Grand Garden arena. The classic rockers reunite with beloved singer Christine McVie on their aptly titled "On With the Show" trek.
■ Iggy Azalea, April 25, MGM Grand Garden arena. She's so "Fancy," and you already know, because rapper Iggy Azalea will be performing in Las Vegas for the sixth time in the past year on this her biggest show here yet.
■ Rock in Rio, May 8-9, 15-16, Rock in Rio festival grounds (Sahara Avenue and Las Vegas Boulevard). Metallica, Taylor Swift, No Doubt, Linkin Park, Bruno Mars and many others inaugurate the U.S. debut of one of the world's biggest music festivals.
■ Punk Rock Bowling, May 22-25, various venues downtown. The biggest punk rock party of the year returns with headliners Rancid, Dropkick Murphys and Refused topping another loaded — literally and figuratively — lineup.
■ Bette Midler, May 22, MGM Grand Garden arena. Bette Midler's voice is nearly as big as the arena in which she'll be unleashing it. Bonus: Each ticket purchased to her upcoming tour comes with a copy of her latest album, "It's The Girls."
■ Electric Daisy Carnival, June 19-21, Las Vegas Motor Speedway. The crowd will be massive — more than 400,000 strong over three days — and the shorts will be tiny when the Godzilla of electronic dance music returns to Las Vegas for year five.
■ Reba McIntrye and Brooks &Dunn, June 24-Dec. 12 (12 shows), Colosseum at Caesars Palace. Expect a significant increase in the size of audience member belt buckles when these two country favorites team up for a dozen shows together.
■ Nickelback, July 3, Mandalay Bay Events Center. Poor Nickelback, everyone seems to goof on them — everyone, that is, except for their massive legion of fans who pack arenas when they play.
■ 5 Seconds of Summer, July 17, Mandalay Bay Events Center. Tickets to see this punky Australian boy band is what your teen daughter has been saving her allowance for all these months now.
■ The Who, Sept. 19, Colosseum at Caesars Palace. The Who celebrate 50 years together with a show that spans their entire, celebrated career. Better start practicing your air windmills now.
Contact reporter Jason Bracelin at jbracelin@reviewjournal.com or 702-383-0476. Follow on Twitter @JasonBracelin.