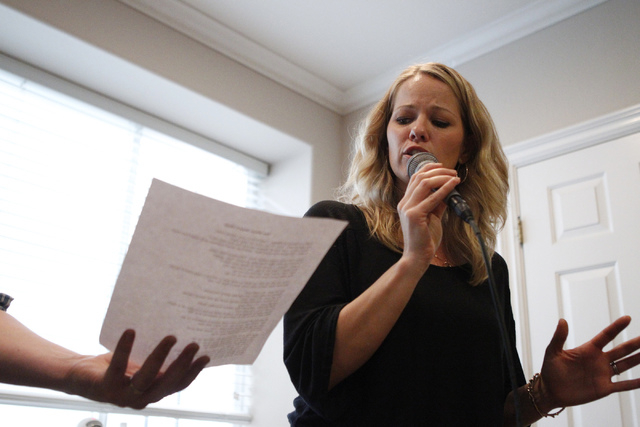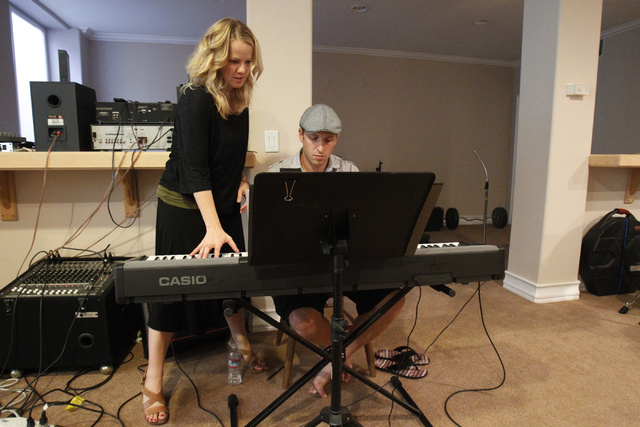 After spending most of her career singing music that other people have picked out, Kristen Hertzenberg is coming to The Smith Center with a lineup of songs that give an insight to who she is.
"I wanted the lyrics of each song to tell a story," Hertzenberg says. " 'Spellbound' is a narrative about obsession and longing. It's about how obsession takes over your whole being."
Her show called "Spellbound," features jazz, rock, country and folk songs performed by Hertzenberg backed by an eight-piece band.
"The quality of every single musician is so high," she says. "You're not just coming to hear a singer. You're coming for an entire musical experience."
It is scheduled for Saturday at The Smith Center for the Performing Arts.
Getting to her own show has been a lot of work.
Hertzenberg started singing at 14. She majored in classical singing at the University of Texas and received her master's in opera performance from the Longy School of Music in Cambridge, Mass.
She'd hoped to become an opera singer. But finding work, she says, would have taken a while.
"It is a tall ladder to climb," she says. "It takes a while for your voice to mature in opera."
Instead, she got into musical theater with a role in "Master Class."
"I was bitten by the theater bug and never looked back," she says.
After the play ended, she auditioned for "Phantom of the Opera."
"It was a great audition," she says. "I got tons of feedback. But ultimately, I didn't get the role."
It would take her another five years to land the role.
She went through another series of auditions before landing a part in "Hair."
"It was the total opposite of what I was used to," she says. "But it was fun."
After two years of touring, mostly in Europe, she got a call to audition for a role in an upcoming "Phantom" production that would take place in Las Vegas.
"I was married," she says. "Being on the road for two years was hard. Even though I knew I had to sell my husband on Vegas, being able to work and live in the same city was a huge selling point."
Hertzenberg spent years playing the lead role of Christine Daae in "Phantom — the Las Vegas Spectacular."
"It was a learning experience," she says. "You learn how to keep it fresh even when you're singing a song for the 200th time. Luckily, most of the music is timeless and so well done, you get lost in it. I always loved doing it."
In 2011, Hertzenberg was diagnosed with thyroid cancer.
"It was so unexpected," she says. "You are so young and so healthy and everything feels fine."
But with support from her castmates, she prepared for surgery and faced the scary notion that she may never sing again.
Before she found out about the cancer, she had decided to work on a Christmas album with pianist Philip Fortenberry. She had considered an album before, but wasn't sure what style to pursue.
"With a Christmas album, I could choose different styles," she says.
With surgery imminent, she became determined to finish the album.
"In case anything went wrong, at least I would have this done," she says. "The album actually became therapy for me. It was a safe place."
The album finished just before surgery. "Holidays from the Heart" was released in 2011.
"I did the photo shoot for the album one morning, did a show that night and then checked into the hospital right after," she says.
Listening to the album, she can hear many of the struggles and worry in her voice in certain songs
"I can even hear a scratchiness in the voice quality," she says. "And I love it."
Hertzenberg was off for two months before she returned. She fully recovered from her surgery.
The show ended in September 2012.
"We had nine months to prepare," she says. "Yet I still didn't take time to think about what's next."
When the show ended, she took a long vacation.
A couple of months in, she realized it was time to start thinking about what she wanted next.
"I started writing down what I would want to sing," she says.
She then phoned fellow musician Ben Hale.
"We had worked together in 'Phantom,' " Hale says. "She is a remarkable vocalist and person."
When Hertzenberg presented the idea, Hale immediately jumped at the idea.
"This made all the sense in the world," he says. "People had been nagging her for so long to do something."
She says Hale had a lineup of other willing musicians the next day.
They started small and booked at Art Square Theater.
Hertzenberg says the band has really grown since it formed.
"The best thing about Kristen is she doesn't settle for mediocrity," Hale says, adding that she inspires the band to become better and better.
The group performed at The Smith Center for the first time in February.
"I wanted to play there again that night," she says. "I hoped I could play there again."
Hale says it's an honor to bring the show back to The Smith Center.
"It's one of my favorite venues in town," he says.
In addition to her band, Hertzenberg joined the Las Vegas production of "Million Dollar Quartet."
In December, she is expected to return to The Smith Center with Fortenberry to perform songs from her Christmas album.
Hertzenberg is still figuring out her plans for the future. But while the options are promising, she never thinks about what would have happened if she would have stuck with opera.
"I'm not one for looking backward," she says.
Contact reporter Michael Lyle at mlyle@reviewjournal.com or 702-387-5201. Follow @mjlyle on Twitter.
PREVIEW
What: "Spellbound" with Kristen Hertzenberg
When: 5 and 8 p.m. Saturday
Where: Cabaret Jazz at The Smith Center for Performing Arts, 361 Symphony Park Ave.
Tickets: $29-$45 (702-749-2000; www.thesmithcenter.com)