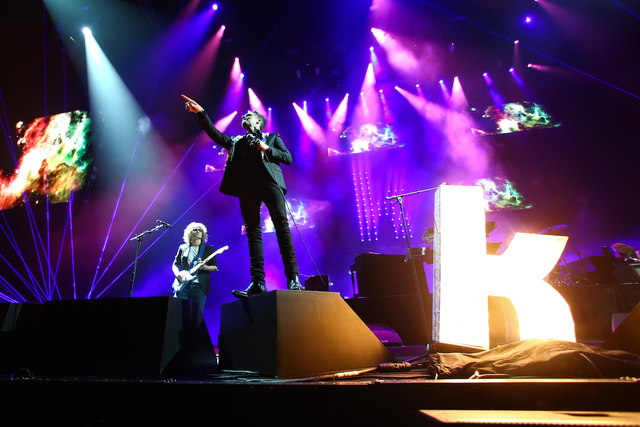 What: Holiday Havoc Night 2
When: 7:30 p.m. Monday
Where: The Pearl at Palms, 4321 W. Flamingo Road
Tickets: Sold out (702-944-3200)
With The Killers playing Holiday Havoc Night 2 on Monday, here are some burning questions about the band's upcoming show:
Who's going to show up?
Though guitarist Dave Keuning and bassist Mark Stoermer aren't currently touring with The Killers on their latest album cycle, they joined frontman Brandon Flowers and drummer Ronnie Vannucci Jr. when the band headlined the Vegas Strong Benefit Concert last Friday at T-Mobile Arena. Will they make an encore appearance in their hometown?
What will they play?
Though The Killers released a new album, "Wonderful Wonderful," in September, they played no new material at the Vegas Strong show. Was this because they had an abbreviated set time and mostly stuck to the hits? Or was it because Keuning and Stoermer were in the house, even though both have writing credits on "Wonderful Wonderful"? They should know how to play these songs; they helped pen them.
How will those new songs sound, should they play them?
"Wonderful Wonderful," The Killers' fifth album, just might be the band's most expansive-sounding record, a go-for-broke kind of deal. Whatever direction The Killers take on a given tune, be it the swaggering, clenched-fist funk of first single "The Man" or the full-throated rock-and-roll hymnal that is the title track, they commit to it fully. Live, will these big-sounding songs sound bigger still? If so, The Pearl may have to be fitted for a new roof come Tuesday.
Contact Jason Bracelin at jbracelin@reviewjournal.com or 702-383-0476. Follow @JasonBracelin on Twitter.