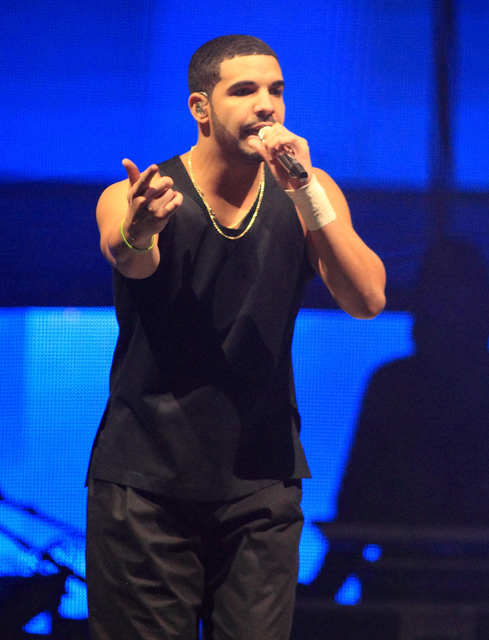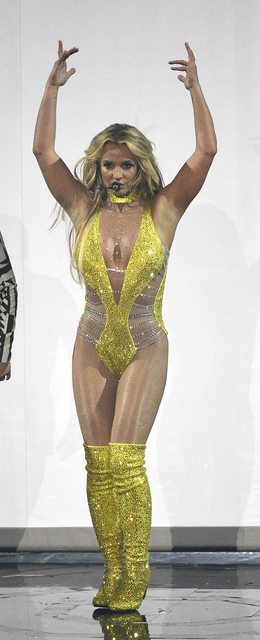 Even in what's often touted as the Entertainment Capital of the World, this could be a magic 100 for the record books: 45 acts billed between two music festivals Friday, and 55 more Saturday.
For the past three years, downtown's Life is Beautiful festival managed to land on a different weekend than the iHeartRadio Music Festival on the Strip.
But this year, organizers of both are crossing their fingers for fine weather Saturday, even if the competition is less direct than it might seem. Life is Beautiful sells close to half its (hoped-for) 100,000-plus tickets in the Las Vegas market. And you're either there or you miss it — unless you submit to some jittery dude's phone-cam on YouTube.
iHeartRadio will fill the T-Mobile Arena on Friday and Saturday for the likes of U2, Drake, Sting and Usher. But millions more outside Las Vegas will be watching it via live streaming on CWTV.com and The CW app, or listening on 150 radio stations or the iHeartRadio app, which the festival was created to promote six years ago.
The biggest overlap with Life is Beautiful comes with iHeartRadio's Daytime Village on Saturday, on the MGM Resorts Village festival site across the Strip from Luxor. As many as 25,000 people will check out 16 genre-spanning acts, from Cage The Elephant to Troye Sivan to Las Vegas-born closer Panic! At the Disco.
"It's the first time it sold out this far in advance," Tom Poleman, iHeartMedia's chief programming executive, says of the Daytime Village's third year. "I think that people caught on to how amazing that experience is unto itself. The prices are really affordable (tickets started at $49) and the lineup is incredible."
iHeartRadio was first out of the gate staking out this weekend, putting Daytime Village tickets on sale in mid-January, with Alessia Cara and Sam Hunt revealed as the first two acts.
Two weeks later, on Feb. 2, Life is Beautiful announced the same weekend dates (plus Sunday, which does not overlap iHeartRadio).
John Sykes, president of iHeartMedia's Entertainment Enterprises, says "anything is on the table" when it comes to the iHeartRadio weekend growing still more down the road.
"I don't think we're concert promoters, but we would work with a concert promoter," Sykes said. "It is not our vision to be that, but it is our vision to be creative and take risks and try anything. The village was an organic kind of growth step for us. The first few years, we just did the festival. (Daytime Village) came out of a natural evolution of the festival."
Las Vegas "gives us that ability to be flexible," he added of the venue capacity in the resort corridor. "In certain cities like New York, the geography would block you."
A lot of people might still have been asking "What's an app?" in 2011, when the former Clear Channel Communications rebranded its 865 radio stations and bundled them under the iHeartRadio app.
Now the move seems visionary, giving terrestrial radio a way to stay in the race during the explosion of Spotify and other streaming services which customize listening.
But even in a time-shifting society, Sykes says the radio simulcast in 150 markets becomes "a giant event" after months of promotion.
"America gets to sort of celebrate music together, all at the same time," Poleman adds. "We talk about this festival all summer long on every single radio station that we own across the country. And people are winning tickets from every market."
Each night's performances have been known to hit the five-hour mark but are also edited into a pair of two-hour highlights shows airing Oct. 6 and 7 on The CW.
This weekend's cross-pollination of headliners also reflects the larger trend of performers breaking down genre walls along with fans. Genre-hopping acts such as the country hip-hop of Florida Georgia Line (playing Saturday) are rolling back decades of radio subdivision into micro-formats such as "Hot AC" or "Adult Top 40."
"You can listen to one radio station now and hear the diversity of tastes, especially the younger formats. They mix it all together," Sykes says. "It's kind of come back full circle from baby boomers" and the eclectic Top 40 of their youth.
And so the iHeart fest puts U2, Drake, Sia and Billy Idol on the same bill Friday and has Sting sharing the spotlight with Britney Spears and Ariana Grande on Saturday.
"I think that's why the festival has had legs and it continues to grow. It continues to do something different than anyone else," Sykes says. "Our existence is not just to copy something that's already there. It reflects what we do every day with our radio stations and our app, which is really to serve everyone."
It keeps the artists on their A-game as well.
Their short sets are almost a sprint, Sykes says, and the artists "want to win over that audience. They come out of that gate like a race car."
He remembers Paul McCartney telling him in a previous year, "This is not my audience, this is no one's audience. We've got to win them over quickly."
And Poleman adds that U2's Bono told him just this week, "I hope they know who we are. But if they don't, they will after."
Read more from Mike Weatherford at reviewjournal.com. Contact him at mweatherford@reviewjournal.com and follow @Mikeweatherford on Twitter.