Imagine Dragons' frontman almost became a G-Man
December 30, 2013 - 10:11 am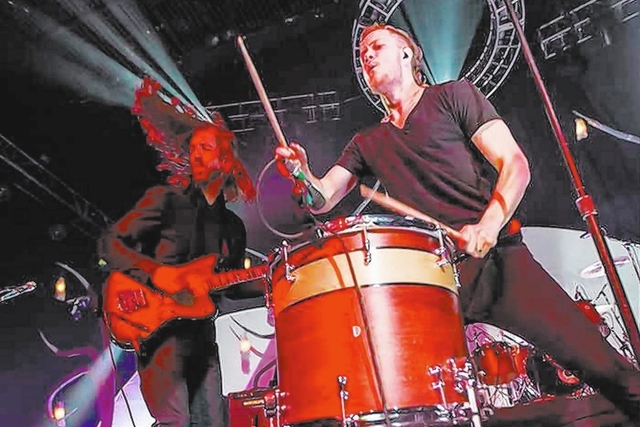 Dan Reynolds was on his way to becoming an FBI agent to make a difference in the world. He took a seminar and enrolled in classes. But then his mom sat him down.
"Do you think you would be OK if one day you got in a predicament and you had to shoot someone and you killed them?" she asked.
Dan never really answered her question. But he thought about it, and he was happy in his little Vegas band. So after a while, he called his mom with a bombshell.
"I'm going to take the semester off from school and do this rock band thing," he told her.
Reynolds laughs while telling me this story, and he jokes, "I think she probably regretted making me think about it, like, 'Wait wait wait, hold on! I think you would have been OK shooting someone. You should go into the FBI.' Haha."
Imagine Dragons went on to explode this year with the hit album, "Night Visions." Billboard named it rock band of the year, and Spotify named it the most-streamed online band of 2013.
After touring constantly in 2013, Imagine Dragons is home tonight to play the Hard Rock Hotel. After the show, Reynolds will DJ at Body English nightclub.
Reynolds and his mom are happy with his career choice.
"Kill-someone-or-be-killed is such a heavy concept. I'm just glad the thought in my mind is: 'Should we play 'Radioactive' first tonight, or should we play 'It's Time' first?' Those are much easier conversations."
Reynolds has had fun glimpses of fame:
"The weirdest moment I have had was when I went home for a day to go to the dentist's office, and my aunt came in and asked me for an autograph," Reynolds says and laughs again.
"This is my Aunt Shelly. You know what I mean? This is the lady who wiped my nose when I had snot on my face at Christmas. I was, like, 'Why are you asking me for my autograph?' "
Reynolds says the band has been greatly helped by the fact other band members went to Boston's Berklee School of Music.
"They invested their lives in the music. It was never about, 'Let's start a band to get a girl,' or 'Let's start a band to make friends.' It was, 'Let's start a band because we love music.'
"That's helped, because we all realize this isn't about us. It's about the music. It's about a lot of work we've put into this, and the connection the music has with fans.
What helped the band most was playing small Vegas venues for four years.
"Our band wouldn't be here if it weren't for Vegas. The casinos supported us. The bands supported us. The venues supported us — the Bunkhouse and the Beauty Bar — from the very beginnning."
"Radioactive" has been huge on radio and TV, in video games and at sporting events. But?
"That song almost didn't make the record," he says.
"We experimented with a lot of different sides of Imagine Dragons. Some were darker than others. Some were lighter than others.
"One of the darker, more edgier songs was Radioactive," he says. "We ended up deciding, 'Let's show different sides of the band.'
I'm glad we did that. Otherwise, we wouldn't have had the album we've had."
Reynolds says the band has written "a ton" of new songs. They are converting a Vegas house into a studio, where they will write even more. There's no date for a new album, just his careful vow to release new songs "when they are ready."
Doug Elfman's column appears on Page 3A in the main section on Mondays, Tuesdays, Thursdays and Saturdays. He also writes for Neon on Fridays. Email him at delfman@reviewjournal.com. He blogs at reviewjournal.com/elfman.